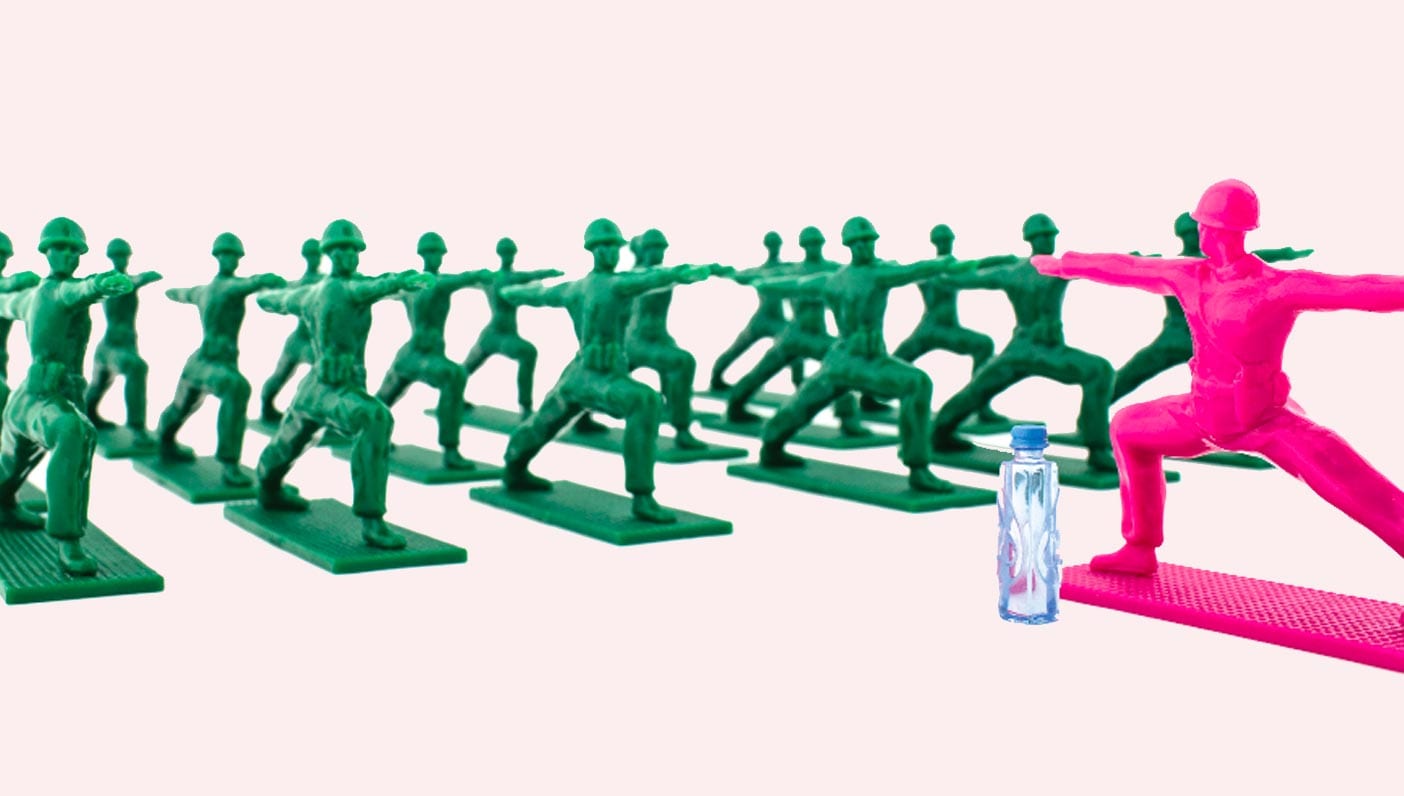 What's better than toys that promote peace over violence, and tote yoga mats and prayer hands over guns and ammo? Thanks to the innovative creator Dan Abramson, a classic toy gets a new age spin.
Everyone's familiar with the good ol' GI Joe. The green, tough, war-fighting machine has looked the same for, oh, I don't know, decades? Abramson dreamed up a new take on the famed GI Joe figurine, and in his quest to create a less violent and more "peaceful action figure," Yoga Joes were born.
Abramson took to Kickstarter in 2014 to spread the word and hoped to gain funding from people who supported his mission in order to bring his dream toys to reality. In his Kickstarter Campaign Abramson explained that the purpose of creating these yogi-inspired action figures was to bring yoga to people in a new way, and also bring yoga to those who wouldn't necessarily jump on the bandwagon from adults—male and female—to children (the toy is meant for ages 3 and up).
In his campaign statement on Kickstarter Abramson wrote:
"I made Yoga Joes in the spirit of getting more people to try yoga. More unexpected folks are reaping the benefits of yoga today, from professional athletes, to children, to military men and women returning from wartime.
When this idea was birthed over a year ago, I thought–what if yoga could be passed around in a way other than from a yoga class. What if yoga could be transmitted through a toy.
I'm hoping people pass Yoga Joes around as an inexpensive gift to friends and loved ones, who might like to give yoga a shot. Plus, I hope yoga fans display them proudly in their homes, offices, and yoga studios. And I hope kids get to be acquainted with yoga from a young age–celebrating military men and women for their focus and discipline.
And I hope people find them funny as hell."
Abramson's Yoga Joes and line of yoga mats and bags, called "Brogamats," bring a masculine touch to the world of yoga, helping to break the stigma that yoga is more of a women's fitness regimen than it is men's. It's quite evident that Abramson's mission was well received by those he was able to reach through Kickstarter, as his campaign for Yoga Joes gained over 2,500 backers and raised over $100,000.
Yoga Joes are available online (in green and pink!) at yogajoes.com and on Amazon.
—

Maggie is a New York native, writer, and sufferer of insatiable wanderlust. An avid endorphin seeker she has a constant need to be moving, seeking adventure in all she does. She is a lover of travel, daydreaming, fitness, thunderstorms, and her dog, Finley. Despite the fact that she has to take medication daily due to a thyroidectomy, Maggie still believes that laughter will always be the best medicine. Follow her musings on Instagram and Twitter.