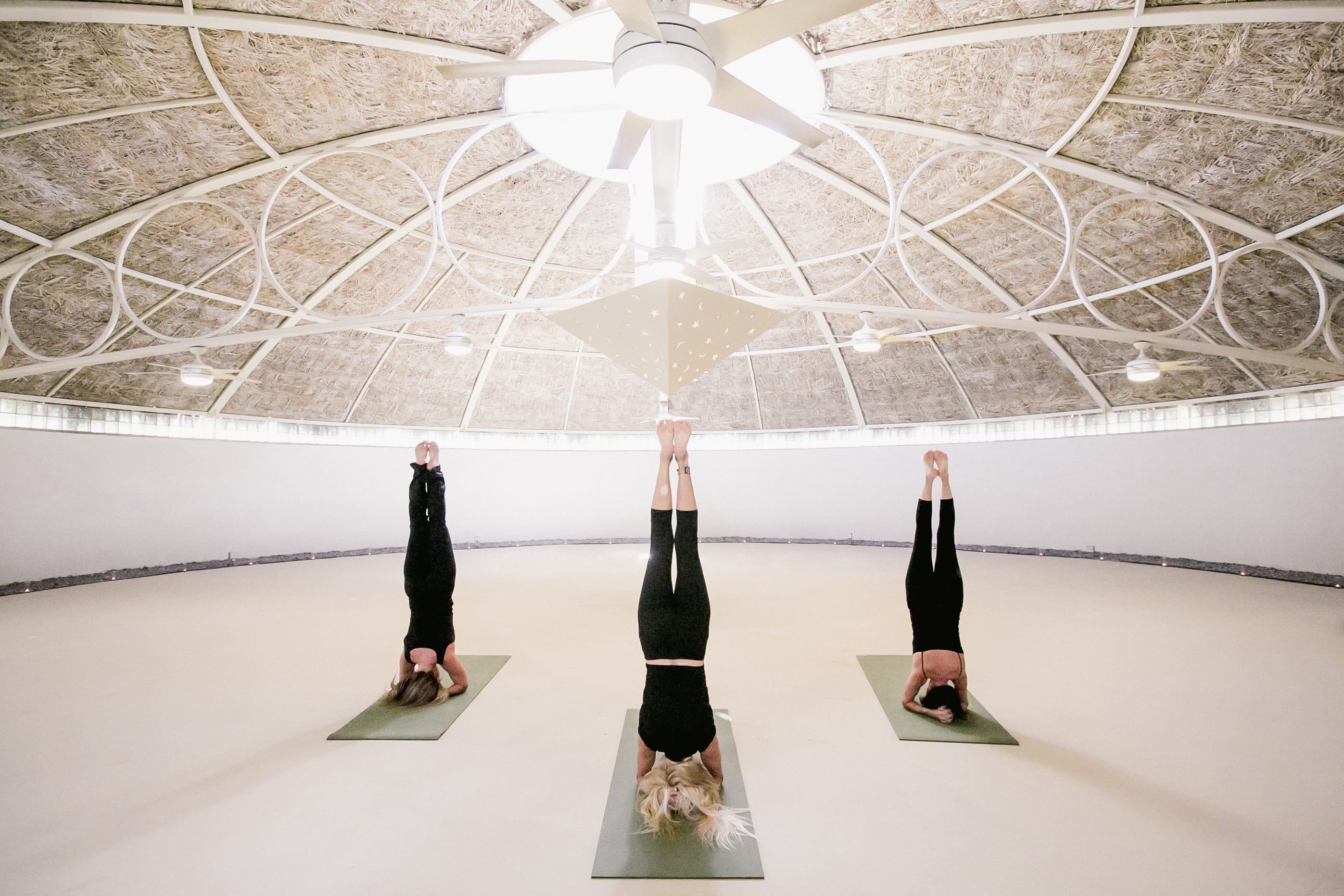 Yoga at Two Bunch Palms Resort, Greater Palm Springs
When we're in the mood to move prana (energy) through our bodies, there's no substitute for dynamic movement. In fact, that's an integral part of any yoga practice: We can't sit in meditation or find the space to go within ourselves without first working out the stress and distractions we accumulate as we live our lives. We love the feels that come with focused effort in a Wanderlust yoga class. But we've got to give it up for these other fitness studios in the Greater Palm Springs area. You bring the energy and dedication, and they'll bring the sweaty, high vibes.
Ara Pilates + Movement
First things first: This Indian Wells studio is stunning. If clean modern minimalism is your thing, Ara Pilates will be your fam. The walls are soft white and blissfully uncluttered, with sexy concrete floors. But it's not just about the aesthetic: Ara offers real-deal pilates. Classes make smart use of top-tier Balanced Body equipment—and the instructors' anatomical knowledge seals the deal for thoughtful, educated practice.
This is not a churn-'em-in-churn-'em-out studio experience: Classes top out at six students, which allow the instructors the ability to teach to your individual needs. The teachings build on classical pilates method, with modern science and body knowledge rounding out classes that give you an entire-body workout and leave you feeling strong and empowered, not depleted.
You can choose from four different classes: The Restorative Movement (focuses on improving mobility and reducing stress and tension in the body and mind); The Classical Movement (the perfect balance of strength and endurance, suitable for all levels of practice — including beginners); The Strength Movement (prepare. to. get. sweaty.); and The Velocity Movement (get ready to build speed and boost your heart rate).
P.S.: Not feeling like busting a move? You can book a session on the Amethyst crystal biomat and let muscle tension melt away with the use of infrared and ion technology,
Namaste with Shay
Facts: You can find the most beautiful yoga studio in the world, but if you don't vibe with the instructor, your practice will fall flat. This is why we're low-key obsessed with Shay Moraga of Namaste with Shay. Shay's a mobile yoga teacher who brings the Om to you (and just saying—she's also more than happy to offer yoga at your place of work).
But what makes Shay stand out is her fierce Bhakti warrior heart. She's a breast cancer survivor who found gratitude in her journey, using it to inform her practice and strengthen her teaching. She now pays it forward by teaching yoga for those battling and survivors of cancer.
Curious about booking Shay but not sure what to expect? You can choose from a variety of classes, including gentle yoga (so great for those with minor body aches and pains), and even yoga for teens and tweens (her daughter Jaelyn became a 200hr-certified teacher at age 13 (!!), so you know that Shay and Jae bring the knowledge without any cheesiness.
Did we mention that Shay's also a certified spin instructor? You can find her busting a move at Pedal.
Two Bunch Palms
Take a deep inhale, then exhale and say sp-ahhhh. Two Bunch Palms is a desert oasis in Desert Hot Springs that sources its water from a 600-year-old natural spring. No big deal. Two Bunch Palms is special because it's not just a place to stay—the staff keeps the focus on whole-self wellness. In addition to creating a blissfully calm environment, its the the first carbon-neutral resort in North America, AND offers a variety of fitness classes.
There is literally something for everyone, from traditional salutation-based classes and core yoga to gentle stretching-based yoga and chakra yoga. Even the sweat-fest classes feature mindfulness and breath-based movement. Note that you'll need a day pass to the spa, or be a guest at the resort, to take any of these classes or workshops.
If you've always wanted to try aquatic yoga, you'll be stoked to discover that Two Bunch Palms offers classes at its pool. If you've never wanted to try aquatic yoga, you're welcome. This is the best thing you never knew you needed. Once you've gotten your fill of yoga classes, check out their other offerings (we're talking tarot readings and totem stone art).
Pro-tip: Check out Two Bunch Palms in the Wellest Challenge! Available for purchase on Wanderlust TV. 
Power Yoga Palm Springs
A power yoga class becomes a next-level energy-moving experience when the physical movement aligns with your heart and head. Power Yoga Palm Springs has been doing their thing since 2009, encouraging students to push themselves in a supportive and encouraging environment.
If you like it hot, this is your studio. Hot Yoga Fusion is a unique class that blends traditional power yoga with hot yoga. Class keeps the energy up with a sweet playlist. If you're a pilates nut, they've got your back with hot mat pilates fusion classes on Saturday mornings. Need something a little slower and quieter? Don't worry: There's also yin flow and gentle yoga. Power Yoga Palm Springs also offers donation-based yoga every Saturday morning in Ruth Hardy Park, with all proceeds benefiting local nonprofit organizations. Check the website for season-specific timing.
Power Yoga is located in the heart of downtown Palm Springs, and their all-day schedule makes it convenient for popping in for a quick mid-day flow. With over a dozen teachers, you're definitely going to find a class and instructor that works for you—this is an awesome studio for those who want to try a little bit of everything.
Pro-tip: Power Yoga Palm Springs includes mat rental in the drop-in class price, making this spot stellar for travelers.
Urban Yoga
The OG of Palm Springs yoga studios, Urban Yoga Center has been open since 2001, paving the way for practitioners of all types. Choose from 30 classes a week, including many taught by the founder and yogi legend Kristin Olson.
Locals love the traditional Urban Yoga class, but if you're looking for something a little more traditional, they also offer Hatha yoga and flow-based vinyasa classes.
Although you can definitely expect to break a sweat during class, Urban Yoga upholds the values of an authentic yoga practice, weaving in elements of Kirtan and meditation to the monthly offerings. Urban Yoga keeps the focus on the experience of the students; their well-trained teachers hold space for practitioners as they explore their own personal practice.
Still looking?
If none of these stellar spots tickle your fancy, scope out these two bonus studios in Palm Desert:
Bikram Yoga Plus Coachella Valley
Yoga Center
It's time to live your "wellest." That's what we've always done in this magical, sun-kissed oasis. Since the days of the earliest Native American settlers, we've created a destination for wellness. Besides our legendary hot springs, there are more than 1,000 miles of breathtaking trails for epic hikes, ancient waterfalls and light-filled spas surrounded by whispering palms. Whatever brings you joy, you'll find it here. Greater Palm Springs: nine resort cities, one "wellest" oasis.