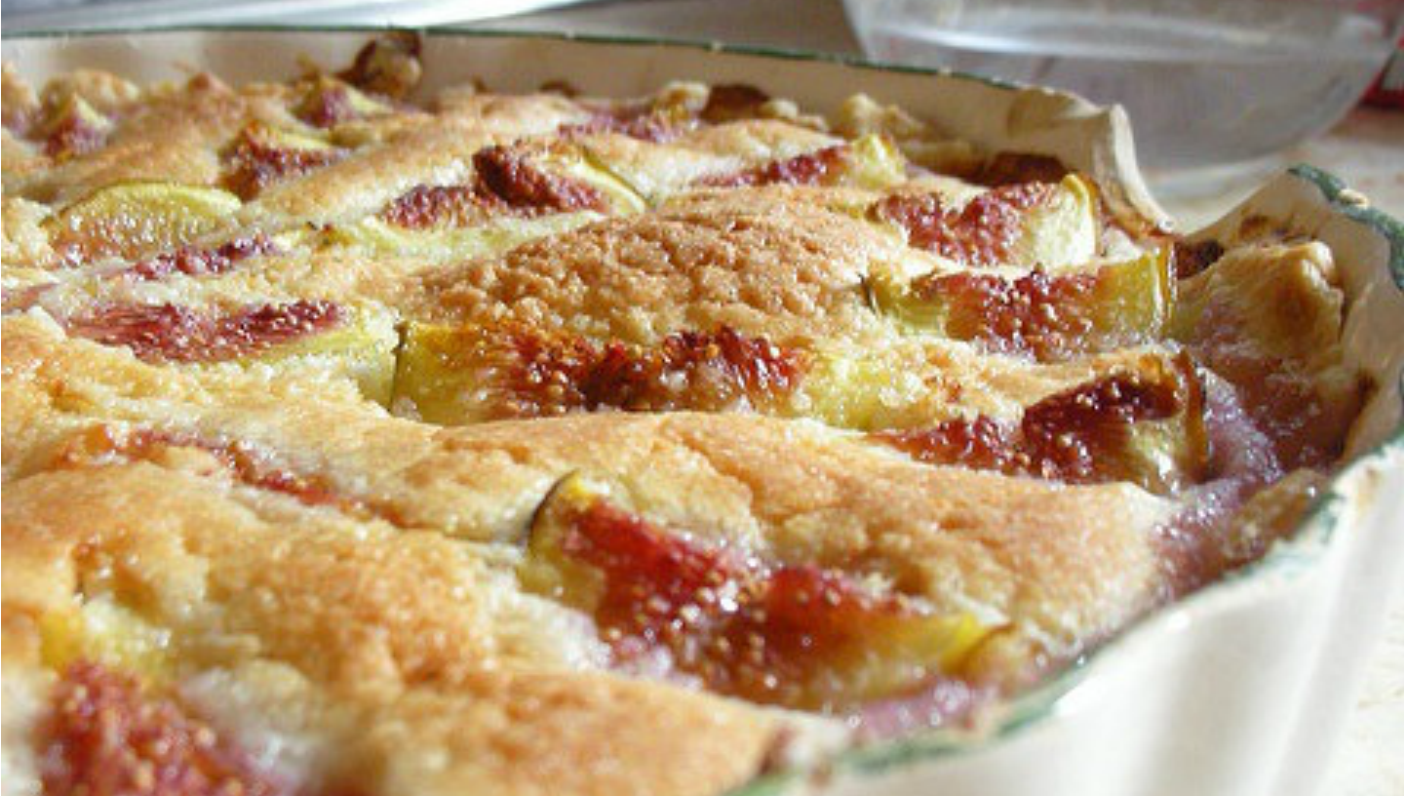 This recipe is from Wanderlust Festival Executive Chef Kevin Callaghan. Try your hand at making some of his beloved favorites for yourself. Giving it a go? Let us know by tagging @WanderlustFest and using #WanderlustKitchen.
---
Fig Hand Pies
INGREDIENTS
Dough
8 cups all-purpose flour
2 tsp salt
4 tbsp sugar
1 ½ lb butter, cut into small pieces
1 ½ cups ice water
Mix all dry ingredients in a bowl. Cut in butter. You can use the paddle attachment on a KitchenAid mixer. Stop when you are left with pea size chunks. Transfer to a large mixing bowl. Sprinkle water on flour mixture and toss until dough will hold together. Press into 16 or so discs, wrap in plastic wrap, and refrigerate. 15 minutes is fine.
Roll each disc out on a lightly floured surface, about an eighth of an inch thick. Place on a parchment lined sheet pan. Refrigerate.
Fig Filling
8-12 cups figs, sliced (preferably brown turkey figs)
3 cups brown sugar
1 cup amaretto, separated
½ cup bourbon
1 tbsp vanilla
1 tsp salt
¼ cup lemon juice
½ cup cornstarch
Mix brown sugar, half of the amaretto, and the bourbon in a stainless pan. Bring to a simmer over medium heat. Alcohol will flame. Cook until flame subsides, stirring often. Add figs to sugar mixture and stir. Be gentle with the fruit. Add salt. Taste liquid. Add more sugar if not sweet enough. Cook for 10 minutes or so.
In small bowl mix remaining amaretto, lemon juice, and cornstarch to make a slurry. Add slurry to fig mixture, mixing well. Return to a boil and cook for one minute. Remove from heat. Let cool.
DIRECTIONS
When fig mixture is cool, it should be fairly thick. Place a large spoon of fig mixture on rolled out dough. Fold edges of the dough over fruit, overlapping as you go. (When finished there will be a hole on the top where you can see the fruit.) Brush with a cream and egg wash and sprinkle heavily with sugar.
Bake in the convection oven at 350 degrees for 35 minutes, or until crust is nicely browned.
Serve warm with lightly sweetened ricotta cheese.
—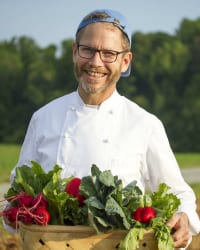 After graduating from the University of North Carolina — to the delight of his loving family – Kevin parlayed his academic achievements into washing dishes. Professionally. In 1998, after ten years of working in every possible position in the restaurant industry, Kevin launched Acme Food & Beverage Co. in Carrboro. Since that time, Acme has been featured in Bon Appetit, Southern Living, Garden & Gun, The New York Times, Esquire, and many other regional newspapers and magazines. The restaurant has been one of the South's leading advocates of sustainable food and local farms since its inception. The restaurant serves dinner seven nights a week and brunch on Sunday. In 2016, Kevin's book on the food of the South and his life in restaurants will be published. Most recently, Kevin has been named by Lululemon as one of their 29 American artists and taste 'makers' for 2016 and is the Executive Chef of the Wanderlust Festivals. The father of two awesome young women, Kevin lives in Carrboro, North Carolina.