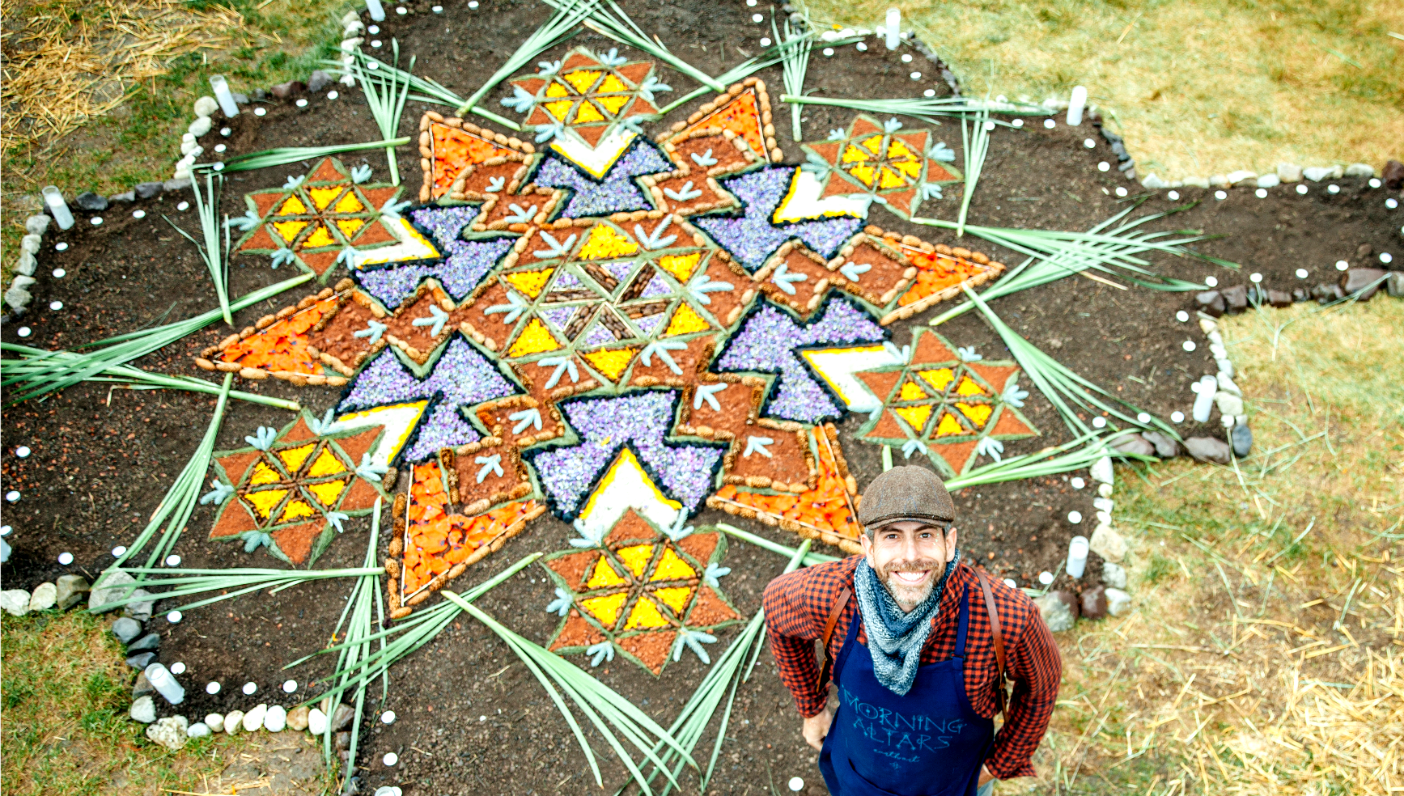 Day Schildkret is a Wanderlust presenter. Join him and other luminaries at a festival this summer! Find out more | 2016 lineup | Buy tickets 
---
Growing up as a kid in the suburbs of New York, I was raised with strong morals and values but also with an enormous amount of anxiety, overthinking, pressure to achieve, and distraction. As a boy, I used to go out in my backyard and make shapes with sticks, rocks, flowers, and leaves in order to escape the pressures of my family and culture, to be outside and play with my imagination. Fast-forward 30 years: I'm still playing with sticks, rocks, flowers, and leaves but now I understand why. It's meditation 2.0. 
Every morning I built a MorningAltar, impermanent earth art, and the practice is truly saving my life. It is my yoga, my meditation, my walk in nature, my art, and my impermanence practice all rolled into six steps.
Want to give it a go? Here's how. 
Step 1: Wander and Forage
MorningAltars are especially special because they tell my personal narrative: Each one is locally foraged, made from the place I find myself in. In order to find materials, I explore and wander around the place without any set plan—finding the most vibrant flowers, the most enormous pinecones, or strangest leaves when I'm not trying to find them. I imagine that the land itself is guiding me to give in; to just get lost with it. From that place, I discover endless treasures that I've always ignored. Foraging then becomes a meditation: What are you seeing that you've never seen before?
Step 2: Find a Place
Building a MorningAltar requires a place to create it and the commitment to sit in that place. Just like finding our mat in yoga, it is asking us to be someplace for sometime, to let go of distraction and the fear of missing out. Finding that place allows us to deeply connect to where we are, requires us to find our presence and allows everything else to come and go. It is the "homecoming" from the wandering of Step 1.
Step 3: Clear
Before I build MorningAltars, I clear and empty the actual spot I'm about to build in. This step addresses how cluttered and overwhelmed our lives are. The practice is to take a broom or hand and sweep away what came before, whether they be sticks and leaves or emotions and thoughts. Like meditation, clearing space requires us to notice what is already there and serves as a daily ritual to clear the excess that clutter our lives so that something new can come in.
Step 4: Create
You cannot do this step wrong. Creating a MorningAltar is an intuitive, creative and meditative process. You can start creating in the center or at the edges. You can play with color or shapes. It can be symmetrical or asymmetrical. When I create MorningAltars, I employ my inner-perfectionist to get the pieces as precise as possible. Yet, like holding a posture in yoga, building MorningAltars is truly a balance between getting the pieces exact as possible AND totally playing and trying things out. How can you create joyfully and with true focus?
Step 5: Pray
While I ALWAYS feel better, lighter and more alive after completing MorningAltars, I always devote the altar to someone or something, just like you would at the end of a yoga practice. This altar is meant to be a gift that came through your hands and back out into the world. Who are you giving this gift to? What/whom are you praying for?
Step 6: Let It Go
MorningAltars are impermanent earth art—they are not meant to last. This is the most difficult step because you have to let go of the thing you just created. By consciously walking away, you allow your altar to change with the wind, the rain, humans and animals and to practice allowing impermanence. Once you let it go, what do you notice change?
Building a MorningAltar is a timeless beauty-making practice that addresses each one of the challenges of being a modern human in an indoor, tech-driven, busy world. Creating them is accessible to anyone, anywhere, is totally free, and serves as a way to digest feelings, mark a life's milestone, cultivate a prayer or just make something beautiful wherever you are. Real healing and magic happens with the creation of MorningAltars.
MorningAltars is inspiring a global practice and movement. If you are called to create a MorningAltar, please email a photo of it, with you location and a sentence about the process to day@morningaltars.com
—
Day Schildkret is known internationally for MorningAltars and have inspired thousands of people of all ages to forage, build and pray with earth art all over the globe. Day is currently touring with the Wanderlust Festival and you can find Day's MorningAltars currently appearing in Spirituality & Health Magazine. Day also serves as a Purpose Mentor and guides people who are stuck with their creative purpose to emerge into living their purpose everyday. For more earth altar magic, please join the tribe at www.morningaltars.com, on Instagram @morningaltars or at facebook.com/morningaltars. For purpose mentoring with Day, please go to legacyaslivelihood.com