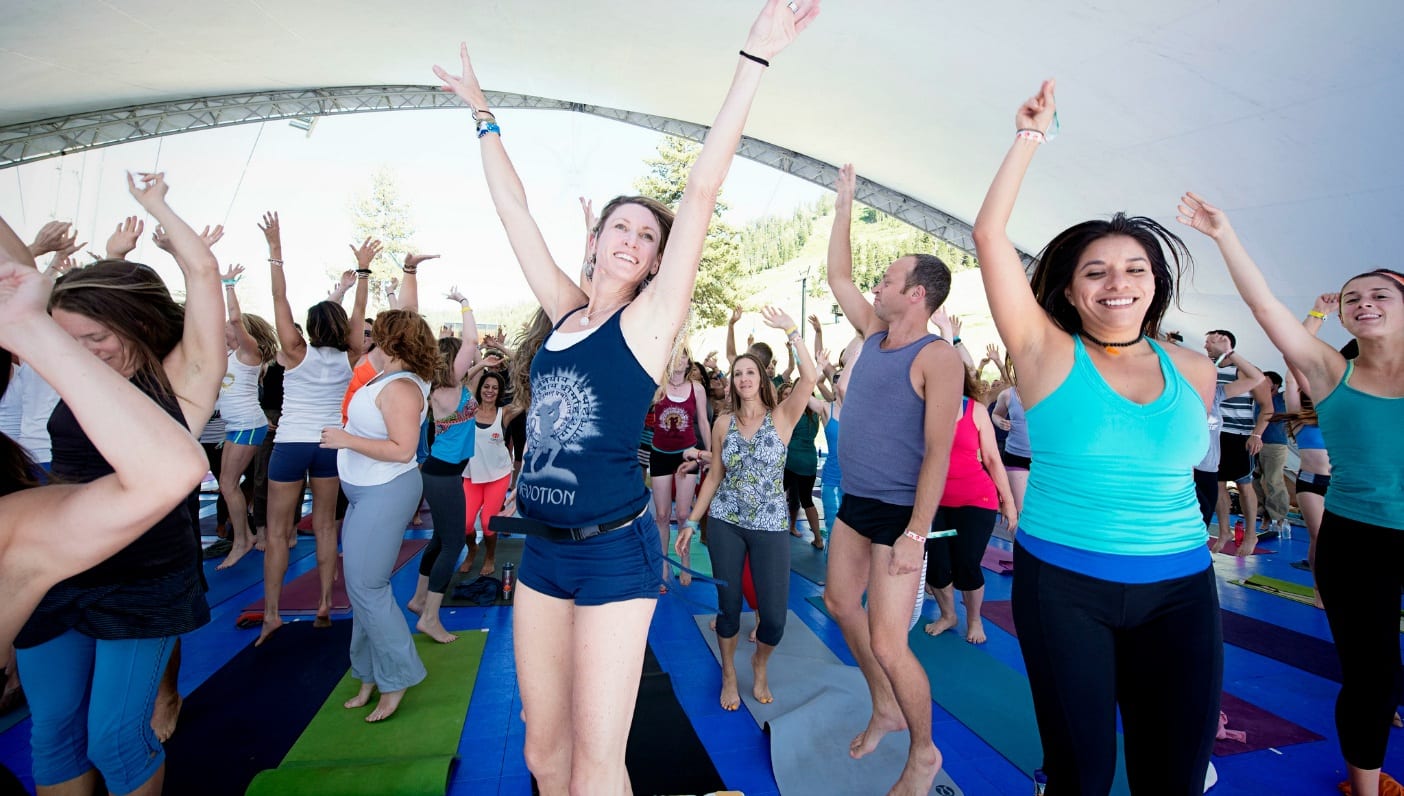 Photo by Alex Wang
International Day of Yoga was inaugurated by the United Nations in 2015, hailing June 21—the summer solstice—as an annual holiday to "to raise awareness worldwide of the many benefits of practicing yoga." The UN initiated the celebration due to yoga's universal appeal and increasing popularity—this year's theme is "Yoga for Peace." Who doesn't love a day to celebrate mindfulness and a personal yoga practice? Around the country, studios are opening their doors and offering free or discounted classes in celebration.
We reached out to some of our favorite US and Canadian studios to compile a list of free or discounted offerings, so you can plan to celebrate IDY in style. This is by no means an exhaustive list of all the awesomeness happening around the country, so be sure to check with your local studios in person.
Wanderlust Studios
Wanderlust Hollywood
Los Angeles, CA 
In addition to our daily class schedule, join us for fun extras to celebrate: 8:30 AM Kundalini with complimentary breakfast samples after class // 12:00 PM Flow with surprise gift from manduka (for those registered and attending class) // 2:00–5:00 PM Complimentary Makeup touch up sessions from Nars // 3:00–4:00 PM Oracle Readings by donation with Aarona Lea, creator of the Moon Deck // 4:00–5:00 PM Community Kirtan with Eddie Marashian (50% of the proceeds from this workshop will be donated to Yoga Gives Back) // ALL DAY Samples from our local food and beverage vendors. For those who are new to the studio, we invite you to take your first class FREE. RSVP yes to the Facebook event and receive a complimentary Coffee at our True North Cafe during our Celebration!
Wanderlust Yoga Austin
Domain, Austin, Texas
Join Wanderlust Yoga for Candlelight Solstice Yoga on the Great Lawn of the Domain at 7:00pm.
Wanderlust Yoga Squaw Valley
Squaw Valley Resort, Tahoe, CA
Free intro to AIReal Yoga™ Demo class 1pm–2pm with Kellee Rich. Come fly with us! Join us for this FREE introductory class in celebration of International Yoga Day! AIReal Yoga™ uses a hammock that swivels freely on a single point taking you to a "higher" level. When used as a yoga prop it allows you to deepen your stretch, correct alignment & safely perform inversions. The hammock is hung at hip height and all postures are firmly rooted in Hatha yoga (no risky performance art here!) AIReal Yoga™ is for all levels and styles of yoga and is the first and only form of aerial yoga recognized by the Yoga Alliance. (We strongly recommend advance registration via phone as spots are limited 530.584.6140)
Le studio de Yoga Wanderlust
7 Avenue Laurier and 390 Rue Guy—both locations in Montreal, Quebec, Canada
Because YOGA feels so good and make us so happy in life, we want to celebrate it with as many persons as possible! For the International Day of YOGA, the 6pm class on the 21st of June at both studios will be on DONATION only! Come celebrate and acknowledge this practice with us. Arrive early to get a spot! Check out the Facebook event here.
Midwest
Ahimsa Yoga Studio
Oak Park, Elmhurst, La Grange, and Berwyn, IL
We are offering your first class for $5!

Power Life Kansas City
Kansas City, MO
Celebrate summer and Salute the Sunset with the Power Life community! We'll celebrate International Day of Yoga and salute the sunset in style on the rooftop at the Power Life South Plaza studio. Community starts at 7pm with body painting, treats, music and giveaways! Class starts at 8pm and ends as the sun sets on the longest day of the year.
Sacred Space Yoga + Meditation
1955 Johnson Street NE, Minneapolis, MN 55418
Enjoy FREE drop-in classes ALL DAY at Sacred Space on Thursday June 21st to celebrate International Day of Yoga!
McFetridge Yoga & Fitness Studio
Chicago, IL
Bring a friend for free all day long—OR participate in the donation-based 108 sun salutations in honor of the Solstice.
YogaFresh
Woodbury, MN
Join us for a FREE Summer Mala of 108 Sun Salutations at YogaFresh as we celebrate International Yoga Day and the summer solstice (or the first day of summer and the longest day and the shortest night of the year in the Northern Hemisphere). We will invite more daylight and warming temperatures with 108 (modified) Sun Salutations as we welcome the change of seasons with an envigorating practice led by Brittany McArdell. This seasonal practice is an offering of peace and unity on the first day of summer and a great way for you to view the progress of your practice seasonally. Modifications will be offered and all levels are welcome to attend this slightly heated practice (80 degrees)! Cost: FREE. Space is limited, so please register online.
Viva Prana
1415 N Dayton Flr 3 Chicago Illinois 60642
Viva Prana will be hosting two donation based classes on 6/21/2018: 12:00–12:45pm Lunchtime Vinyasa with Whitney Pasch and 7:30–8:45pm Stretch & Restore with Jessica Wilson. The classes will feature mindful movement, alignment centered flow and over strengthening and stretching. The studio will be offering a new membership offer of $99.00/month and 4 class membership for $48.00/month.
GMRENCEN Rooftop Yoga
GMRENCEN, Detroit, Michigan
Move through a dynamic and revitalizing series of sun salutations (surya namaskar) to salute the sun, welcome the beginning of summer, and celebrate the practice! The word solstice in Latin actually means "sun standing still." A solstice occurs twice each year, when the movement of the sun's path (as seen from Earth) comes to a stop before it reverses direction. This is an auspicious practice to wipe the slate clean and manifest your summer in the way you want it to feel. We encourage all participants to wear white or light colors as we celebrate the sun in the morning. Bathrooms are not available on the Rooftop, so please change to workout clothes beforehand.
Sage Yoga & Wellness
242 N. 8th Street Suite 200 Boise, ID 83702
We are offering a donation-based class where students can pay whatever to take class!
East Coast
Hosh Yoga
Greenpoint, Brooklyn
Donation Based Intermediate Vinyasa Class 10:00am
Humble Haven Yoga
Richmond, VA
Nearly a year ago, Humble Haven Yoga's owner Suzanne Burns and manager Marisa Atula were introduced to ReEstablish Richmond, a local non-profit organization helping refugees establish roots, build community, and become self-sufficient. Since that initial connection, Suzanne and Marisa have provided free weekly yoga to a community of Bhutanese refugees and private prenatal classes to individual refugees from various origins. In honor of International Yoga Day, Humble Haven Yoga will be offering a donation based class in support of ReEstablish Richmond and their humble work. The class, a Candlelight Vinyasa + Sound Bath, will be co-led by Suzanne and Marisa. All donations made will be matched by Humble Haven Yoga. All information and registration can be found here.
Full Circle Yoga
1515 Grand Central Ave. Vienna WV
Let's celebrate International Day of Yoga on June 21st! Current students (those that have been to the studio before) can bring a *Friend to try any of our drop-in classes on Thursday, June 21st. *Friend must be NEW to the studio and accompanied by a current student.
Bella Prana Yoga and Meditation
Tampa, FL
All classes on Thurs. 6/21 will turn into donation classes at Bella Prana Yoga! That's 14 opportunities to practice for free in celebration of International Day of Yoga. All proceeds will benefit the Citizens Climate Lobby (a local environmental charity).
Yoga Power, LLC
Charleston, WV
We offer one free week of unlimited yoga to all new clients.
Five Pillars Yoga
Upper East Side, Manhattan, NY
Join creative and dynamic vinyasa teacher (and one of our faves!) Stacy Leung for some free flow in honor of International Yoga Day. This open level class will get the energy moving, build strength and cultivate bright & refreshed presence, and celebrate our studio's community. 5–6 pm. Location: 4th Floor Loft.
West
Flex & Flow
1461 N Skidmore St, Portland, OR 97217
Join us at Flex & Flow on International Day of Yoga for FREE classes all day long. Check out our schedule at flexandflowyoga.com/schedule and hop on the mat with us for FREE on June 21!
I Am Yoga Wellness Studio
Turlock, CA
Bring a friend for free on June 21.
SLO Yoga Center
672 Higuera St #200, San Luis Obispo, CA
We will be hosting a free community class on June 21. Come to a special Vinyasa class that is free to the public to celebrate the gift of yoga on International Yoga Day. Bring a mat and arrive early.
Be One Yoga
Kirkland, WA
Celebrate International Day of Yoga with us! Be One Yoga is hosting a donation based glow-in-the-dark vinyasa class with yoga instructor Anna Johnson! This donation based class will be jammed packed with HIP HOP tunes, glow sticks, body paint, tattoos and of course a fun filled vinyasa flow! Most importantly, all proceeds will go to support the NAMI, the National Alliance on Mental Illness, the nation's largest mental health organization dedicated to building better lives for the millions of Americans affected by mental illness. Join us Thursday, June 21st! COME EARLY to adorn yourself with all the glow-stick, body paint and tattoo fun! Class begins at 8:30 PM
TruFusion
Scottsdale, AZ
TruFusion & Lululemon ScottsdaleQuarter will be doing a $10 donation based yoga class benefitting Africa Yoga Project which helps create yoga accessibility and empower leaders in 22 African countries. This will be held from 6pm–8pm in the studio. A yoga class will take place from 6:00pm-7:00pm followed by a social mixer from 7:00pm–8:00pm. We will also provide a kid's yoga class from 6:00pm–7:00pm as well.
Yumi Hi SUP Yoga
Hilton Hawaiian Village, Waikiki beach, Honolulu, Hawaii
Follow us on Instagram @yumisupyoga , tag 3 or more friends on our posts and comment how you would love to join our SUP Yoga session on Thursday June 21 to celebrate International Yoga Day with us! Giving away 2 free sessions! Aloha!
South
Jai Bhakti Yoga
New Orleans, Louisiana USA
Om on the Green Sacred 108 Sun Salutations held at Bastion Community of Resilience 1901 Mirabeau Ave. New Orleans La. Event is from 6pm–8pm Meditation Circles begin at 6–6:30pm 108 begins at 6:30pm to Live Music, More events after class till 8pm. FREE refreshments!
Canada
Namaste Yoga Limoilou
Québec City
En partenariat avec Acro Yoga Fest, Namaste Yoga Limoilou offrira un cours d'initiation à l'acropole Yoga. Une séance de Méditation. Un cours de Yoga en Lumière sur DJ live. Venez vous amusez de manière colorée.
Unity Yoga
East Vancouver
We'll be offering these classes for free in celebration of IDY: 5:00 Hatha / 6:30 Vinyasa / 8:00 Hatha. See you there!
Studio B Yoga & More
#8 45540 Market Way, Chilliwack BC
We are offering free yoga classes all day on June 21st.
Haven Yoga & Wellness
Abbotsford, BC Canada
We are inviting our community to come and celebrate International Day of Yoga with us in our 6:00pm Empower class taught by Rebecca Marshall. ** em·pow·er əmˈpou(ə)r/ make (someone) stronger and more confident, especially in controlling their life and claiming their rights ** We can't wait to celebrate this with all of you!