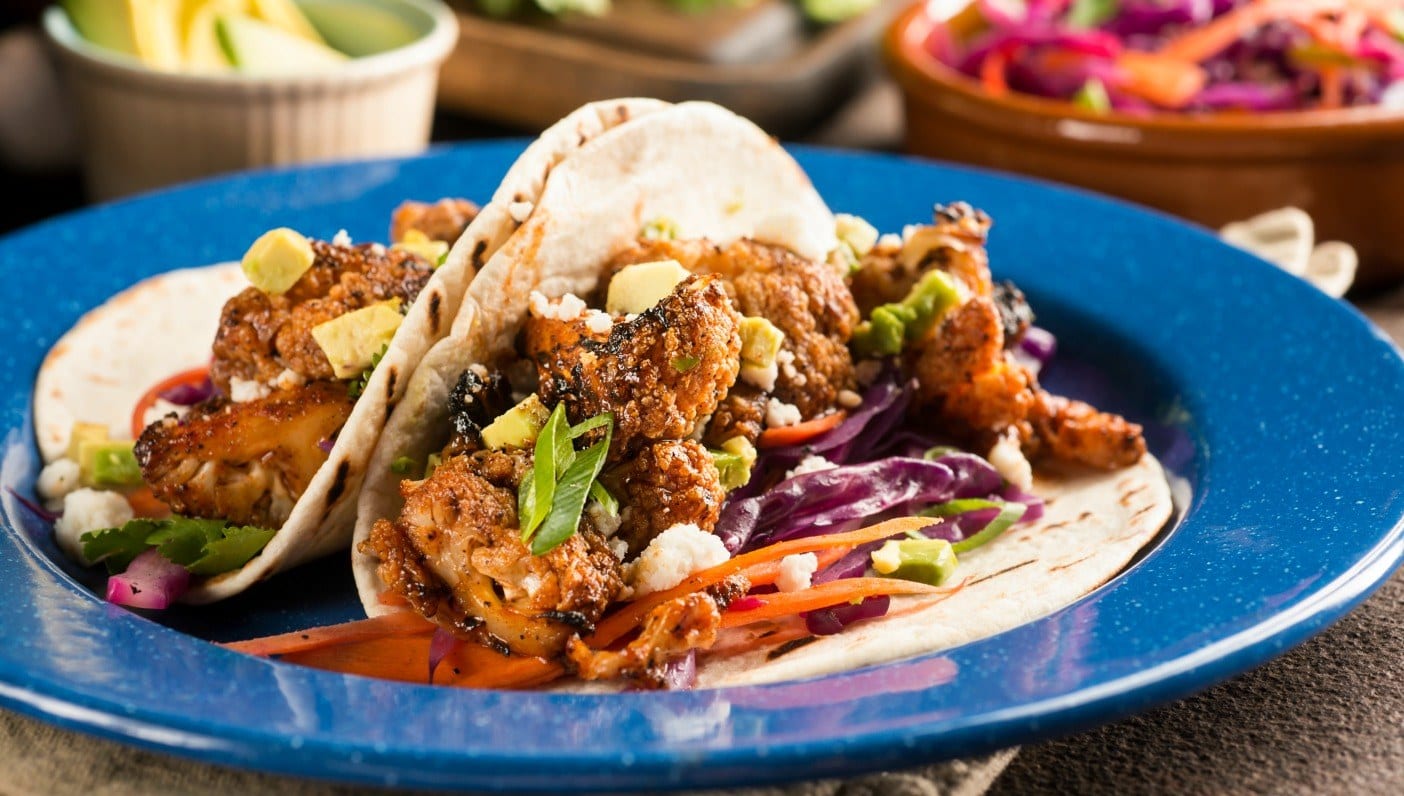 ---
This dish was the absolute most popular recipe from my TV series on Cooking Channel. People went absolutely nuts for these tacos, and it's easy to see why.
The lentils and cauliflower team up to form the ground "meat" in this dish with authentic Mexican spices. In fact, lentils are a triple threat for fitness. They're packed with 18 grams of protein and 16 grams of fiber per cup along with low-impact, slow-digesting carbohydrates. The perfectly creamy guacamole and fresh fixings will make even the most ardent meathead do a straight-up double take after the very first bite.
Cauliflower Lentil Tacos with Fresh Guacamole
Vegan, Gluten-Free, and Sugar-Free
Serves 4 to 6
INGREDIENTS
Guacamole:
6 ripe avocados, pitted and diced
1 1/2 cups diced red onion
1 to 3 medium-size jalapeño peppers, to taste, stemmed, seeded, and minced
1/4 cup plus 2 tbsp fresh cilantro, finely chopped
1/4 cup fresh lime juice
1 1/2 tsp sea salt
3/4 tsp ground cumin
Pinch ground black pepper, to taste
Pinch cayenne pepper, to taste (optional)
1 1/2 ripe medium tomatoes, seeds and pulp removed, diced
Cauliflower Lentil Taco "Meat":
1 cup green or brown lentils
3 cups filtered water
1 head cauliflower, stems and leaves removed, broken into 1-inch pieces
2 tbsp extra-virgin olive oil
2 medium yellow onions, diced (about 1 1/2 cups)
1 jalapeño pepper, seeded and minced
4 cloves minced garlic
4 tsp chili powder, divided
2 tsp ground cumin, divided
1 tsp ground coriander, divided
1/2 cup canned or homemade tomato sauce
1 1/2 tsp salt, or to taste
1/2 tsp ground pepper, or to taste
One 5.5-ounce package organic taco shells
4 cups shredded romaine lettuce, reserved for topping
INSTRUCTIONS
To make the guacamole: Mash the avocados in a medium bowl until slightly chunky. Add the onion, jalapeños, cilantro, lime juice, salt, cumin, pepper, and cayenne, then mash the mixture some more.
Cover with plastic wrap directly on the surface of the guacamole to prevent oxidation. Refrigerate until chilled, about an hour. Just before serving, add the tomatoes to the guacamole and gently mix.
To make the Cauliflower Lentil Taco "Meat": Rinse and drain the lentils thoroughly. Add the lentils to a medium saucepan. Add the filtered water and bring to a boil. Reduce the heat to low and simmer until tender, about 30 minutes. Drain.
Pulse the cauliflower into rice-size pieces in a high-speed food processor. Heat the olive oil in a large skillet over medium heat. Cook the onion and jalapeño until the onion is translucent, about 5 to 7 minutes. Add the cauliflower rice, garlic, 2 teaspoons of the chili powder, 1 teaspoon of the ground cumin, and 1/2 teaspoon of the ground coriander and cook for 4 minutes. Stir in the tomato sauce and cook another 3 to 4 minutes or until the cauliflower is tender.
Add the cooked lentils, the remaining 2 teaspoons of chili powder, 1 teaspoon of ground cumin, 1/2 teaspoon of ground coriander, and the salt and pepper.
Cook for an additional 3 minutes.
Scoop the Cauliflower Taco "Meat" into the taco shells and top with shredded romaine lettuce and a dollop of guacamole. Serve immediately.
Jason's Tip: With its hearty, chunky consistency, the Cauliflower Lentil Taco "Meat" can also be served as a side dish with refried beans, guacamole, or salsa.
This is an exclusive recipe from Jason Wrobel. For more of Jason's vegan recipes, check out the Wanderlust Find Your True Fork cookbook.