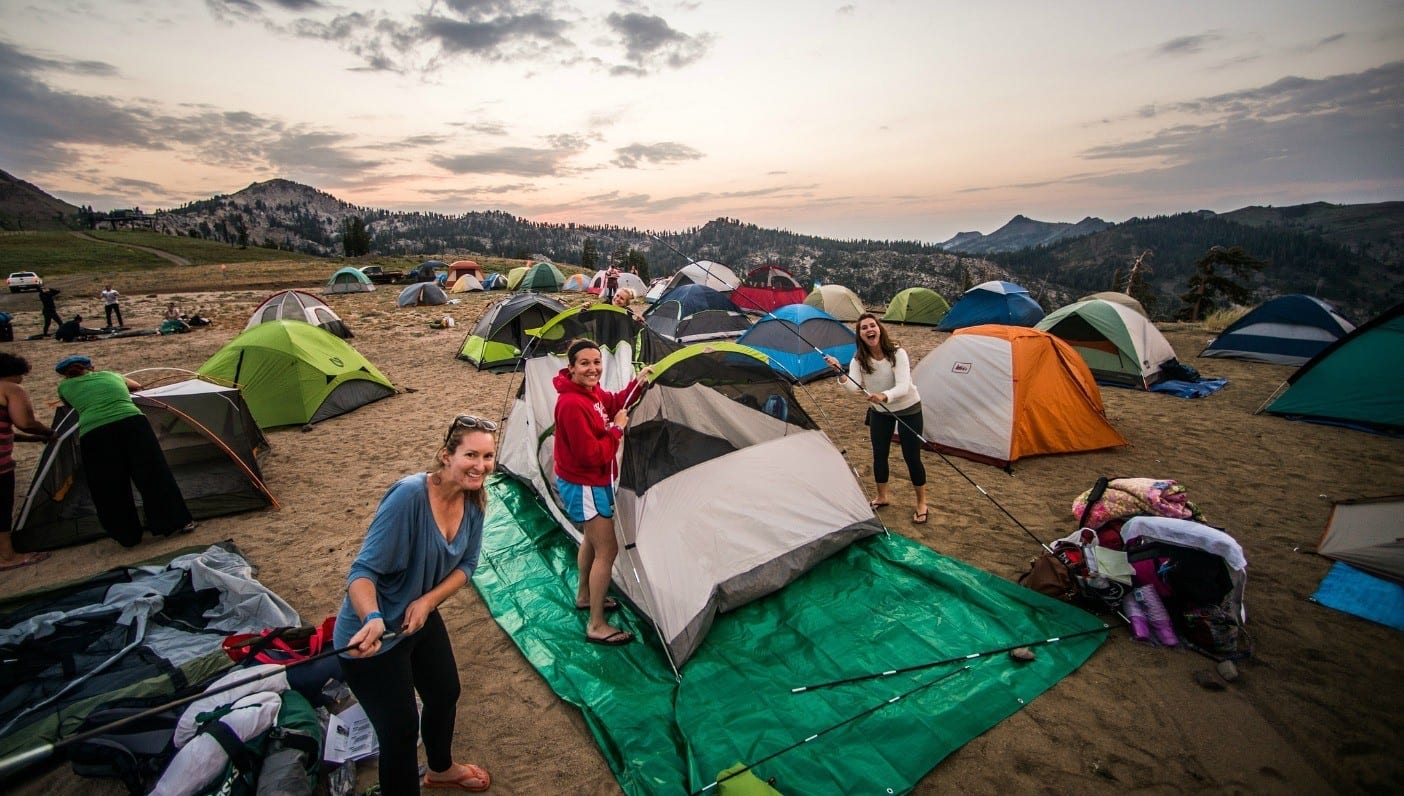 Photo by Ali Kaukas
Camping is the most economical way to sleep at a 3-day Wanderlust Festival—and arguably the most fun. Available at all US Festivals, beginning at just $30/night. For more information, click here. 
---
I'm not much of a camper. I've always preferred hostels, beaches, sandals and over-the-shoulder bags to backpacks, mountains, sneakers, and trails. But I'm not so lame as to not be open to the excitement of new experiences… Sometimes.
When I was peeing in the bushes in the middle of the night and something bit me, for a moment I wondered, "Why am I camping at Wanderlust again?" But then I looked up, and, in awe of the sheer beauty of High Camp in the crystalline night, I forgot what I had been complaining about.
If you're ever on the fence—camp.
Let's be clear: this is NOT roughing it, for most. In addition to having one of the most exquisite views all the way around from 8,200 feet high, Wanderlands is outfitted with a giant pool and hot tub, bathrooms, showers, a modest breakfast, and a very cool tram ride up and down.
That said, there are some things I wish I knew ahead of time. Once again, being not particularly camping-adept, these things weren't common sense to me. But they sure will be next year. Know what you're getting yourself into, and you will enhance your Wanderlust experience tenfold.
Bring some sort of blow-up mattress or camping pad.
Sure, you can be a badass and sleep on the hard, hard ground or your yoga mat. But, within the context of a yoga festival, you would be very wise to consider a comfortable night's sleep. Taking three yoga classes a day with the memory of a rock lodged in your side all night ain't fun.
Pack earplugs.
Major age range happening here. And that means when the last tram comes up at midnight, some folks bring the party to the campsite. Last night at one am, I felt like our neighbors were having their debaucherous conversation in our tent, like, in my sleeping bag with me. Those wearing earplugs noticed nothing.
Don't miss the sunset.
If the high elevation doesn't take your breath away, the sunset atop the clouds sure will. And that salmon-colored moon in the middle of the night—no words. Couple that with howling coyotes, and it feels like you're a world away from Wanderlust. But really, you're just a short tram or hike away from the comforts of Squaw.
When camping at Wanderlands, do one thing and do it often, day and night: Look out at the horizon and look up into the sky and connect to the depth of your breath. We are blessed.
—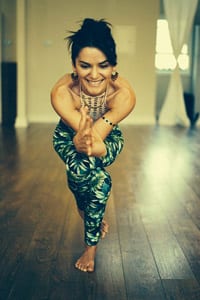 Andrea Manitsas—affectionately called "Anj"—is a yoga teacher based in San Francisco and Berkeley, where her Oms resonate down the block and around the corner. She is known for a bhakti-filled class with a whole lotta soul and a fierce flow. Andrea also writes and edits. And travels—a lot. She takes her teaching on the road with yoga retreats around the warm world.
Save