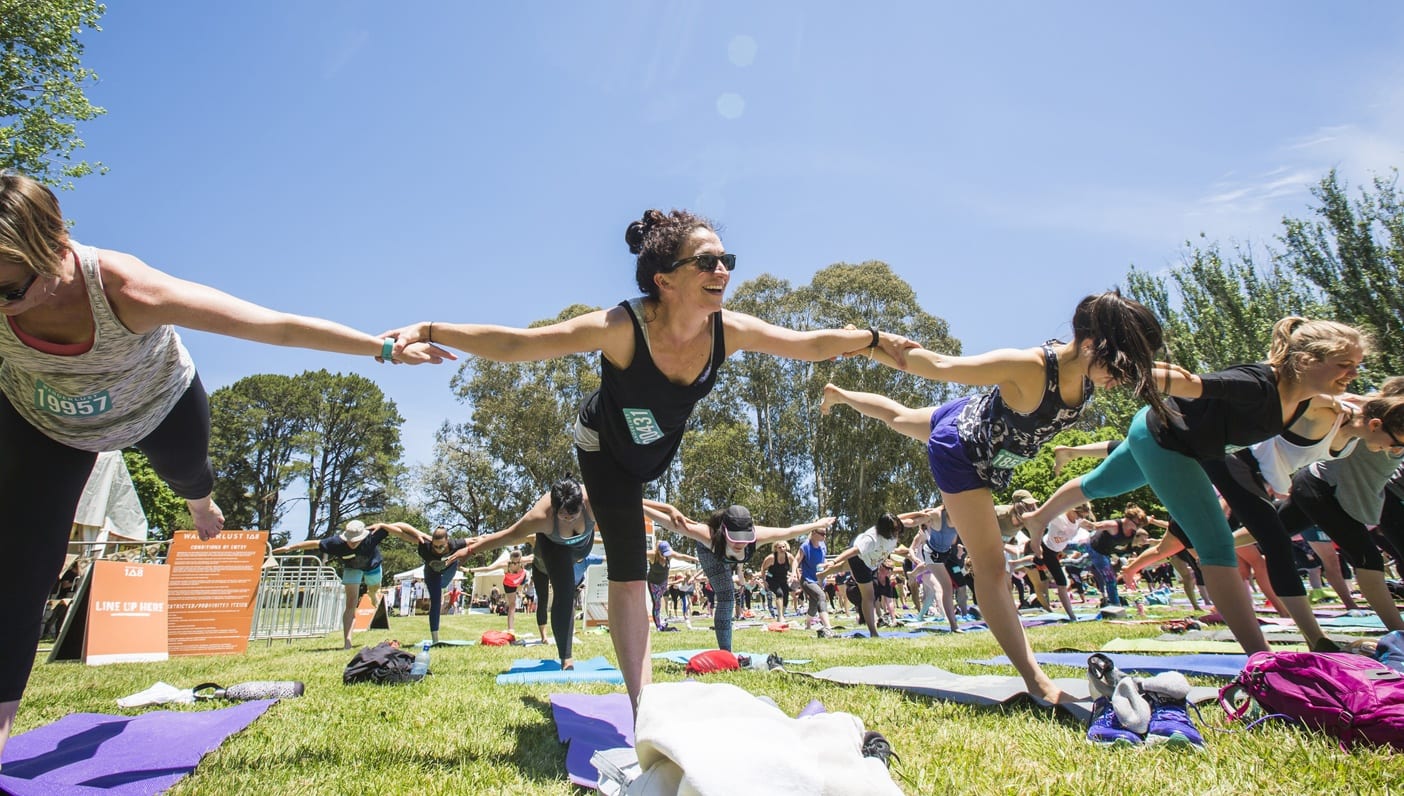 Photo by Paul Hoelen
Find a Wanderlust 108 near your hometown. Click here for more info. 
---
Gather 'round, yogis. It's time to reveal the new workshops for this year's Wanderlust 108 tour.
The 108, also known as the world's only mindful triathlon, carries the same mission as Wanderlust—to help you find your true north and cultivate your best self. A mindfulness practice helps individuals move past the standard mental roadblocks, ditch the ego, and explore new sides of the self. At each 108, we encourage yogis to find this mindfulness as a community, leading to strengthened relationships and invigorated spirits.
One method of opening the mind is to try new things. Breaking routine, or adding new hobbies and interests to your life has multiple benefits—these activities fuel courage, destroy boredom, and lead to personal growth. And so it was no question that our 108 lineup had to consist of a few surprises.
OM Walking
Meditation need not always take place in a seat—OM Walking invites practitioners to wander the Earth while tuning in. Yogis will meet with a Wanderlust staff member, explore the park, spend a few minutes in meditation, and then trade intentions and techniques. Meditative walking is a great way to develop a mindfulness practice, and doing so through the hums of the park allows practitioners to absorb their city's local fauna.
iPhone Photography Class
If you've got an iPhone, you can be an artist. Hone your photography skills at the Race Arch, where we'll teach attendees all about the art of iPhone photography. The lesson includes information on composition, using angles, sharing tactics, following the light, helpful third party apps, and, of course, how to bring mindfulness into the art of spontaneous photography. If you're looking to catch the perfect Instagram pic—don't forget the hashtag—this is your moment.
Essential Oil Workshop
From headache relief to insect repellant to homemade treats, essential oils provide a natural way to ease and simplify your daily life. At the essential oil workshop, we bring in professionals to provide folks with a quick download on how essential oils work, where to use them, and for what reasons. You'll leave with the knowledge of how to apply these soothing elements into both your practice and everyday life.
Community Yoga
The Wanderlust 108 strives to foster intimacy between people and place—in other words, provide attendees with a new perspective of the host city. Community Yoga is the perfect way to accomplish the mission. We find a studio local to the area, then bring the instructors to the triathlon in order to give everyone a taste of the local mindfulness scene. Not only will you score some additional time on your mat, but you'll also gain exposure to new flows, teachers, and perspectives in the yoga universe.
Music + Yoga: A Discussion
The combination of music and yoga is a hot topic, and for good reasons. Different genres have various affects on our brains, and different people have various tastes in music. We all flow to our own beat, so why not find yours? This workshop allows our yogis to hone newfound DJ skills, and enables everyone to craft a playlist that best suits their unique practice. Expect to leave with a better understanding of the power of music, and how you can start to set a rhythm to your personal practice.
---
Want more? We've got you covered—there's plenty of AIREAL yoga, hooping, AcroYoga, meditation, shopping, and more. Regardless of what you choose, the 108s are here to provide with you a down-to-earth, fun, and inspiring day of activities. While you'll only be with us for the afternoon, the effects of these global mindful movements will keep shining long after you've gone home.
For more information on the Wanderlust 108, click here.
—
Amanda Kohr is the editor at Wanderlust. When she's not roaming the internet, you can find her exploring new highways and attempting to be gluten-free.