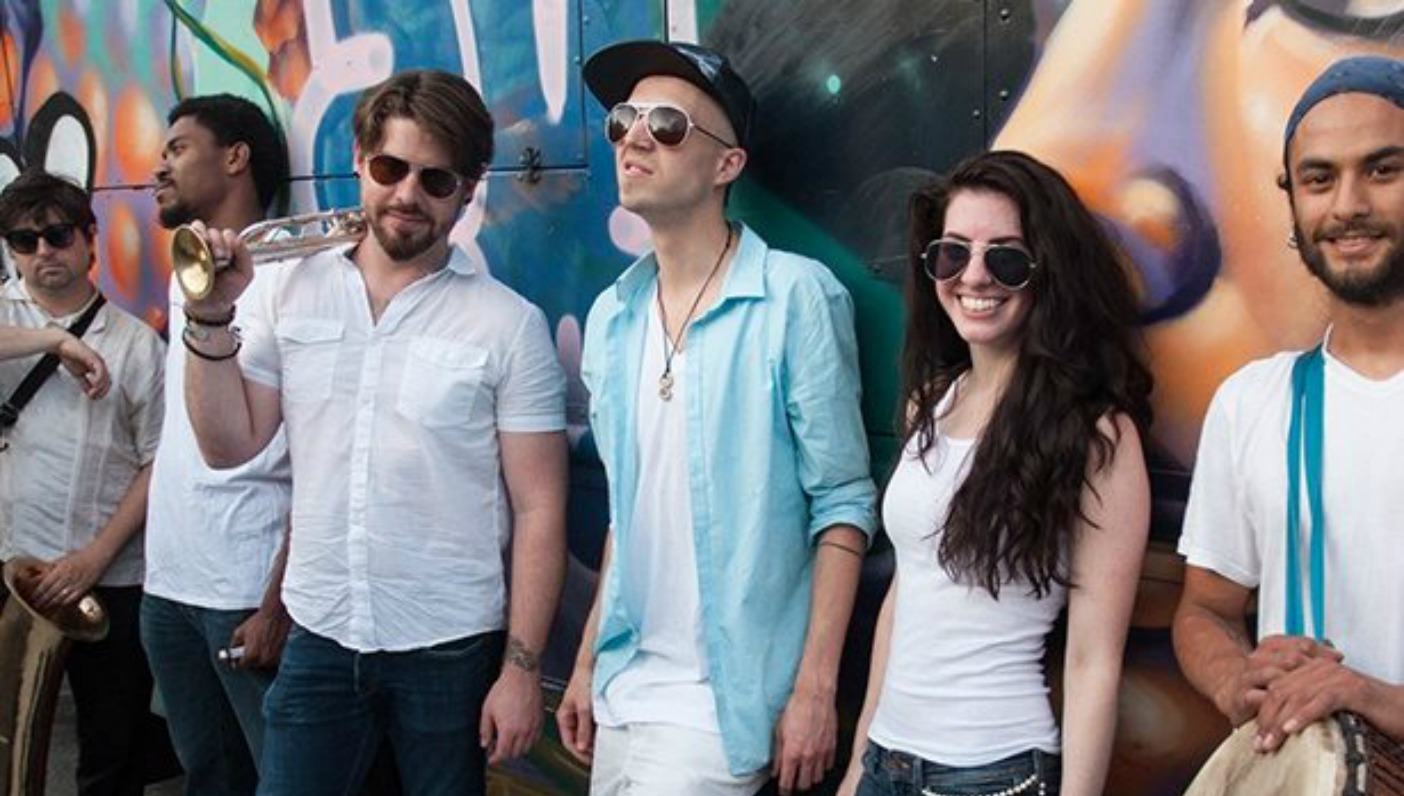 Wanna keep the jam sesh going? Visit Wanderlust Music and Wanderlust TV for more great videos. 
---
Amy Grace and Forefeather are in their studio recording a trombone track when I call. They are the creators and singers of Big Village Little City, a Brooklyn-based band founded on the central values of community, inclusion and self-love. Their unique sound fuses hip hop with funk, jazz and New Orleans style brass, and has an organic groove to it.
"I consider our music to be what would happen if you had Trombone Shorty compose the music for Outkast, and it was delivered to the world in the style of the Roots," says Forefeather. Each player brings their own unique element to the music, and there is the sense that each time they play together, something new and ecstatic arises.
Forefeather comes from a family of yogis based in Minneapolis, an experience that shaped his journey as a rapper and hip-hop artist.
"My discovering that I could freestyle is one of the events that has defined my life," he says. "It's always been important to me to practice improvised rhyme. I consider a kind of therapy."
Amy Grace is a native NYC jazz/funk singer hailing from a family of artists. She grew up listening to jazz and fell in love with the works of Louis Armstrong, Cab Calloway, Ella Fitzgerald, Sarah Vaughn, Billie Holiday, Duke Ellington, and Miles Davis. Her voice is strong and expressive, and possesses a tone which harkens to these early jazz influences. You can tell she sings with passion and appreciation. 
Musical Forces Combined
Amy and Forefeather met in the fall of 2015 at a morning dance party in lower Manhattan, where they were introduced by a friend. Forefeather had just moved to New York with the intention of pursuing music after spending a year interning for the yoga school at Kripalu. The connection between the two was instantaneous.
"We were on a very similar wavelength as far as what we wanted to do musically," says Amy. "Our first conversation ended in a plan for a band." They played their first show at Brooklyn's House of Yes in April 2016.
The duo's ideas not only coincided musically, but also in what they wanted to achieve with their work. They each saw music as a way of liberating people and building community. Their goal is to cultivate "inclusivity, authenticity, mindfulness, diversity, self-motivation, creativity, and self-sustainability" within people. A large part of the BVLC performance is the community experience, as they two are "dedicated to bringing people together to celebrate themselves and each other."
When writing music, Forefeather beatboxes and uses verbal sound to capture those fleeting moments of inspiration. This process enables him to use live looping to find that flow-state, and develop groves that he can later expand upon and flesh out into full BVLC songs. 
The notion of a "Big Village, Little City" has been something that Forefeather has played around with in his mind a lot about over the years. He says he likes playing with contradictions and polarities, and so it only seemed natural to bring this attitude into his musical creations. 
"The name sounds more like a movement," Amy says. Perhaps this is why it works so well for their collaborative project. There are no bounds to the inspiration of a community of diverse thinkers, movers, and shakers. It is expansive, yet intimate.
Collaboration to Create Community
Since their start, Amy and Forefeather have cultivated a community of musicians.
"I'd fallen in love with New Orleans funk and brass bands, and I thought it would be really amazing to try to combine these elements with hip-hop," says Forefeather. Amy was already in close contact with a number of talented musicians from hosting jazz jams in the city. She tells us, "The musical combination of all of us ended in our sound."
The group began by jamming and leaving the floor open for discovery. Everyone brings a different spice to the sound. They play with the intention of creating an "experience" rather than a performance, which is an important distinction.
"We always leave room in the live performances for improvisation" says Amy. "Sometimes we ask the audience for a subject then improv a whole song on the spot."
This June, the band has plans to tour the East Coast Wanderlust Festivals. Their favorite part of touring?
"Playing, spreading joy, and watching people experience themselves," says Amy, elaborating that performing every night allows the band to slip into a flow and find the vibration of a crowd. "We're most interested in getting a particularly diverse group of individuals together to create an empowering, supportive, invigorating, magnetic community and culture that will naturally lift up all those who encounter it."
"Performance is a practice" says Forefeather. "It's very similar to yoga and meditation." He cites something that a hero of his from his early life in Minneapolis named Eyedea once said, which is that "Heaven isn't that place we go to when we die, it's that split second in life where you actually feel alive."
It is apparent that this is the base sentiment of BVLC's performances. There is a sense of lifting up an entire room of people and experiencing pure joy together.

For more of Big Village Little City, visit their website and on SoundCloud. 
Catch Big Village Little City June 9-11 at Wanderlust Snowshoe, June 22-25 at Wanderlust Stratton, and August 24-27 at Wanderlust Tremblant in Quebec!
—
Jillian Billard is a poet, yoga teacher, cellist and avid wanderer. A native New Yorker, she is often caught daydreaming of sprawling green fields and mountains. She trained and received her ashtanga yoga teacher's certification in Goa, India and works at Laughing Lotus Yoga Center in Brooklyn. You can often find her with her head buried in a book, doused in lavender. Follow her on her (very newly developed) Instagram page for class schedules and updates at @jillboyoga.