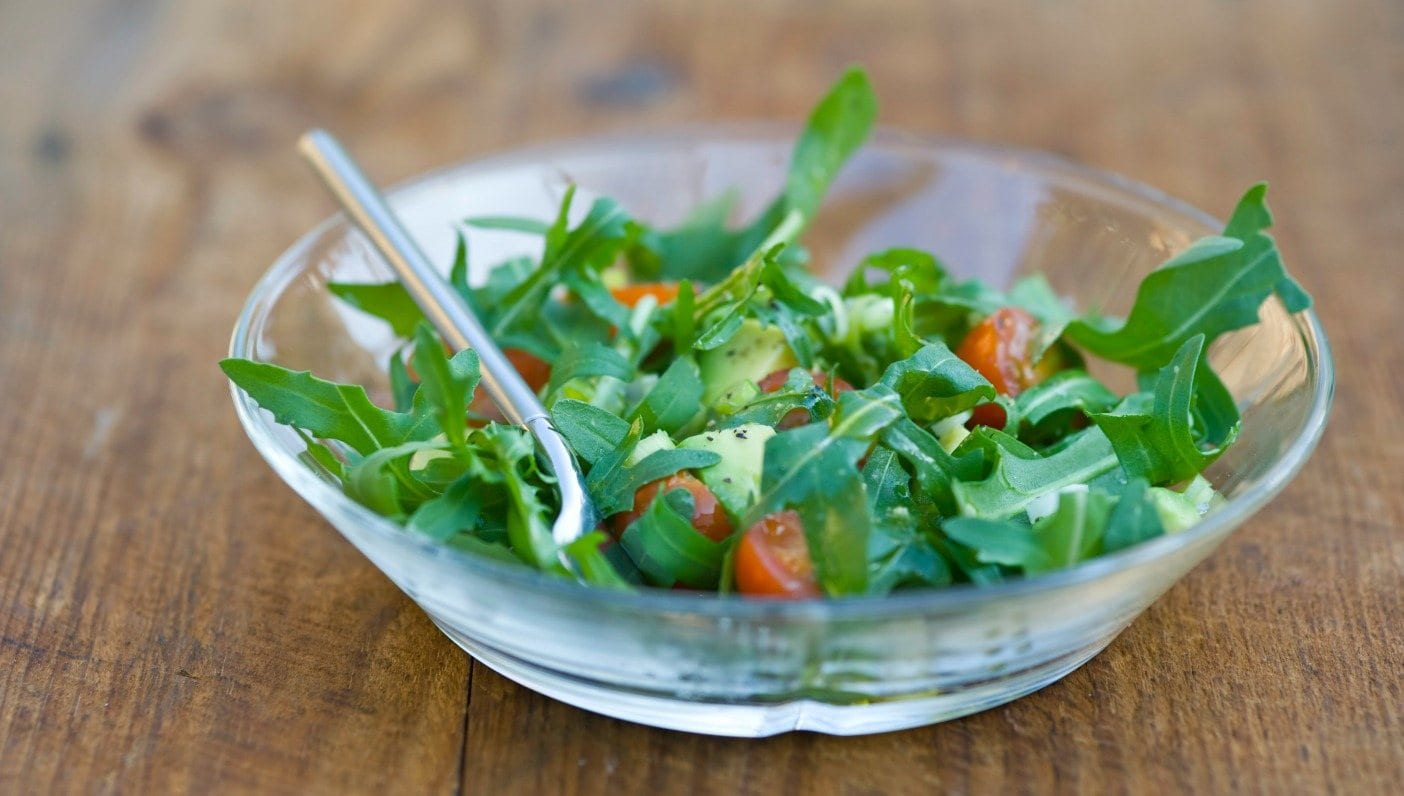 Summer is the best for a lot of reasons, but the abundance of fresh fruit and vegetables is one of my favorites. It's also a time of indulgence—between the various holidays, parties, and backyard barbecues, we often find ourselves diving headfirst into some of favorite, and maybe not as "healthy," treats. If you're like us, and you occasionally indulge, this salad is a perfect way to press the reset button.
Arugula is full of phytochemicals that can help prevent cancer, along with Vitamins A, C and K. Avocados are full of healthy fats and fiber to keep you full and feeling good. This recipe also contains strawberries to help boost immunity, pine nuts (which are actually seeds) for added energy, and olive oil to help stabilize blood sugar and cholesterol levels. It's great as a side dish or topped with grilled salmon or chicken for a super healthy meal.
Arugula Avocado Salad With Classic Vinaigrette
Serves 2
INGREDIENTS
Salad
2 cups baby arugula
1 avocado, seed and skin removed, sliced
6 strawberries, chopped
1/4 cup pine nuts
1/4 lemon
1/4 cub shaved parmesan (optional)
Dressing
1/2 cup extra virgin olive oil
1–2 cloves garlic, chopped
1 tsp dijon mustard
1/4 cup balsamic vinegar
Salt and pepper to taste
INSTRUCTIONS
Make the dressing by combining all ingredients in a mason jar, or something similar, and give it a good shake. Set aside. (Extra dressing can also be kept in the fridge for up to two weeks).
Toast your pine nuts: Heat oven to 350 and place nuts on a baking sheet. Roast for about three to five minutes. Watch them very carefully, as you don't want them to burn. Set aside.
In a large bowl, combine arugula, strawberries, avocado, toasted pine nuts, and parmesan. Squeeze lemon on top.
Add your dressing a little bit at a time until you reach a satisfactory salad to dressing ratio.
Sprinkle a little sea salt and pepper on top, and enjoy.
—

Michaela is a certified holistic health and lifestyle coach through the Institute of Integrative Nutrition, and a registered yoga teacher. She lives in Los Angeles, CA, where she works as a part of Wanderlust Media. In addition to her dedicated yoga practice, Michaela loves music, travel, cooking and eating healthy food (of course), and spending time with her family and friends.