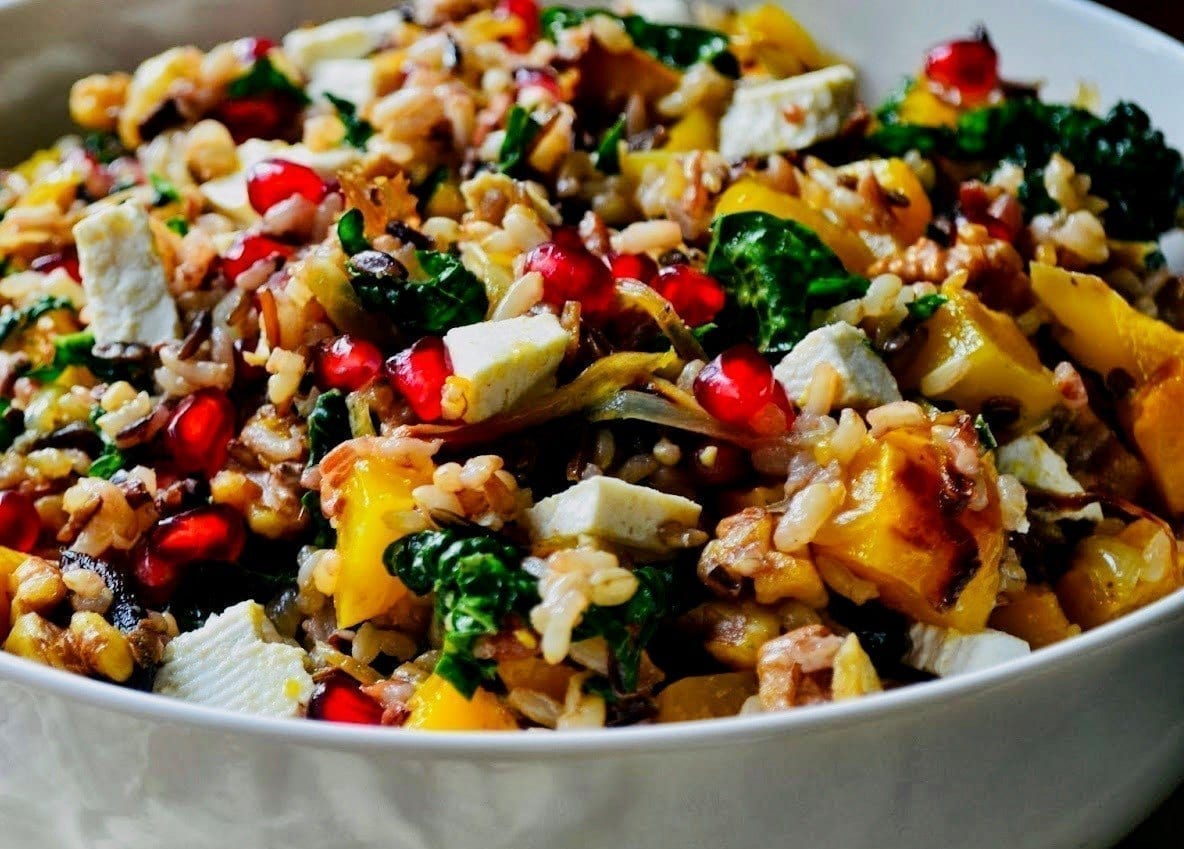 From O'Caine's Irish Pub in Greater Palm Springs.
Beets
5 medium/small beetroot (not baby)
1 tbs runny honey
1 tbs olive oil
2 tsp balsamic vinegar
Sea Salt
Ground black pepper
Boil and then simmer the beetroot for 30 minutes. Drain and leave to cool for 5 minutes. Peel off skin (wear gloves if you don't want beet-colored fingers!) and cut into halves or wedges. Put in a separate oven dish and drizzle with honey, oil, and vinegar; season with salt and pepper to taste. Put in the oven for 15 minutes at 375 degrees.
Other Vegetables
1 large sweet potato or kumara cut into chunks
500g pumpkin cut into wedges
1 bunch baby carrots (about 8–10, scrubbed and trimmed)
2 large red onions peeled and cut into 8 wedges
2 oranges, zest and juice
2 tbs olive oil
2 tbs runny honey
Sea Salt
Ground black pepper
1 tsp ground cumin
1 tsp ground coriander
1 whole red pepper, top stem removed
Lay out all vegetables with the exception of the red pepper single-level on a large roasting pan. Drizzle with olive oil, orange zest and juice, honey, and sprinkle with spices. Cook in the oven just until tender, about 30 minutes. Remove from oven and let cool.
Crank up the oven to 425 degrees, and pop in red pepper. Bake for 20–25 minutes until blackening on the outside. Put into glass bowl or jug and cover with plastic wrap. Leave to cool for 15 minutes, then peel off skin and cut into strips.
Pesto Dressing
1/2 cup extra virgin olive oil
1/8 cup lightly toasted pine nuts
1/8 cut lightly toasted almonds
1/4 grated parmesan
1 clove crushed garlic
1 handful fresh cilantro leaves
1 handful fresh basil leaves
Sea Salt
Ground black pepper
Put all ingredients into a food processor and blend until smooth.
To Assemble
Start with a layer of watercress, then top with all vegetables.
Garnish with baby watercress, pomengranate, and pine nuts.
Spoon pestro dressing over to serve.
Optional: Add crumbled soft goat cheese or seared lamb filets or lamb racks for protein.
It's time to live your "wellest." That's what we've always done in this magical, sun-kissed oasis. Since the days of the earliest Native American settlers, we've created a destination for wellness. Besides our legendary hot springs, there are more than 1,000 miles of breathtaking trails for epic hikes, ancient waterfalls and light-filled spas surrounded by whispering palms. Whatever brings you joy, you'll find it here. Greater Palm Springs: nine resort cities, one "wellest" oasis.