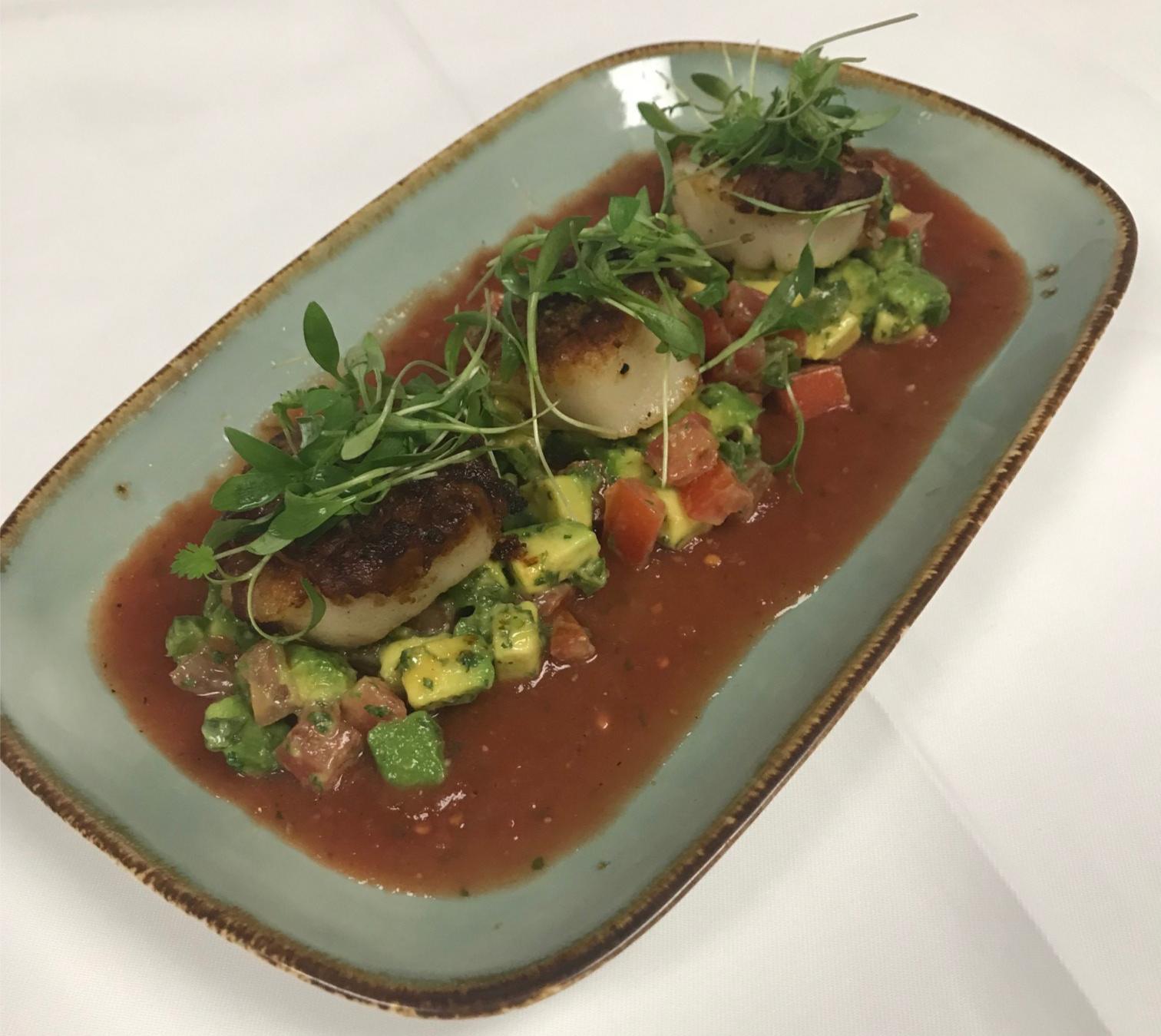 From the luxurious Ritz-Carlton Hotel in Greater Palm Springs.
Ingredients
1 tbs extra-virgin olive oil
2 tbs finely-diced red onion
1 tbs minced seeded jalapeno
4 plum tomatoes (3 coarsely chopped, 1 halved, seeded, and finely-diced)
2 tbs hot water
3 1/2 tsp fresh lime juice
Salt and freshly-ground pepper to taste
1/2 Hass avocado, peeled and finely diced
2 tbs finely-chopped cilantro
12 large sea scallops (~ 1 lb)
To make:
Heat 1 tsp olive oil in 8-inch skillet until shimmering.
Add 1 tbs of red onion and 1/2 tbs of minced jalapeno. Cook over moderately high heat, stirring constantly, until the onion in golden (about 4 minutes)
Add the coarsely-chopped tomatoes and hot water and cook, stirring, until tomatoes are softened (~3 minutes)
Transfer the mixture to a blender or food processor, and puree until smooth
Strain the sauce through a fine sieve set over a bowl, pressing on the solids.
It's time to live your "wellest." That's what we've always done in this magical, sun-kissed oasis. Since the days of the earliest Native American settlers, we've created a destination for wellness. Besides our legendary hot springs, there are more than 1,000 miles of breathtaking trails for epic hikes, ancient waterfalls and light-filled spas surrounded by whispering palms. Whatever brings you joy, you'll find it here. Greater Palm Springs: nine resort cities, one "wellest" oasis.