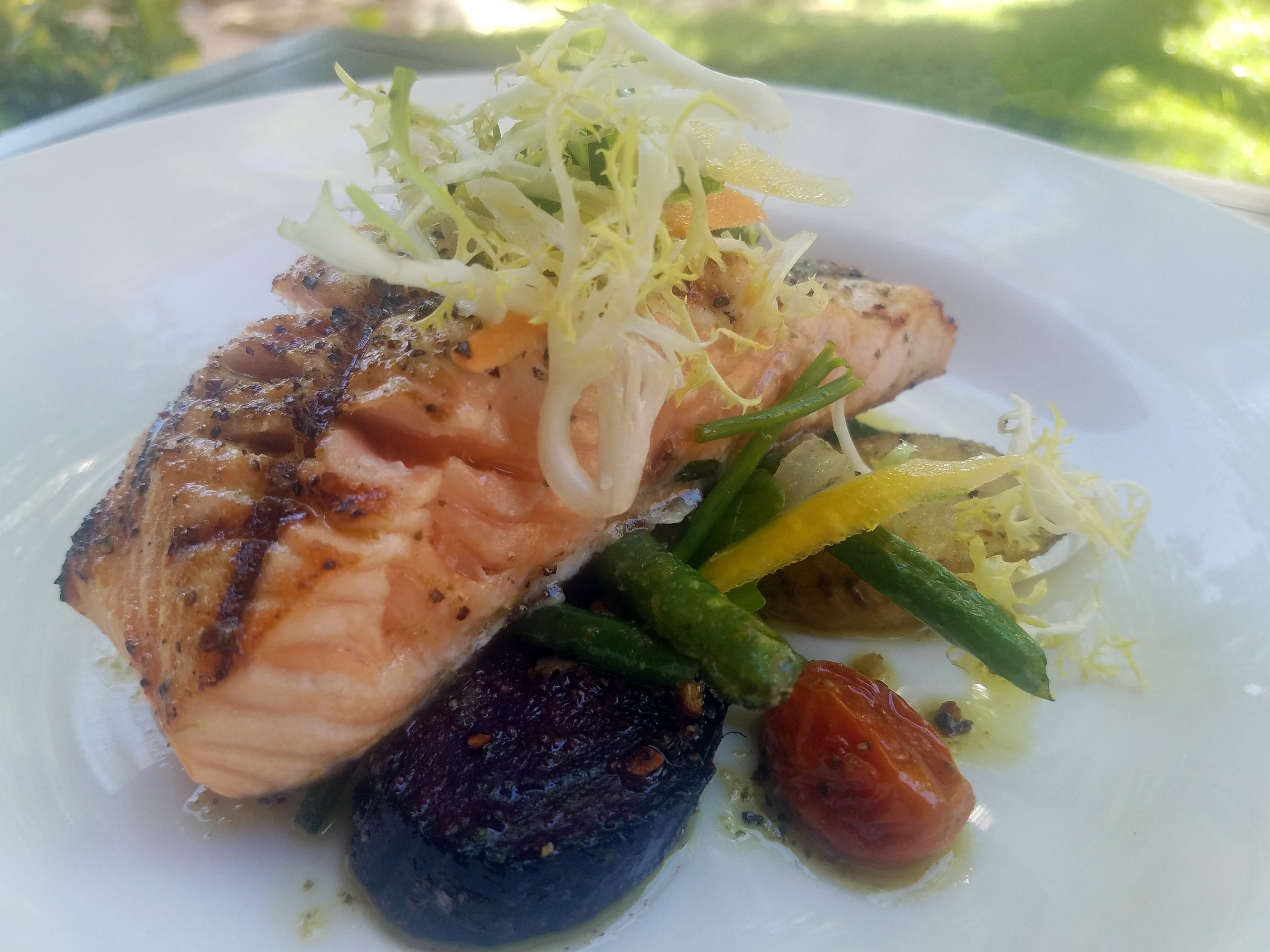 From Pinzimini Restaurant at The Westin Mission Hills Golf Resort & Spa in Greater Palm Springs.
Ingredients
7oz salmon filet
1⁄2 cup heirloom carrots
1⁄2 cup green beans
1⁄4 cup grape tomato
Chermoula sauce: (Up to 4 servings)
1⁄2 bunch parsley
1⁄2 bunch cilantro
3 springs rosemary
3 springs thyme
3 cloves garlic
2 Tbsp. lemon juice
3 Tbsp. cumin powder
1 cup olive oil
Salt
Pepper
To make:
Wash Heirloom carrots well (do not peel).
Cut off ends of green beans.
Coat carrots and green beans with cooking oil, salt and pepper.
Place in a single layer on a baking dish and roast in the oven at 350 for 20–25 min (adjust time depending on size of carrot) until carrots are soft with a little bite to them.
Cut carrots into half inch pieces and place them to the side.
Season salmon with salt and pepper, place on grill skin side up (does not need to have skin) until a grill mark is achieved.
Remove salmon from grill and transfer to a baking dish.
Bake in the over at 350 for 10–12 min (for a medium cooked filet, adjust according to preference).
In a blender, mix all Chermoula sauce ingredients together (remove rosemary from stem!) until a smooth texture is achieved (like chimichurri sauce).
Add salt and pepper as preferred.
In a medium pan, sauté grape tomatoes with olive oil until they become soft.
Add green beans and carrots to tomatoes with about two-thirds of the Chermoula sauce until all ingredients are even temperature.
Place veggies on plate with salmon laying over veggies.
Drizzle Chermoula sauce over the salmon.
It's time to live your "wellest." That's what we've always done in this magical, sun-kissed oasis. Since the days of the earliest Native American settlers, we've created a destination for wellness. Besides our legendary hot springs, there are more than 1,000 miles of breathtaking trails for epic hikes, ancient waterfalls and light-filled spas surrounded by whispering palms. Whatever brings you joy, you'll find it here. Greater Palm Springs: nine resort cities, one "wellest" oasis.