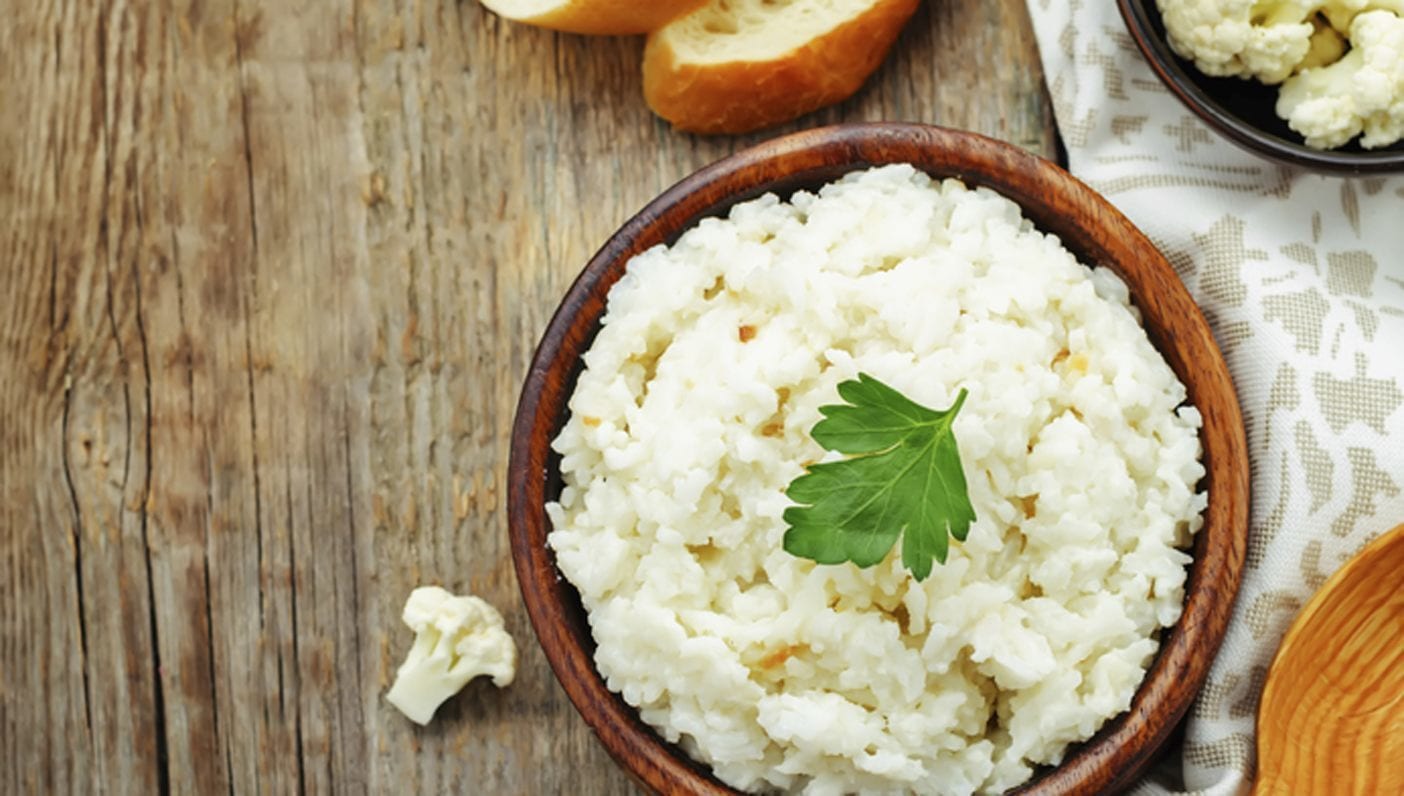 c
If you're anything like me, you have trouble saying no the thick-crust pizza, creamy rice dishes, or anything laden with carbs. Perhaps Friday night rolls around and you're drooling over Papa Johns commercials, wondering how something so delicious could make you feel so yucky? Don't worry, my friends. There is a solution, and it's name is cauliflower.
Cauliflower doesn't seem like much; it's essentially the white bread version of broccoli. But when done right, cauliflower can sing and dance with its own flavor. It's shouting: Eat me! I'm actually delicious!
Which is great news, considering that this funny little floret is bursting with nutritional value. For one, cauliflower contains sulforaphane, a compound kills cancer stem cells and improve cellular function. It's anti-flammatory, which is great because too much inflammation has been linked to cancer and other organ-related diseases. And if that weren't enough, cauliflower is packed with vitamins C, vitamin K, choline, riboflavin, niacin, magnesium, phosphorous, fiber, potassium, and a myriad of other minerals. So yeah, let's find a way to get this bad boy into our bodies.
Below are some recipes replicating some of your favorite meals, but with cauliflower as a prominent ingredient. Start a party in the kitchen, and meet your new cruciferous best friend.
---
Where are my mashed potato fans? Come on over, because this recipe is a killer version of the creamy classic. There are only four ingredients necessary, and not one of them is potatoes. This is fantastic if you're watching your carb intake, but still dying to get dive headfirst into a steaming bowl of cheesy goodness.
You may see a lot of people out there advertising "the best" cauliflower pizza crust, but this is truly the winner. The secret is the addition of dried Italian herbs into the crust, creating a flavorful platform for your favorite pizza toppings. Top with your favorite cheeses and/or vegetables, and you're good to go. Friday Night Pizza isn't going anywhere.
Football season might be over, but that doesn't mean your cravings are. Vegetarians and vegans typically have to shrug off any potential cravings for Buffalo-style foods (we're talking the sauce, not the animal), but this recipe adds the flavorful sauce directly to cauliflower. The end result is crunchy, bold, and packed with flavor. And if you haven't completely forgone carbs, a beer adds some cool carbonation to the heat from the sauce.
Crispy Orange Cauliflower from Vegan Richa
Chinese food can be tricky; the veggie options are sometimes drenched in sauces, making it difficult to find something on the menu that fits in with any dietary sensitivities you may have. And sometimes the best options (orange chicken, I'm looking at you), are just hefty nuggets of mystery meat, oil, and breading. While there's certainly a time and place for junk food, my Chinese food cravings are too frequent to indulge with every hunger pang. But this recipe is vegan AND gluten-free, so it's perfect for various diets and preferences.
Cauliflower Yellow Lentil Curry from Pinch of Yum
Indian food was a staple in my college diet, as the ethnic food section was often the only one to have vegetarian offerings. Curry is delicious, so this created no problems whatsoever. If you throw in some cauliflower, you get a wonderful dish, bursting with various textures, fragrances, and flavors. This recipe calls for creamy lentils and crunchy cauliflower, all folded with a curry sauce and topped with mango jam. The end result is delicious meal that will have you mentally lofting in a Goan hammock.
Cauliflower Hot Pockets from The Iron You
If you're ready for a mouthful of nostalgia, meet these cauliflower-based take on Hot Pockets. For those of you unfamiliar with Hot Pockets, they're microwaveable dough turnovers, often stuffed with some sort of meat, cheese, and vegetable combination. They're great for on-the-go lifestyles, but not so great for your gut. Make them at home using cauliflower rice, and save yourself from a lot of unpronounceable ingredients. If you're no bueno on meat, you can swap out the ham for broccoli, zucchini, or green peas.
Vegan Cauliflower Mac and Cheese from Vegan Insanity
There is little more comforting than a bowl of steaming hot cheese pasta. Mac and cheese is likely one of the most famous comfort foods, but a lot of people tend to nix it out when they start on a health kick. It doesn't need to be this way! We can have our cheese and eat it too! This recipe makes it all possible; combining a variety of veggies and seasonings to create a flavorful replication of a classic favorite.
Risotto is a beautiful thing. When you cook rice in a cream-and-chicken-broth combo, it leads to smooth and flavorful comfort food. When I was researching cauliflower-based recipes, I knew risotto had to be on the list. With mushrooms, veggie oil, and cauliflower rice, this recipe recreates that indulgent flavor that stands out as its own superhero. Lemon juice adds a brightness, and the addition of fresh parsley provides the perfect dose of Mother Earth. Enjoy curled up on the couch, alongside your favorite white wine, or all on its own.
—
Amanda Kohr is a 25-year-old writer and photographer with a penchant for yoga, food, and travel.  She prefers to bathe in the moonlight rather than the sun, and enjoys living in a state of the three C's: cozy, creative, and curious. When she's not writing, you can find her driving her VW Bug, looking for the next roadside attraction or family diner. She also roams the internet at amandakohr.com.