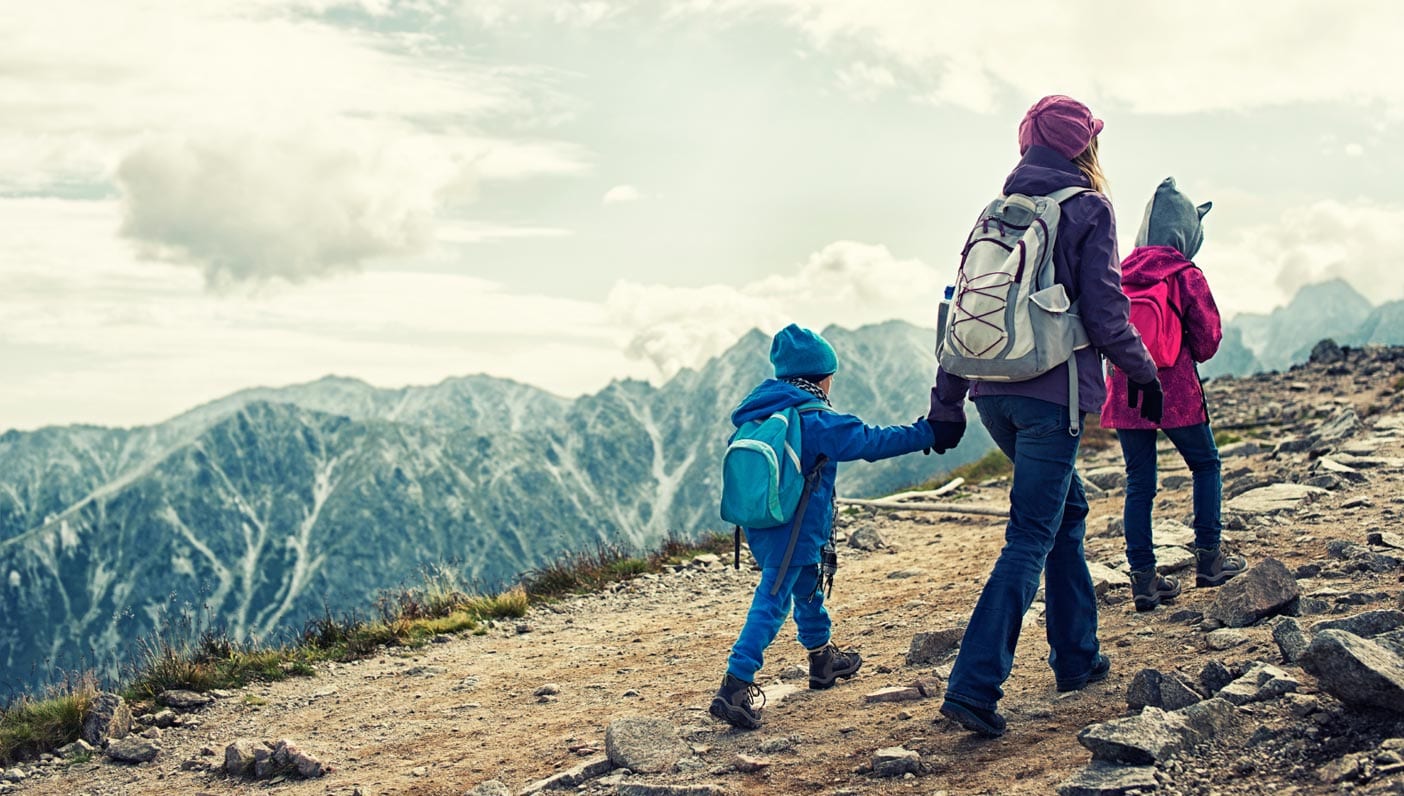 Photo via iStock
This piece is from our partners at Fatherly. Want more like this? Sign up here.
---
You have 1152 waking hours of weekend bliss in front of you this year, so here are 12 worthwhile activities to fill them all — with tips on each from ridiculously overqualified experts.
Want them to ski? Here's advice from the best downhill racer in U.S. history. Throw a knuckler? A World Series-winning pitcher has you covered. Cook a gourmet meal? A Top Chef master will get them ruling the kitchen. Listen, if anybody says the words, "I'm bored," that's all on you.
Dr. Bert Yankielun is a cold weather engineer who has been to the poles more times than an Atlanta stripper, so you can trust his fort-making abilities. There are few different types of snow shelters you can build — from an easy quinzhee (that's just a hollowed out snow cave), to the more advanced igloo. And if you're worried there's not enough quality frozen water on the ground? "If you can make a snowball, you can make a snow shelter," says Yankielun.
–Turn A Snow Fort Into A Snow Fortress With These Tips From a Polar Engineer
February: Make A Snowboard Park In The Backyard
Recreate that towering, X Games-style half-pipe — but, you know, to 3-year-old specs. Jeff Boliba, who builds these kinds of mini-parks both for Burton Snowboards and for his own son, can get you started. First, gather a retractable dog leash, a spork, half of a hula-hoop, and a toyStar Wars lightsaber (Coincidentally, this is also how every MacGyver episode ends.) Next, click the link below.
–Teach Your Kid How To Snowboard, From A Terrain Park Design Pro
March: Create A LEGO Work Of Art
Stop stepping on these things in the middle of the night and start turning them into epic sculpture. Chris Steininger's dad got him into the business of playing with LEGOs, and he can show you a few projects that teach building fundamentals. Steininger says, "I'd say 5 to 6 range, they're going to start actually making things." Before that, just make sure they don't swallow anything integral to finishing that Millennium Falcon.
–A LEGO Master Builder On Turning Your Kid Into A Tiny Architect
April: Train Like a World Series Pitcher
Nobody throws a baseball like Timmy Wakefield (well, technically there have been more than 85 notable knuckleballers, but that's not the point). If you've got Little League tryouts coming up, Wakefield will identify which pitches your aspiring lefty should start throwing, and at what age. Remember: "No puberty, no curveball."
–A World Series-Winning Knuckleballer On The 3 Pitches Every Guy Should Teach His Kid
May: Be A Museum Tour Guide
Museums are more than just field trip destinations or a touchy subject for Indiana Jones. They contain deep insights into the human condition and our natural world — and astronaut ice cream in the gift shop! Tyler Vawser, of the private tour group Museum Hack, explains how doing a little planning, and organizing a few games can make you one bad ass docent.
–A Museum Hacker On How To Make Any Museum Awesome For Kids
June: Get Them Skateboarding
This X Games-winning, 2-time Thrasher Magazine Skater Of The Year means no disrespect when he asks if your kid is regular or goofy. Chris Cole says that before your son or daughter goes pro, they need to learn their stance, how to balance, and most importantly how to bail if a trick is about to turn sideways. "You really have to monitor what they do, because their guts are through the roof," says Cole.
–An X Games Champion On Teaching Your Kid To Skateboard (Even If You Can't)
July: Sail Away
James Burwick lives on a 40-foot boat with 3 kids — so think about that the next time you have to share a hotel room with your children. To get his entire family acclimated to a pirate life, Burwick focuses on making safety fun, risk understandable, and danger exciting. "Just praise them when they're doing it right and don't really talk about the negatives."
–A Guy Raising 3 Kids At Sea Explains How To Get Them Comfortable On Boats
August: Sculpt Sandcastles
Guinness World Record Holding sand sculptor Rusty Croft says that buckets of water, plus sand, plus patience can yield a lifetime of beach memories for your kids. Up your game from just being buried up to your neck, to actually making a sandcastle that looks like Elsa's in Frozen. It doesn't matter the age level, says Croft, everyone has some ability. "I've seen the tiniest little kid make a turtle. If they can crawl, they can do it."
–Show Your Kids How To Be King Of The [Sand]Castle
September: Point Out The Constellations
Jason Kalirai has a better telescope than you. As one of the scientists working on the James Webb Space Telescope, (which — not to brag — will be the most powerful space telescope ever built), he says that you don't need a grant from NASA to see some heavenly bodies. All you need is a simple telescope, a constellation app (seriously, it's not cheating), and a place far away from light pollution. Like Utah.
–A Guy Building The Next Hubble Telescope On Stargazing With Your Kid
October: Take A Hike
This fall get off the same path as the leaf peepers — by going above them. Brian Dickinson summited Mt. Everest (and came back down!) so he's more than qualified to teach you and your kids how to make the most of a day hike. "Make it interesting," says Dickinson. "Stop a couple of times to have snacks. Have it be a fun time. Distract the kids to make it to the top." And if you don't make it to the top, that's ok too.
–A Guy Who Climbed The 7 Summits On Getting Kids Into Hiking
November: Cook Something Delicious
It might be a few years until you trust your children around the stove, but for James Beard Award winning chef Hugh Acheson, it's never too early to learn the basics. The sooner you get them to eat more than mac and cheese and pizza the better. "Half of how you teach someone to cook is to have them just be around good food, and they pick up on it through various ways of just watching and learning." That must mean more trips to Ruth's Chris.
–This Is How You Raise A Kid Who Cooks Better Than You
December: Hit The Slopes
Daron Rahlves, a 9-time World Cup downhill winner, managed to get his kids skiing right after they could stand up on their own. He did this using a fool-proof plan: gummi bears. "It was like teaching a dog with treats," Rahlves admits. "I was baiting them." Of course teaching kids to ski takes other qualities besides bribery, like peer pressure. Oh, and patience — lots of that.
–The Best Downhill Racer In U.S. Team History On Teaching Your Kids To Ski