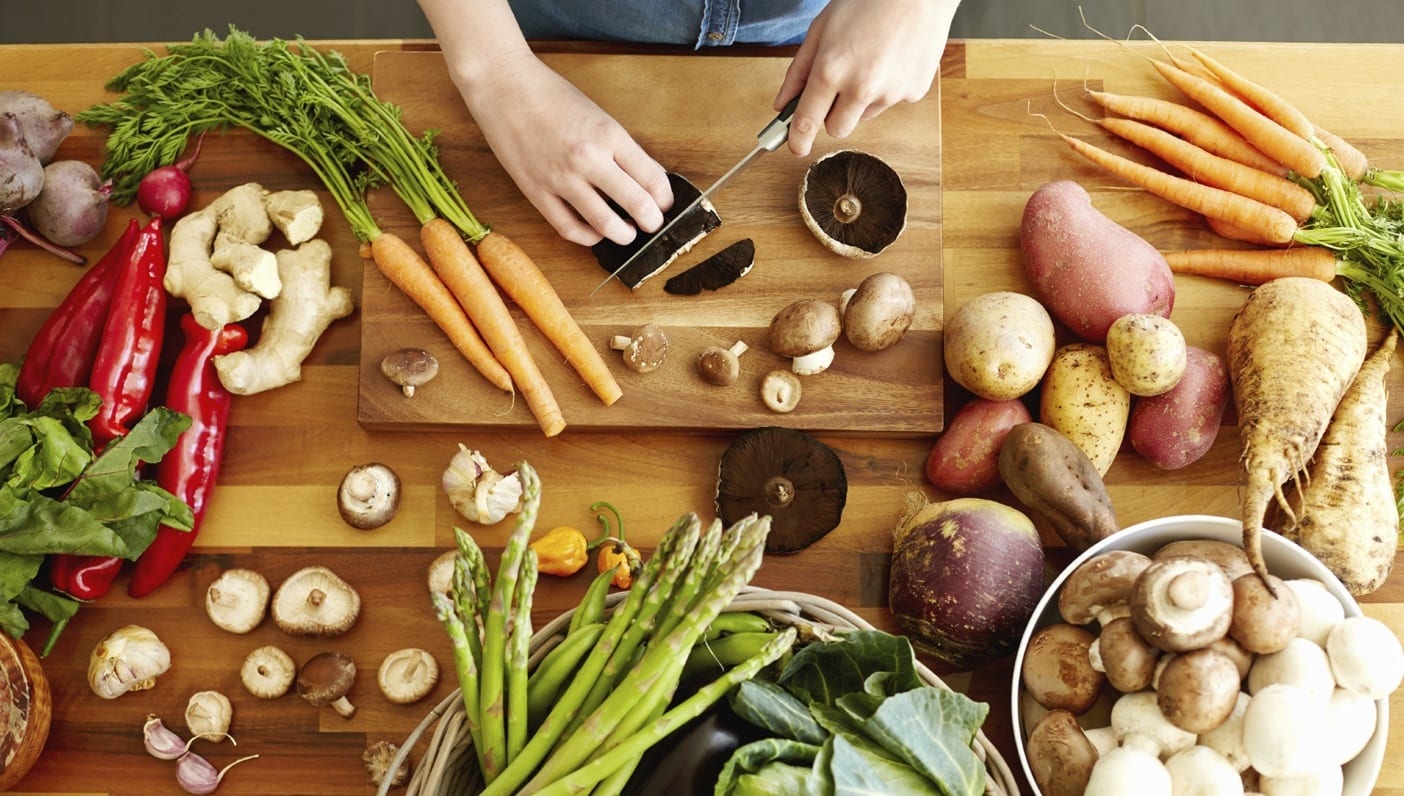 Ah, the weekend. A time for socialization, shouting, and snacks. If you want to add something fresh and delicious to the menu, we've got the lineup for you.
---
Fire up the stove and open the spice cabinet, because this vegan chipotle chili belongs on the menu. Red bell peppers, butternut squash, onions, black beans, and tomatoes are just some of the yummy ingredients that join forces to create a filling dish. The recipe serves four people as a meal, so be sure to double it if you plan on feeding on a crowd. (Or indulging in some late-night leftovers!)
When it comes to Buffalo treats, it's hard out there for a vegetarian. Super Bowl parties often have wings galore, but when it comes to vegetables, you may find yourself in a bit of a pickle. Fear not, herbivores; this recipe combines the heat of Buffalo sauce with crunchy cauliflower. Regardless of your stance on meat-eating, you and your friends will love these flavorful little bites.
Elegant and easy, this bruschetta recipe combines bright flavors to bring a unique dish to the table. The tang of tzatziki and fresh zucchini will be a nice addition to a party full of richer options. (And it's always fun to eat something that looks pretty.)
There are few things more magical than this classic appetizer. Seven layers of fresh and filling ingredients create a snack thats worthy of any occasion. This vegan version combines refried beans with homemade guacamole to create bite after bite of creamy, slightly spicy Mexican flavor.
Tacos, so delicious, and yet so impractical for a party. Unless you're hosting, prepping tacos can be a daunting task. These little cups are transportable, tasty, and full of satisfying veggies. Feel free to get creative; the recipes asks for black beans and avocado, but any of your favorite taco toppings will work just as well.
Healthy knock-offs can be a bit risky, as it can be hard to find something that's more than just a "low-fat" version of the real deal. This onion rings are one solid exception. Serve plain, with a squeeze of lemon, or alongside a marinara dipping sauce. Your inner party animal is bound to go wild.
Packed with vitamins, minerals, and anti-oxidants, it's simply an added bonus that sweet potatoes taste so darn delicious. They're a great swap for the white potatoes, and come with the added bonus of spinach and mozzarella cheese. The result is a creamy and flavorful appetizer that can be prepped in a pinch.
No flour, no eggs, no butter, and all of the cookie dough. Help your friends unleash their former seventh-grade selves with these adorable truffles. The recipe uses chickpeas to create a dough-like consistency, so you're also getting a secret dose of fiber.
The dessert that always seems to be void of leftovers, Rice Krispie Treats are simple and loved by all. But because the traditional treats are made with marshmallows, vegans tend to miss out on the fun. Luckily, this take on the childhood classics utilizes a vegan-version of mallows so that everyone can enjoy. Not sure where to find the animal product-free alternative? We've got you covered.
The Super Bowl can get a bit competitive, but these marble cupcakes will please everyone. Whether you're rooting for chocolate, or a diehard vanilla fan, these marble cupcakes are sure to delight even the most fickle tastebuds. And, added bonus, they're completely gluten-free.
Have a great gameday from us here at Wanderlust, regardless of whether or not you turn on the TV.
What are some of your favorite healthy appetizers?
—
Amanda Kohr is a 25-year-old writer and photographer with a penchant for yoga, food, and travel.  She prefers to bathe in the moonlight rather than the sun, and enjoys living in a state of the three C's: cozy, creative, and curious. When she's not writing, you can find her driving her VW Bug, looking for the next roadside attraction or family diner. She also roams the internet at amandakohr.com.