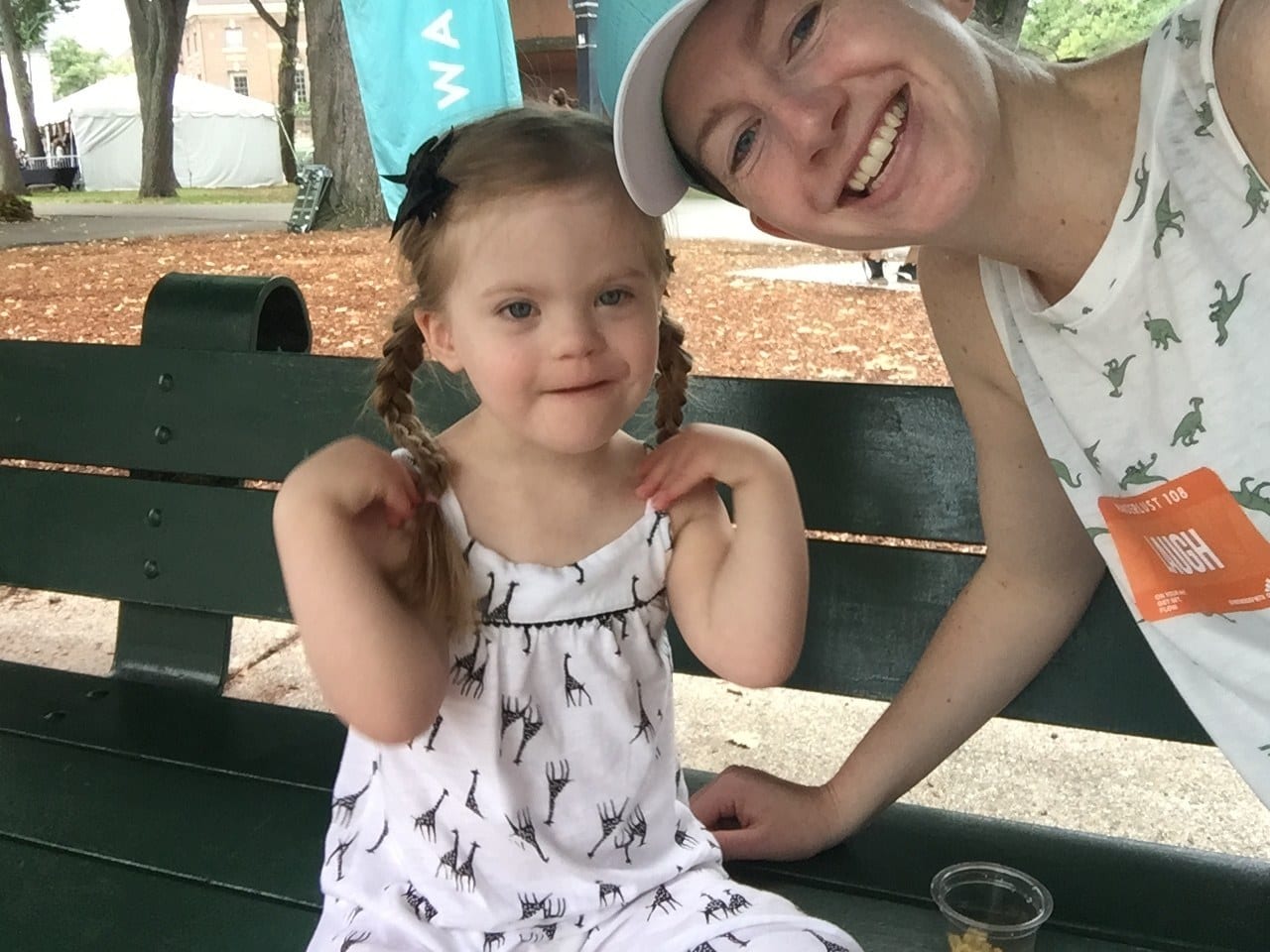 Hannah and Lee at Wanderlust 108 Boston
Did you know that there are childcare options at Wanderlust Stratton? Provided by our partners, Stratton Mountain Resort, you can always opt to drop your kids off if you choose to have an « adult-only » day while you're there. For more information about childcare, click here. For info and to buy tickets to Stratton, click here. 
---
After attending Wanderlust Stratton for the past few years with her best friend and seeing so many kids in tow, Lee Ulinskas, a 95 hour certified ChildLight Yoga Instructor, always missed her four year old daughter, Hannah. So in 2018, she decided to try out the Wanderlust 108 Boston event (Lee opted into a 108 one day event as a trial run verse a 4-day Festival), with Hannah, her mom and plenty of snacks in tow.
"We drove up to Boston Friday night, which really helped in the morning and we weren't as rushed. We got to the grounds early and were able to walk around the market, which Hannah enjoyed because people hand out free stuff. She loved the event as she enjoys being outside and listening to music."
Wanderlust presenter and Conscious Conception coach Jocelyn Gordon has had a similar positive experience bringing her 17-year-old daughter Jordan and 3-year-old daughter Sienna to multiple Wanderlust events.
"Attending Wanderlust gives me the opportunity to hang out with my daughters in an environment outside of home, away from the normal parts of life—from dishes to taxes. Being out of place so to speak, allows for spontaneous dance parties and late night talks! Jordan and I connected on the music level—she shared with me what she likes and taught me some new dance moves. Also, as she prepares to head to college to study digital marketing and design, her Wanderlust experience gave her the opportunity to observe how social media and branding intersect in the wellness sphere."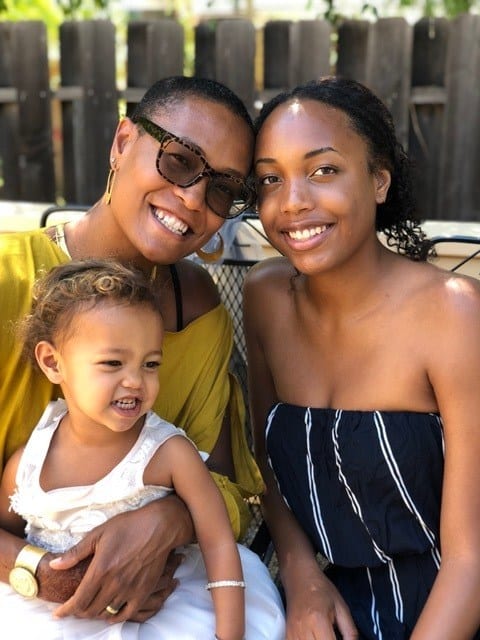 Here are Jocelyn and Lee's tips on how to make the most out of your Wanderlust experience with kids in tow:
Bring an adult who isn't 100% set on taking the classes.
Having that extra set of hands is key to an enjoyable experience. One of the great things about Wanderlust is that you can be on the grounds and walk around, listen to music and check out vendors without a ticket, so there is still plenty to do for those not taking classes.• Bring blankets for the lawn area, plenty of healthy snacks to graze on throughout the day and create picnics during mealtime. Most venues have a lush lawn area with plenty of space to sprawl out.
Spend as much time outdoors as you can and explore the surrounding trails and nature areas around the event.
Go green as much as you can, fully unplugging and enjoying the lush backdrop.
Hitting up the dance parties is key as kids may or may not be able to maintain focus during yoga classes. The dance parties allow for more freedom for movement and expression for any child, regardless of age.
Have a backup plan of what you will do in case of inclement weather or a meltdown. It's nice to get a nearby hotel and use that as a home base. Sometimes, a change of scenery and quiet place is all that is needed to feel recharged.
Lee shares that for parents and caregivers, "letting go of expectations and viewing it from the eyes of the child is the key piece to having fun. If you get too wrapped up in ensuring you get to every class or being at a certain place on time, there are too many variables with children and a large outdoor event, that you truly have to go with the flow. Wanderlust is a great experience for kids because of the vibe that the event gives off as being a laid back event open to everybody; it's just a really fun and loving event to allow kids to experience fully."
Jocelyn truly appreciates Wanderlust because it's given her family a chance to start their own rituals at each event they attend as a family. "We have a ritual of riding up the gondola wherever we are. It's Wanderlust that helped us activate that ritual. Especially if you will be a repeat Wanderluster, start to create your little rituals around the event that your family can look forward to each time."
FAQs on attending Wanderlust with Families
Are kids free to attend? Attendees 18 and younger are free to attend with a ticket holding parent or guardian.
Is there childcare? There is a childcare option at Wanderlust Stratton for an additional fee.
Can kids attend classes? They can attend classes alongside their parent or guardian however, will need a ticket if they wish to create their own unique schedule.
What activities are there for kids at Wanderlust? Festival grounds are free and open to the public with lots to do. You can wander through the Kula Marketplace, visit our art installations, taste the delicacies in our food co-op or just sit in the grass and revel.
—
Jennifer Coulombe, MBA, left her 9–5 office job in 2016 with a dream to work from anywhere in the world. In 2017 she launched Sat Nam babe, mindfully made, yoga-inspired clothing for kids under six and babies (think ethical supply chain, pants made out of recycled plastic bottles and unique prints designed with love). Jen is also an iFundWomen crowdfunding coach, supporting female entrepreneurs as they raise funds for their business and is a certified Kundalini and Khalsa Way prenatal yoga teacher. Jen recently said goodbye to New York City living and currently resides in Saratoga Springs, NY.