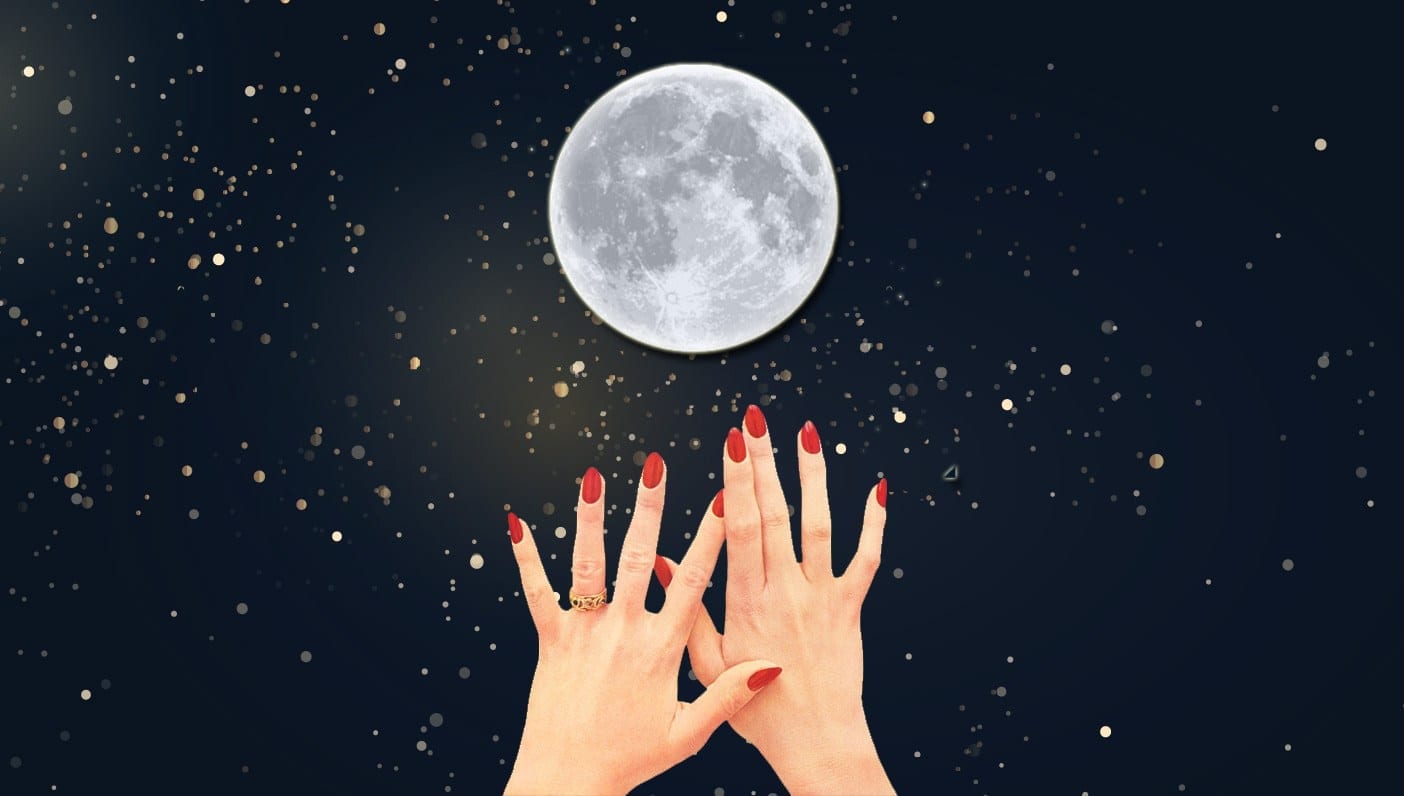 Photo collage by Grace Edquist
The moon is such a powerful presence in our lives—pulling on the ocean's tides, and creating a rhythm for all life on our planet. Whereas the phases of the moon used to be honored by people across the globe, defining our farming calendars and our own fertility, and determining celebrations and events, today much of our modern culture ignores our deep and ancient relationship with this celestial object.
A moon ritual therefore can be a great way to reconnect to the rhythms that we share with all life on Earth. It can also be a powerful tool to align with the ebb and flow of energy as we seek to foster a life of our dreams, and release the things holding us back.
The two most popular moon rituals are carried out on new moons and full moons—although a day on either side also works.
The New Moon
The new moon brings with her the opportunity for creativity—appearing dark, or empty, like fertile ground. Over the following 14 to 15 nights the moon appears to gather more light from the sun, becoming a crescent and eventually a full moon, and so brings with her the power of growth and potential. It's a time to plant intentions for the things we want in life, and to align with the moon's energy to help us grow those seeds. Quite literally, gardeners that work with moon phases will sow seeds of leafy and short-root plants during a new moon. As the moon waxes, its tidal pull draws water up to the top of the soil nurturing the seed.
The Full Moon
While the new moon is a time to sow seeds, the full moon is a time to pull weeds—a time to release the things that no longer serve us. As the moon brims with the sun's energy, we offer her the things we would like her to take with her as she starts to wane over the next 14 to 15 days, emptying out back toward a new moon.
A ritual created using our own intuition is always the most powerful, and once we become more in tune with the rhythm of waxing and waning energy, that intuition will grow. Here, however, are some ideas to include in any moon ritual.
Opening Sacred Space
Ideally for a moon ritual, you would be outside under the moon, but if that's not possible then being near a window, or even setting an intention in an indoor space will work. Whether alone or with friends, smudge yourself and the area you are going to be working in with palo santo or sage, call in the Four Directions, the Four Elements, or any angels and guides you feel would positively support your ritual, intending to share the benefits of your ritual with all beings.
Making an Offering
I like to collect fallen leaves, feathers, branches, or stones leading up to a ritual and create a mandala on the ground or on a table for the moon. Similarly, you could lay out petals or crystals (under a full moon, crystals will also have the added benefit of being charged). To represent the elements of water and fire, a glass of water and a safely-lit candle can be added to an altar—although try to let the candle burn out by itself or gently snuff it rather than blowing it out. We can also offer our thanks during our preparation, pondering the many ways the moon brings joy into our lives.
Sharing our Intentions
Take a moment if you haven't already to write a short letter to the moon asking clearly for what you want help with. At the time of a new moon you will be asking for things to come into, or to grow in, your life. This could be a job, a baby, a new friend or partner. It could also be greater clarity around an issue, or creative energy or stamina for a specific project. You could also ask for more playfulness, joy, or laughter to blossom in your world.
During a full moon, the same letter would ask for help releasing something from your life. That could be a relationship, a thought pattern, a grudge, a physical ailment, or feelings of anger or envy. I like to release blocks that are holding me back from my dreams—so that the full moon and new moon become part of a month-long ritual. Then place your letter somewhere on your altar, where you will leave it to be received by the moon overnight, before clearing away the next day when the sun has risen.
Celebration and Closing
A ritual, while serious, is something to be celebrated. Together, or alone, you could sing, chant, read a poem, dance, or even roll through some moon salutations in honor of yourself and the moon.
Finally, observe how you feel for the next few days. Rituals are very powerful. After a new moon you may have insights as to how to take action toward your dreams that you won't want to miss, and after a full moon you may be guided to rest or drink lots of water. As the moon rules the water element, a bath can also be a great post-ritual addition—and a moon phases calendar so you can plan for your next ritual.
—
Helen Avery is a senior writer for Wanderlust Media, and journalist, yoga teacher, and minister. She heads up spirituality and myth for Astronomy group, Slooh, and teaches Eastern wisdom for Awakening Together. You can find out more about her on her website, Life as Love.