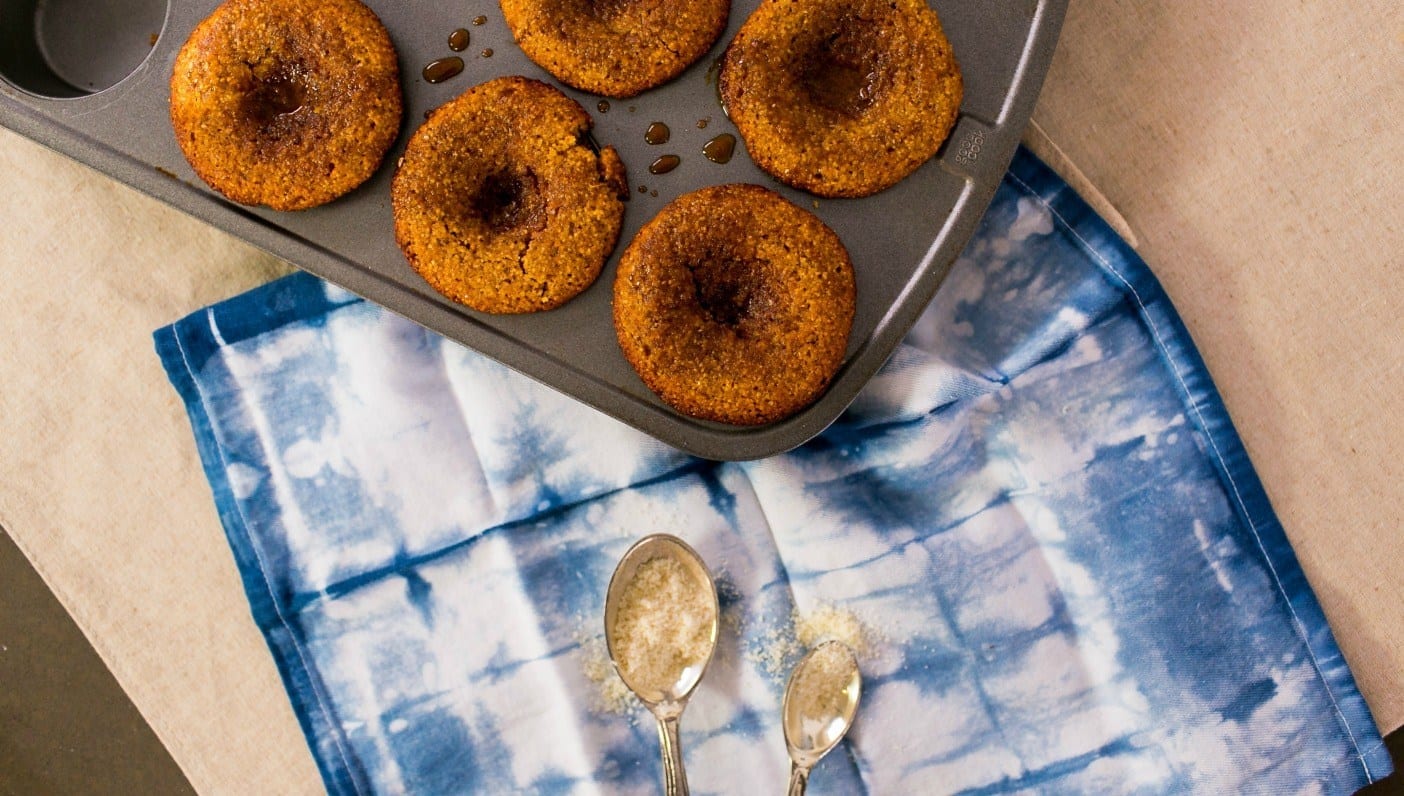 Hablemos de muffins. Uno de los alimentos favoritos para el desayuno -especialmente cuando se sirven saliendo del horno – pero a menudo carecen del valor nutricional necesario para hacerlos un bocado ideal para el yogi activo. Si eres como nosotros, necesitas algo con proteína y fibra para que puedas mantenerte con energía, y así estar al 100%. Es por eso que hemos desarrollado estos muffins de polenta y naranja glaseados que te darán ese toque extra.
A diferencia de un muffin "saludable" promedio, esta receta no sacrifica el sabor por su valor nutricional. De hecho, agregarle puré de manzana, yogurt de vainilla y la harina de almendra hace que sean más húmedos y esponjosos que el típico resultado de cuando usas harina blanca. Combinado con canela y cubierto con un glaseado de naranja-miel, estos muffins satisfacen tu paladar dulce sin jugar con tus niveles de energía. Ideal para compartir, o disfrutar tú solo.
GF Zesty Muffins de Naranja y Polenta
INGREDIENTES
Para los muffins:
1 huevo
1/4 taza de leche de almendras.
1/3 taza de yogurt de vainilla.
1/3 taza de miel.
3/4 taza de harina de almendra.
3/4 taza de polenta fina.
1 tsp cucharadita de polvo para hornear.
Zumo de 1/2 naranja.
1/2 tsp de extracto de vainilla.
1/2 tsp canela.
1 and 1/2 tbsp cucharadas de aceite de coco derretido.
Sal de mar al gusto.
Para el glazeado:
1/4 tsp de canela.
Cáscara y jugo de 1 naranja.
1 tbsp de miel.
INSTRUCCIONES
Precaliente el horno a 350 grados. Utilice un rallador para rallar las naranjas.
Prepare la masa añadiendo el huevo, la leche de almendras, la miel, el aceite de coco y el yogurt en un recipiente de tamaño mediano. Revuelva para combinar. A continuación, agregue la harina de almendras, la polenta, el polvo de hornear y la vainilla. Agregue la ralladura, el zumo de naranja, y la canela y revuelva para combinar.
Vierta la masa en moldes de muffins y hornee durante 20 a 24 minutos, o hasta que la parte superior esté ligeramente dorada. (Atraviese la parte superior con un cuchillo, debe salir limpio.) Deje que los panecillos se enfríen.
Caliente los ingredientes del glaseado en una cacerola pequeña a fuego medio-bajo durante 30 segundos. Una vez que los muffins se han enfriado, vierta el esmalte en la parte superior. Corte los muffins por la mitad y añada una cucharada de yogurth de vainilla entre las rodajas.
¡Listo!
At siggi's we make yogurts with simple ingredients and not a lot of sugar. Our products are based on Scandinavian dairy traditions, such as skyr, the traditional Icelandic yogurt. Our products don't contain any of those dreadful artificial sweeteners. We only use milk from family farms who do not use growth hormones like rBST.