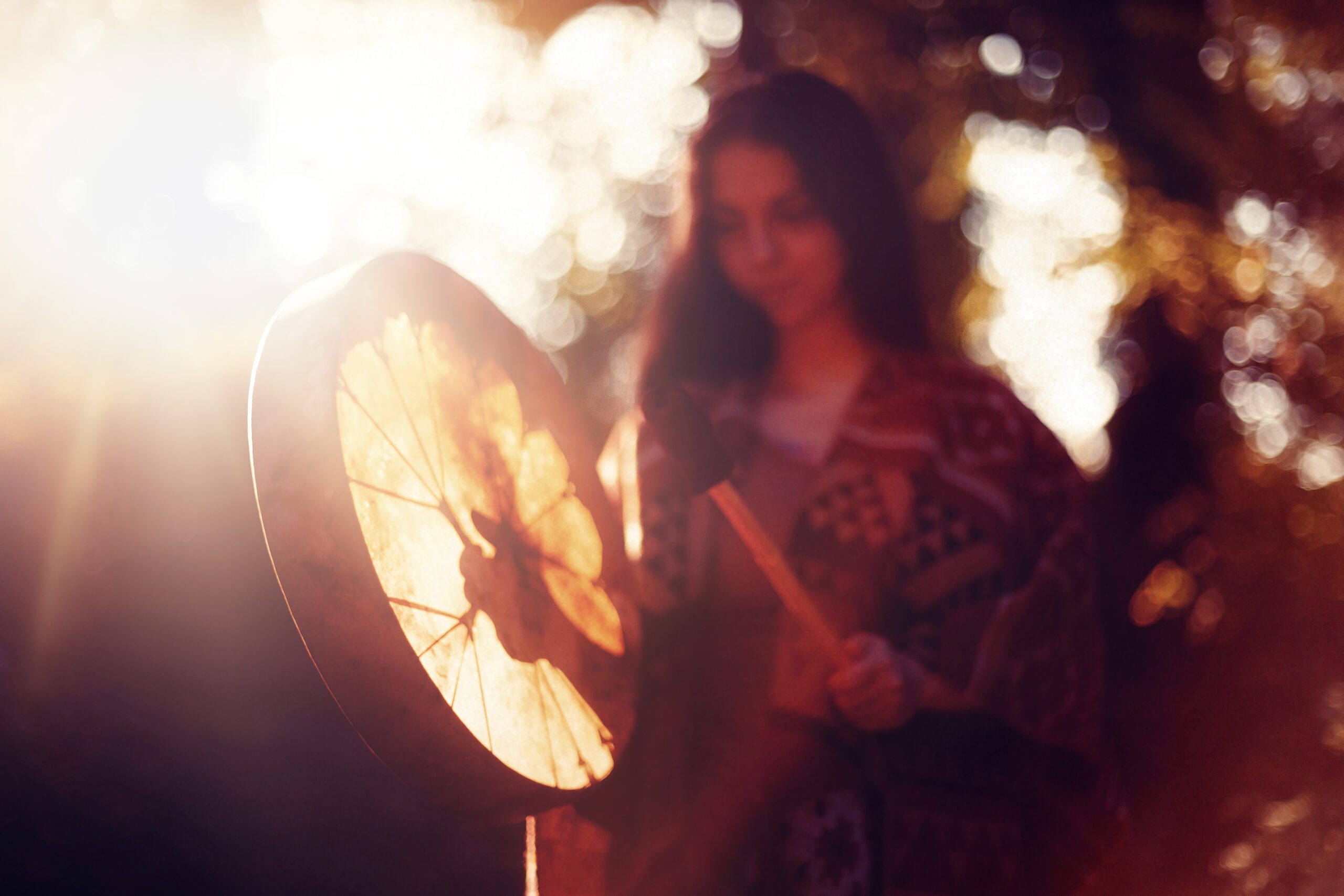 beautiful shamanic girl playing on shaman frame drum in the nature
Alex Bedoya, founder of Be One Again, is a Medicine Woman from Ecuador with over 20 years of experience working with indigenous elders and Medicine Women from Ecuador, Mexico and Peru. We sat down with Alex to demystify the stigma around shamanism and understand more about how she is sharing her gift with people across the UK.
What is Shamanic Healing and how does this differ to other types of healing?
Alex: Shamanism is more than a healing modality, it is the remembering of source, our intimate relationship with Mother Earth and all living beings. It reminds us of the invisible umbilical cord that we all share and have in common.  As human beings, we are all like trees that are connected by their roots both to the earth and, through the mycelium network, to each other. In the same way, what affects one of us affects us all. That is part of the pain of disconnection that we suffer – believing that we are on our own.
Shamanism allows us to reconnect with our essential selves. In this process, the veils of separation soften, and we remember our innate relationships to all living beings – to our family members and ancestors, the seen and unseen. I think the difference from other types of healing modalities is that Shamanism takes into consideration our relationship with everything around us, and even time itself.
How did your journey as a Medicine Woman into Shamanism begin?  
Alex: It began with an illness. I was at the top of my career in New York City. One day I ended up in A&E and underwent surgery for a severe form of endometriosis. This experience set me on a path to discover the root of my illness from a more holistic perspective, beyond allopathic medicine. 
Twenty years ago I went on my first shamanic journey and encountered the sacredness of medicinal plants. During one of my trips to the Amazon rainforest, I discovered that my endometriosis was ancestral, that it was a manifestation of my relationship with my mother and her relationship with her own mother. It was also an expression of all that was unspoken in the family system. I realised that the illness was also a symptom of my disconnection from my life purpose.  Little did I know that this illness was a guiding light, helping me to discover who I really am – my essence.  
In 2015 I moved to Mexico to learn from indigenous tribes and the wise women elders, known affectionately as 'grandmothers'.I learnt that I come from a lineage of seers – women who had highly developed intuition. I learnt in my own way how to harness the information that is available to us and use it to support others on their healing journeys.
Who have you learnt from on your journey?
Alex: I've learnt from the Shipibo tradition in Peru, the Marakames (shamans) the Wirrarika tradition in Mexico, from the Mexican elders and grandmothers who still teach me every winter.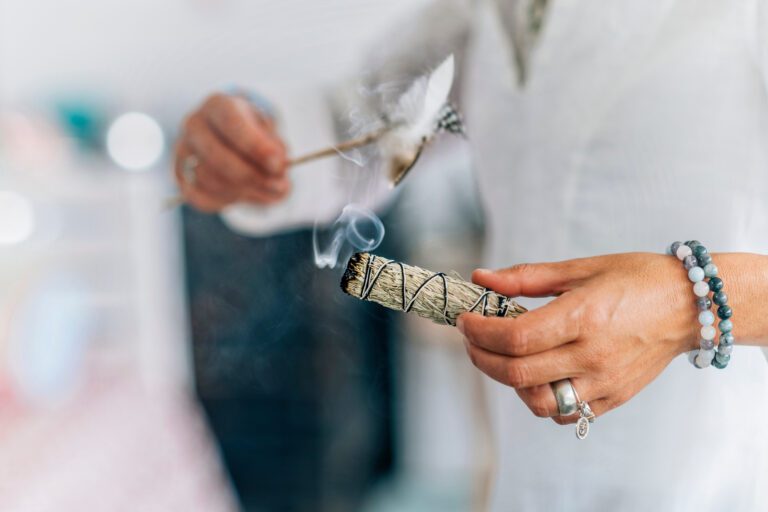 I learnt about family and ancestral constellations from a supreme teacher in Mexico, Lourdes Aguirre. She has taught me the importance of honouring my father and mother, embracing my family story. If we don't work on healing our family relationships it can cause difficulties and blockages in our health, in our relationship with money and our capacity to receive; in our love relationships and life purpose.
What types of shamanic healings sessions do you host?
I hold 1-1 sessions, most often (but not exclusively) with women, to address any issues relating to the feminine – illness, fertility, trauma, womb healing, cutting relational cords, etc. I work with women who have experienced serious illness, teaching them how to trust their bodies again, to recover their vitality, to step out of the story that has shaped them until now. I support them to connect with their gentleness, with the feminine vulnerability that can be so powerful. Often this vulnerability has become something unwanted, to be got rid of, and through the work together we discover its beauty once more. 
The sacred ceremonies I create with clients tend to be more about the sacredness of the body – accessing the stored memories. We may work on the body's consent, on old shame and grief, helping to release it and to establish a new, more respectful relationship to the body. Very often the womb is the place where the trauma takes root and so the process of healing gives way to a new sense of connection and empowerment.   
I think the fact that I can relate so much to what my clients have been through means that they feel very safe.They don't have to be ashamed of their anger or guilt, everything is accepted. So they have a safe place where they can find their authenticity. I've also started working with men on their mother wounds, their connection to their feminine energy and how they relate to women.
What can people expect during a shamanic healing session?

When I do rituals or clearings it can be outdoors (weather permitting), working with the elements of earth, water, fire, air and ether: they bear witness to the transformation. There's something powerfully humbling about working with nature and allowing nature to guide us as the sweet Mother that she is.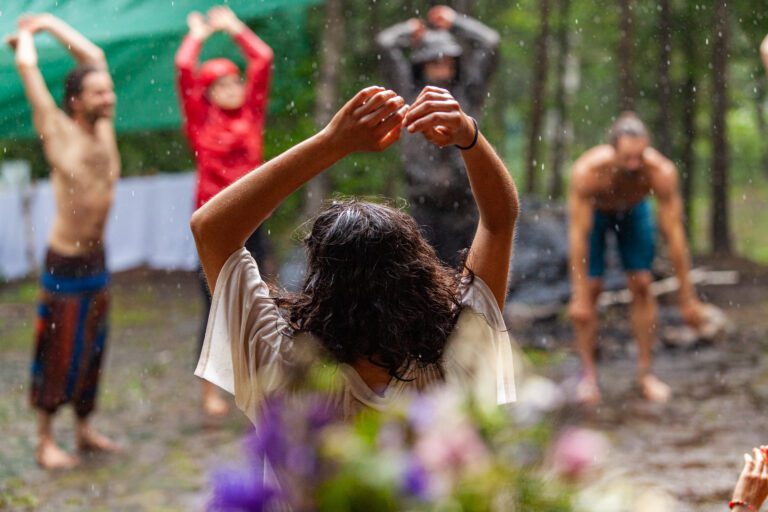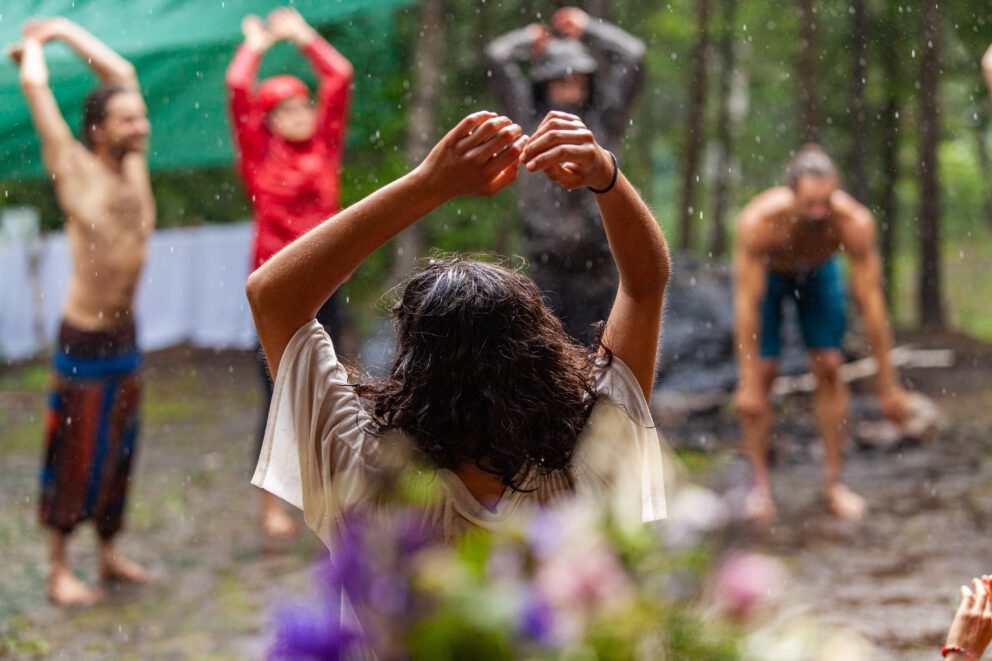 You'd be surprised how often animals come close when we are doing a ritual. One day we had two deer approach and form a semi-circle around us. In shamanism, the deer represents the heart, powerful medicine!
Indoor sessions tend to be for more introspective work, like ancestral healing, dealing with an illness, trauma, burnout or grief. We need to have a safe container for this work, to honour the body's boundaries. Learning how to trust others again comes through gentleness, through feeling completely held and seen by the other.  At the beginning of my shamanic practice, I followed the warrior's path, which was a masculine approach to the work. As a woman, my body was craving a more gentle approach and only over time I understood the importance of slowing down and holding space for a client the way I would have loved to have been held.
Join Alex's carefully designed Womb Flow Healing immersive monthly circle on Tuesday 28 June A safe virtual space will be created and held to share powerful rituals and healing tools, accessible for anyone. Alex is inviting people from all walks and stages of life to join her and to bring any challenge, blockage, or trauma preventing you from moving forward and living life to its fullest.
—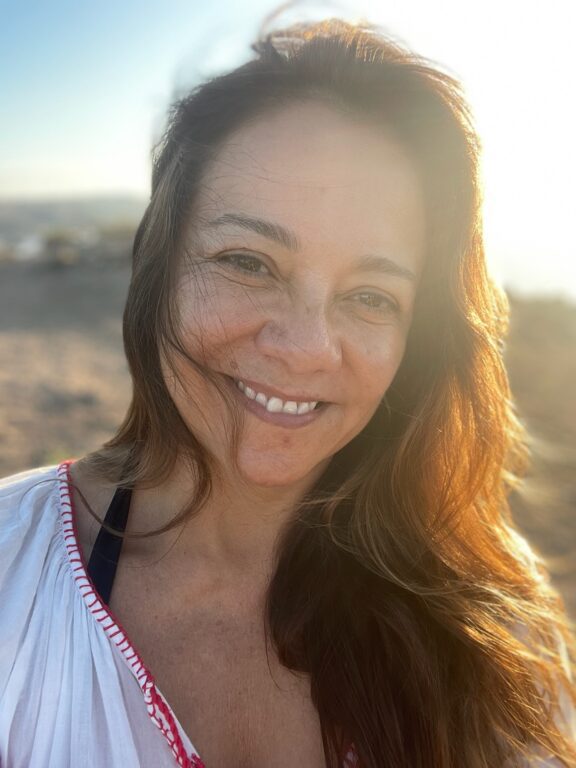 With over 20 years of training in the ancient shamanic practices, combined with 5 years of intensive training in systematic constellation therapy. Alex founded 'Be One Again', which integrates my various areas of expertise with the divine feminine – bringing together the heart, soul, spirit, mind and body through creativity, nature, and the senses. Through a process of conscious coaching, integrative leadership, nature-based immersions and sacred rituals, she creates bespoke offerings for Be One Again, from private sessions to workshops for larger groups.