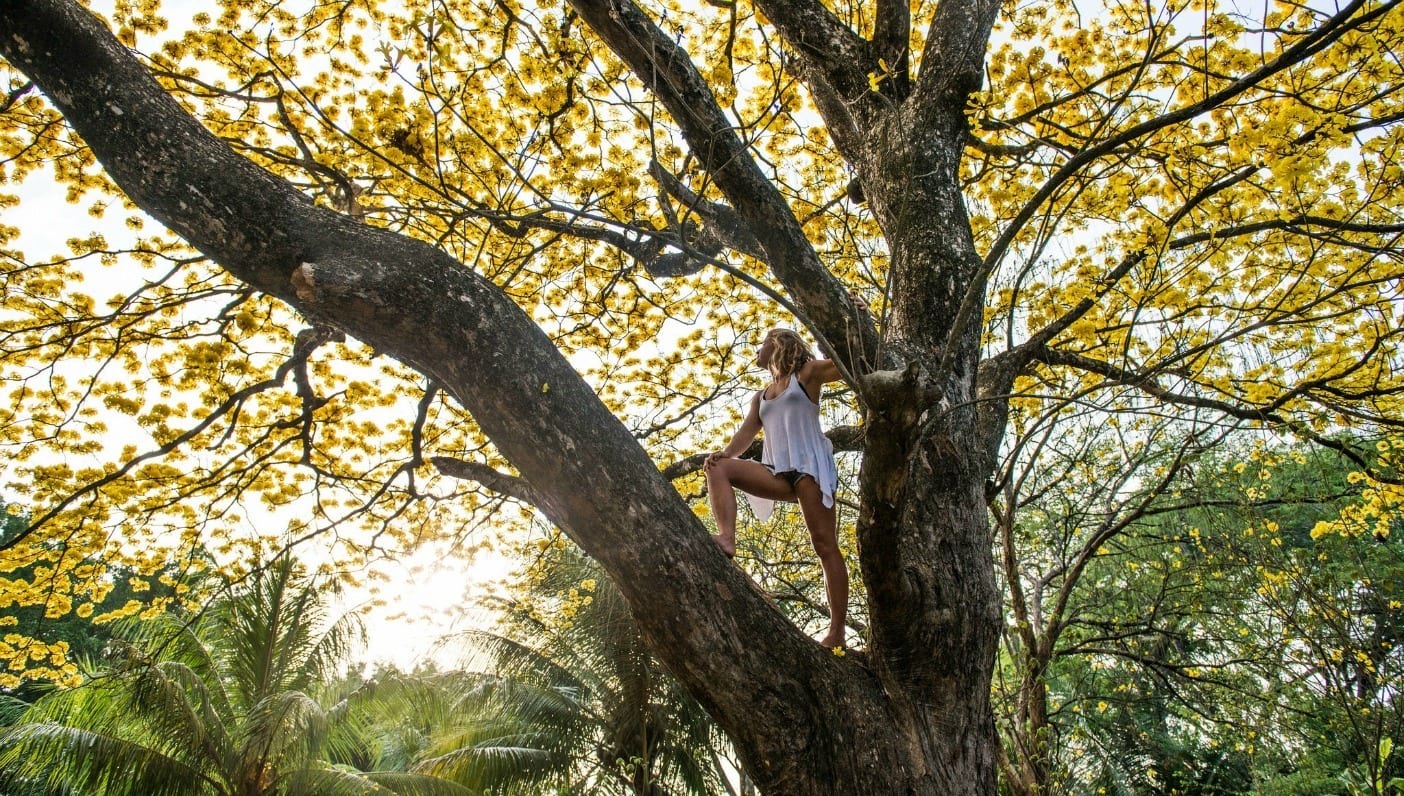 Photo by Ali Kaukus
"The true meaning of life is to plant trees under whose shade you do not expect to sit." – Nelson Henderson
The world's oldest known living tree is Methuselah, a bristlecone pine. It is roughly 4,847 years old, and lives somewhere in the White Mountains of California's Inyo National Forest—its exact location protected by the U.S. Forest Service. Then there is the over 4,000-year-old yew in Wales, the cypress tree in Iran of the same age, and the tall, 3,600-year-old alerce in the Chilean Andes…
When we slow down and spend time in nature, we remember that trees have been here far longer than us—that they once covered vast swathes of the planet. Now they cover just 30 percent. When we reconnect with trees we remember their importance. And we remember that we are their guardians, just like they have been ours. We have a role to play in protecting their existence. That's why it's important for us to make giving back to and taking care of the planet—from keeping our environment clean to being a conscious consumer—part of our daily routine.
It can be easy to lose touch with nature in our hectic lives, but it's vital that we stay connected. When was the last time you looked up and truly appreciated a tree, not just for its beauty, but for all that it does? Stoic supporters of the planet, in their stillness and silence we can pass trees on a daily basis without even realizing they are there.
Thomas Pakenham on Our Relationship With Trees
Historian and writer Thomas Pakenham is 82 years old, and has dedicated much of the second half of his life to reminding us that yes, they are there. While he would never describe himself as a tree-hugger, his journey as an arborist began by doing just that. He had inherited a large estate in Ireland full of trees, and one night when a storm was forecast he went out into the garden to gaze upon the old beech trees there, and realized he had never really looked at them before. Nineteen in total—the majority almost 200 years old—he measured their circumferences, jotted the numbers down, and gave each one a hug "as if to say 'good luck,' " Thomas recounts. The next day in what had gone from a storm to a hurricane, several of the old beech trees had fallen.
"I fear we live in an age where people don't know what wood is—because so much of it is covered in laminate." – Thomas Pakenham
"We don't notice them sometimes," says Thomas. "But we owe them so much." Indeed much of our human connection to trees has been lost. We were once people of "wood" and now we have become more familiar with plastic. But we too must look to our roots: Trees enabled our evolution. They were our source for warmth and cooking. They were our barometer for the changing seasons. They provided us with shelter. We used them to travel and to stay safe. Up until the 19th century our ships were made of wood, and the fleets that went into battle were the "wooden walls" that saved our fellow men, points out Thomas. "People used to think differently about trees. There was a relationship where we knew that we owed the trees. Now I fear we live in an age where people don't know what wood is—because so much of it is covered in laminate."
Recording Remarkable Trees
Thomas' journey to reconnect humans with trees led him search of what he calls "remarkable trees." The gauge, he jokes, was normally if, in showing a tree to his wife, she said "WOW"—then that was a tree to record in his book. But it went beyond a tree's appearance.
Thomas first documented trees of note in the UK and Ireland. Trees that appeared in poetry, trees that had saved lives, trees that commemorated war heroes or that marked historical events, trees that were natives, or non-natives, trees that hid prisoners or that were said to hold spirits. Every tree becomes remarkable when we think about the story of its life.
Every tree becomes remarkable when we think about the story of its life.
Thomas' love for trees then took him across the world. Often he'd arrive at an airport, show a stranger a photograph of a tree, and ask if they had seen anything like it. "Usually they had seen something even better," he says. Thomas is particularly fond of baobabs. "I went to visit a sacred baobab tree in Madagascar once. It was surrounded by a dense thicket of thorns and we had to crawl through them on our stomachs to see it. Beneath it people had left lotus flowers and small offerings. But when I went back five years later the tree was gone, vanished. When baobabs end their life they turn to dust and disappear," says Thomas. "I have seen people pray to trees and I don't know what they are saying. But they do feel sacred."
The Sacred Nature of Trees
There is indeed a mysterious and sacred quality among trees that has been recognized for thousands of years. They are mentioned in religions—Buddha was enlightened under a fig tree (the Bodhi Tree), and of course there is the Tree of Life in the Garden of Eden as mentioned in the Bible. The fifth Chinese element is wood, so intrinsic it is seen in our makeup. It's from a sacred and practical standpoint that some of the world's most ancient trees have been preserved in the grounds of temples and holy places, which would otherwise have been chopped down, says Thomas.
And unfortunately they are being chopped down—at a rapid rate. The World Resources Institute estimates that only 22 percent of the world's old growth forest remains.* As humanity returns its focus to the environment, Thomas hopes that our connection with trees will strengthen, and by virtue of that, we will work harder to preserve them. "We have a long way to go until we can say our relationship with trees is what it should be, but we owe it to them to look after them as they have looked after us." Fortunately there are several ways in which we can care for these beloved structures of nature.
5 Ways to Help the Trees
1. "Adopt" a Neighborhood Tree
Almost half of the world's population lives in urban areas. There are trees in our cities and towns, but we often don't see them, or they are treated poorly. "Imagine if your toes were trodden on by hundreds of people walking past on a daily basis," points out Thomas. We can each play a part in checking in on the trees we pass by every day, by doing things such as keeping them free of litter, or reporting to our local parks department if they seem unhealthy.
2. Choose Products Sensibly
The average American uses the paper equivalent of almost six 40-foot trees a year, and over a ton of wood a year (equating to a single tree measuring 100-feet tall and 18-inches in diameter).* Trees are a remarkable, renewable source and we should use them—but let's use them gently and wisely—and maybe not all the time. Choose products that are made from sustainably harvested lumber. And maybe assess if you could cut down on your paper consumption (Do you really need that many sticky notes, or would a digital note on your phone do the job without the waste?). Think about it.
3. Plant a Tree
Based on average use, it would seem that everyone should plant (or have planted on their behalf) at least seven trees every year.* As the saying goes: The best time to plant a tree was 20 years ago. The next best time is now. Not sure where to find one, or how to actually plant it? Connect with an organization—by becoming an Arbor Day Foundation member,  you'll get 10 free trees for planting in your yard.
4. Reach Out to Local Organizations
There are many organizations that seek to plant trees in urban spaces, or that need volunteers to document local trees. A first step would be to reach out to your local parks department and ask for their advice on how best to help and get involved. The Arbor Day Foundation is also a fantastic resource with information on how to get involved, as well as how to plant trees. It offers many programs for planting in rainforests, in national forests devastated by wildfires, and in communities stricken by tornadoes and natural disasters, as well as in cities.
OK, so maybe not every tree is strong enough to get a bear hug—but the point is to cultivate a sense of gratitude toward trees. Humans release roughly nine billion tons of carbon every year by burning fossil fuels and changing the landscape. During one year, a single large tree can absorb 48 pounds of that carbon dioxide, and release enough pure oxygen for a family of four people.* That's something to be thankful about right there. So step outside, take a fresh breath of air, reconnect with nature, and express gratitude toward our invaluable trees.
*Thank you to the Arbor Day Foundation for supplying the facts on trees. To find out more about their work, visit their website here.
—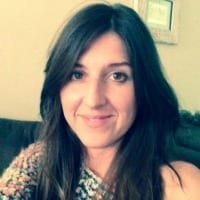 Helen Avery is a senior writer for Wanderlust Media. She is also a journalist, writer, yoga teacher, minister, and full-time dog walker of Millie, residing in Brooklyn, New York. You can find out more about her on her website, Life as Love.