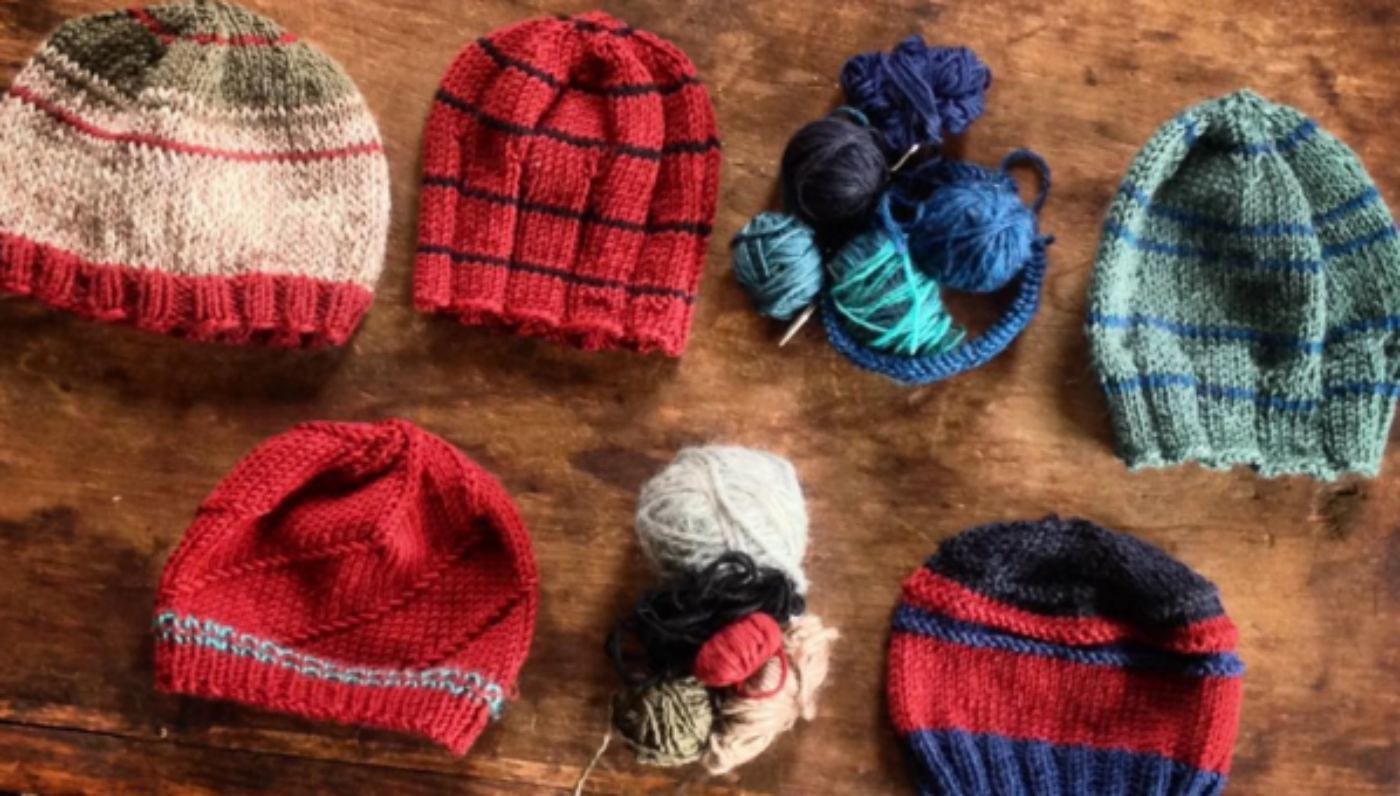 Photo courtesy of Sarah Meredith
In a long-awaited effort to bring the migrant crisis under control, a deal was struck between the European Union and Turkey on March 18 that would prevent new asylum seekers from entering the Continent. An overwhelming flood of refugees have used the Aegean Sea to cross into Greece in the past year alone, leaving thousands of people stranded in sordid conditions. Several organizations within the mindful community have mobilized to bring yoga and meditation to parts of Greece and elsewhere to offer some relief—and groups like CircusAID and Clowns Without Borders help to serve refugees with a smile.
On the local front lines here in Brooklyn, Stitching for Syrians provided nearly 500 handmade knit and crocheted hats and scarves this past winter to refugees in Molyvos, Greece, to Zarqa, Jordan, to Beirut, Lebanon, and even to Germany. Molly Sullivan spearheaded the project, marshaling a call for action across the U.S. to weave together for a good cause.
"I received packages from all over the U.S.—California, Oklahoma, Indiana," Sullivan said. "One of my friends organized two 'stitch-ins' at the Vera Foundation, and another hosted one in Florida," she added. Sullivan hosted a couple of stitch-ins herself at the Brooklyn Creative League, in addition to receiving support from the weaving community from Ravelry.com, a website known its commitment to charitable projects. Even middle and high school students from Saint Ann's in Brooklyn Heights got on board—sewing dozens of fleece hats and scarves.
Sullivan confirmed that all of the packages were received and distributed among refugee camps. She also admitted it was difficult to find organizations that would actually accept handmade items, since most large relief organizations prefer commercially manufactured goods. "Most organizations are now asking for money rather than goods so that they can buy the supplies that are most in demand," she said. "I respect that—but I hope there will always be a need for the comfort of a handmade hat and scarf. If Stitching For Syrians taught me anything, it is that people really, really want to help," she added.
Around the same time, Sarah Meredith, a yoga teacher in Brooklyn, was also eager to help. Though unaffiliated with Sullivan's efforts, she became inspired to knit baby hats for refugees when she and her son's girlfriend—a knitter who is studying the Middle East—made a pact to do something for overrun refugee camps on the Syrian borders in Lebanon and Jordan. Before preparing the estimated 100 hats for shipping, Meredith said she brought them in batches to her yoga classes for students to hold and infuse with their heart's energy."Like the breath, the thread weaves in and out—taking any shape we make," she said. "It was very moving," she added. 
And across the pond, another thread is woven among mindful communities in the U.K., when Lynda Brodie of West Sussex made headlines in early March. Brodie created a crochet and knitting group that sent droves of handmade winter clothes to Syrian refugees. She told the West Sussex Gazette that, "Anything helps, if you are only able to knit something simple." Brodie's knitting factory keeps busy even today, as she divides her time between knitting, coordinating aid drops, and collecting donations.
How does your local community come together to provide aid for the refugee crisis?
—
Andrea Rice is the Practice and Community Editor for Wanderlust Media. She is also a freelance writer, editor and yoga teacher. Her work has also appeared in The New York Times, Yoga Journal, SONIMA, mindbodygreen, and other online publications. You can find her regular classes at shambhala yoga & dance center in Brooklyn, and connect with her on Instagram and Twitter.