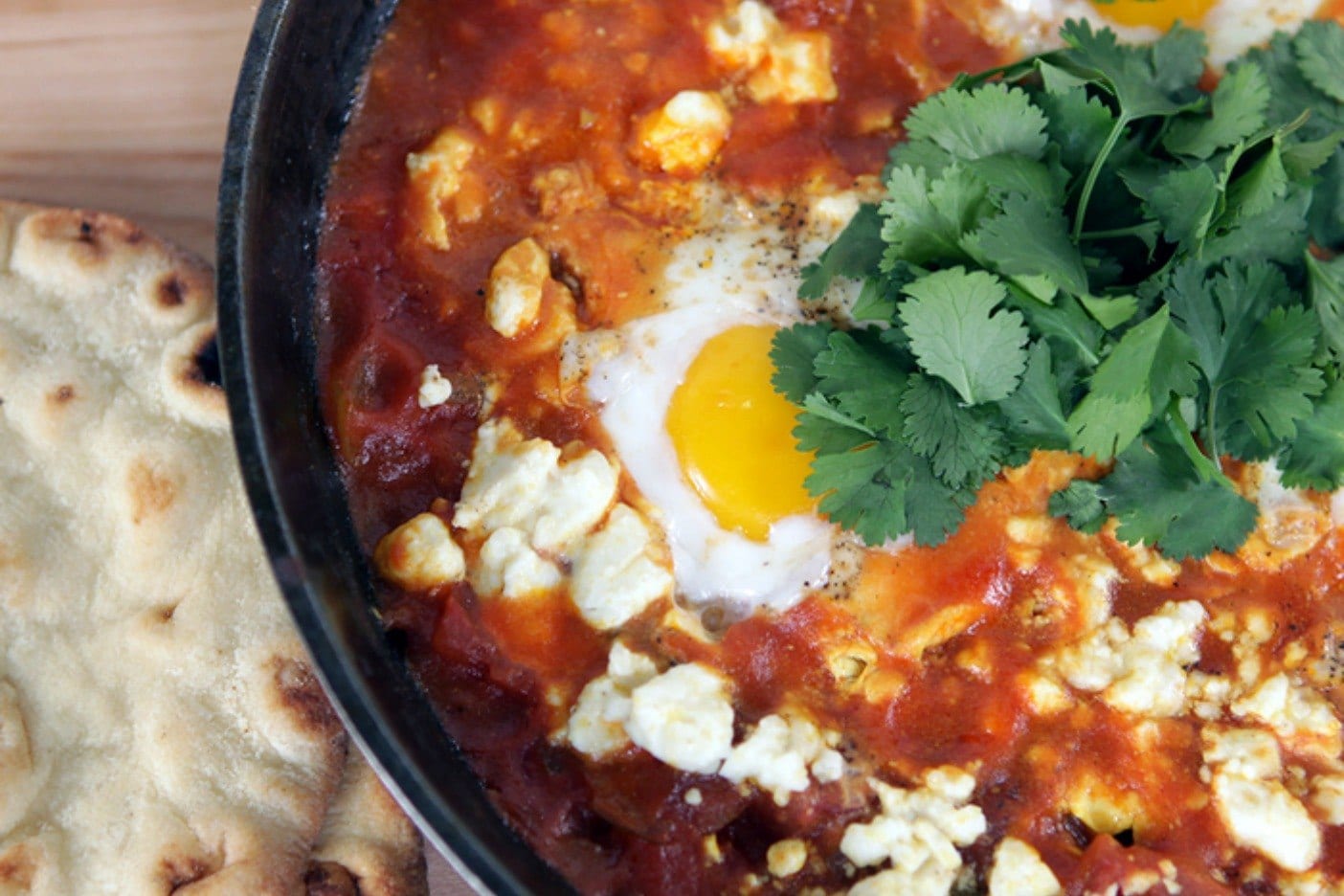 Food should be celebrated. And what better way to celebrate than with a little mindful indulgence? This season of our Play With Your Food video series, we're bringing you six ooey-gooey, crazy good recipes that will have your mouth watering. Up this week: Soulful Shakshuka, a comforting combination of cumin, paprika, turmeric, and tomatoes, all topped with fresh cilantro, feta, and fried eggs. Soak up this Middle-Eastern meal with hot naan for a meal that nourishes both the body and the mind.

For more great recipes that keep cooking fun, check out Play With Your Food on Wanderlust TV! 
Soulful Shakshuka with Feta
INGREDIENTS
1 tbsp olive oil
1 organic small sweet onion, chopped
1/4 tsp smoked paprika
1/4 tsp cumin
1/4 tsp turmeric
28-ounce can of organic diced tomatoes
1/4 cup of chopped cilantro
1/2 cup feta cheese, divided
3 organic, cage free eggs
Salt to taste

**More cilantro and naan for serving, if desired
INSTRUCTIONS
Preheat oven to 375 degrees. Add olive oil, chopped onions, and a hefty pinch of salt to a cast iron skillet and sauté for about 15 minutes or until soft.
Stir in smoked paprika, cumin, and turmeric and cook for a few minutes until fragrant. Add diced canned tomatoes and season with another pinch. Cook for 5 minutes or until bubbling. Add cilantro and half of the feta and stir. Add eggs, equally spaced apart.
Place the cast iron in the oven and bake for about 10 minutes or until the eggs reach your desired consistency. Remove from heat and serve with a garnish of cilantro and toasted naan.
—
MacKenzie is an ex-Brooklynite currently living in Florida with a masters degree from Columbia University. She is the creator of GrilledCheeseSocial.com and functions as the executive chef at Black Dolphin Inn, the sandwich expert for about.com, and as a social media marketing manager for multiple foodie companies. She works in many aspects of the food industry including food styling + photography, social media content creation, recipe development + writing, catering, branding and media consultation.