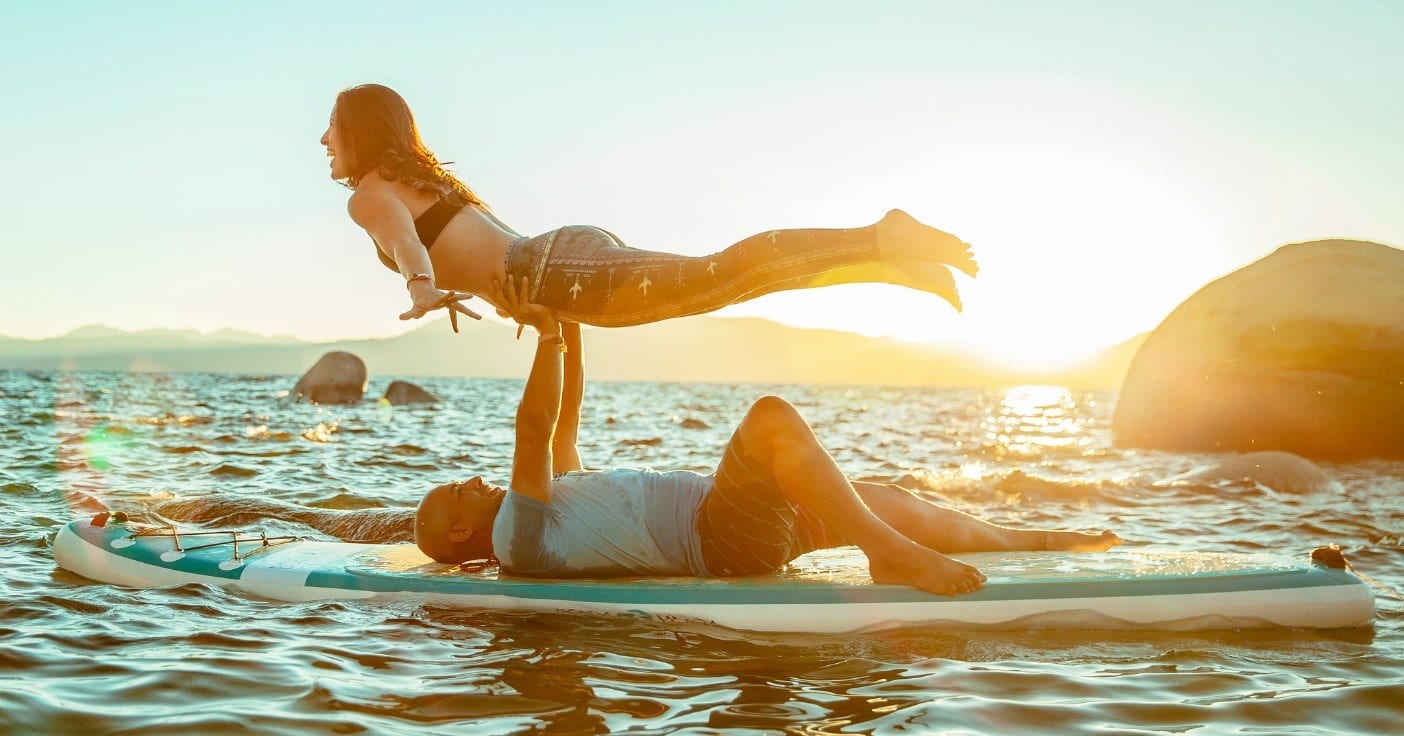 Photo by Kylie Turley
Want more opportunities to bond with your fellow yogi? Check out the lineup for this year's Wanderlust Festival and reserve your spot for one-of-a-kind yoga classes, wellness workshops, dance parties, and more. 
---
They say if you sweat together, you stay together. This explains why running groups and lifting buddies get so close, but yoga is a little different. It can be a very insular experience—it's your mat, your practice. But opening up and planning a yoga date with your S.O. or BFF can help deepen your relationship and foster new levels of understanding.
The key is to find something that speaks to both your spirits. Use this quiz to help explore new date options and dive headfirst into your perfect yoga activity. (Note: We use S.O. here, but feel free to swap it out for your BFF. Either way, we'll see you both on the mat.)
1. It's Saturday morning. You and your S.O. are:
A) Playing records and dancing around the kitchen in our PJs—we love a good dance party.
B) Deep into some OMs meditating.
C) Snuggled up in bed—can someone bring us breakfast, plz?
D) Lacing up our running shoes. Daylight is burning!
E) Loading up the paddleboards on the roof of the Subaru.
2. Everyone is at different places in their practice. How comparable are you and your S.O.'s asanas:
A) One of us is really advanced. The other of us is really not.
B) We're both pretty serious yogis and can hold our own.
C) We just go with the flow. If it's too challenging, we can always self-modify.
D) Ehhh, we're both somewhere between can't touch my toes and holy headstand.
E ) It depends—what kind of surface are we practicing on? Acro? Water? Mountain top?
3. When you unfurl your mat, what are your goals for class?
A) Strengthening the core, opening the hips and the heart.
B) Become more in-tune with the mind and body.
C) Finding some much needed quiet and stillness in the day.
D) A juicy stretch and recovery from other higher impact activities.
E) To have fun!
4. Your ideal yoga class is:
A) Joining other yogis in a sweat-filled, soul-awakening session. Who cares if our mats are practically touching?
B) A small intimate class with a few other people and lots of one-on-one attention.
C) My living room with a few visits from my cat.
D) A nice long stretch post-workout at the gym
E) In the air for a good acro-sesh or on a paddleboard somewhere awesome.
5. When it comes to your ideal teacher, you prefer:
A) An incredibly inspiring vibe with chants, sound bowls and a killer playlist.
B) Very hands-on; I love a good workshop.
C) On a TV screen.
D) A technical understanding of which muscles to stretch to balance my workouts.
E) What teacher?
6. Every class and studio has its own vibe. When you walk in, how do you want to feel?
A) Like one with the universe: Peace, love and harmony.
B) A deep sense of peace
C) That quiet warm feeling in my belly
D) If I'm not sweating, it doesn't count.
E) I need a little adrenaline or visual inspiration to get going.
7. And when you leave class, you want to feel:
A) Inspired and ready to change the world.
B) Blissed out.
C) Ready for bed.
E) Refueled and recovered.
F) Amped up!
8. Depending on the class or experience, yoga can come with a pretty wide range of price tags. What kind of damage to the purse strings makes sense for you and your S.O.?
A) Yoga has its own dedicated section in our budget.
B) You really can't put a price on mental wellbeing, so we're willing to splurge.
C) We're the frugal type. If we can find a quality class online, that's our jam.
D) Yoga is more supplemental to our other workouts, so hopefully it's on the cheaper side.
E) Beautiful scenic spots are free, but we're willing to pay for guides and experiences to get there.
9. Your tank is empty. How do you refuel?
A) By being around friends in exciting and creative environments
B) Through solitude and sitting with myself
C) A quiet night in with the two of us
D) Sweating it out
E) Feeding my inner adrenaline junkie
10. When you close your eyes and take a deep inhale, you want to smell this:
A) The sweet mix of sweat and pheromones
B) Essential oils
C) Nag Champa
D) Iron
E) The great outdoors!
---
Mostly As) Yoga Festival
It's like summer camp for yogis, complete with nightly dance parties, body paint and some of the most world renown teachers. You can count on a life-changing experience that will leave you both wiped out and ready to take on the world. The only thing that could make a yoga festival even sweeter is sharing it with your partner. Get ready to bond on another level. Click here to explore locations for this year's Wanderlust Festival. 
Mostly Bs) Yoga Retreat
Find a retreat in a place you love and book two tickets! You and your partner are both serious yogis and treat it more like a religion than a form of exercise. Every time you step on your mat in an opportunity to become a better yogi. You're looking to better understand how your body moves and how you can improve, while also soaking up all the good juju yoga has to offer.
Moslty Cs) Namastaycation
Push your coffee table out of the way or find a wide open space on your patio. Your home practice is on point! You lean more toward the introvert side of the spectrum and prefer quiet nights curled up with each other than a wild night out. You practice when you have time, which is why having your go-to yoga channels online makes it easier to get your OM on whenever you can. Check out Wanderlust TV for exclusive online yoga classes. 
Mostly Ds) Post-workout OM
You like to sweat and fueled by challenging. You enjoy yoga because it takes you out of your normal routine and helps you stretch and recover from other more vigorous workouts. When you're on your mat, you're less concerned about aesthetics and vibe and more about just getting a good, juicy stretch. For meditative and restorative class options, check out the schedule at Wanderlust Hollywood. 
Mostly Es) Yoga, sans studio
You and your partner are unconventional in every way. Cruising on a road trip and feeling inspired? Pull over and roll out the mats. From AcroYoga in the park to headstands on a stand-up paddle board—you're there. Sharing wild and adventurous experiences is what bonds you two. somewhere new and exciting to practice and make a date out of it.
—
Laci Mosier is a copywriter living and loving in Austin, Texas. She and her one-eyed pirate dog live for exploring and discovering life's magic. She is most inspired by yoga, running, Kundalini meditation, good books, great jams and even better coffee. Getting lost is where she is most often found. Follow her on the Twittersphere or Instagram.