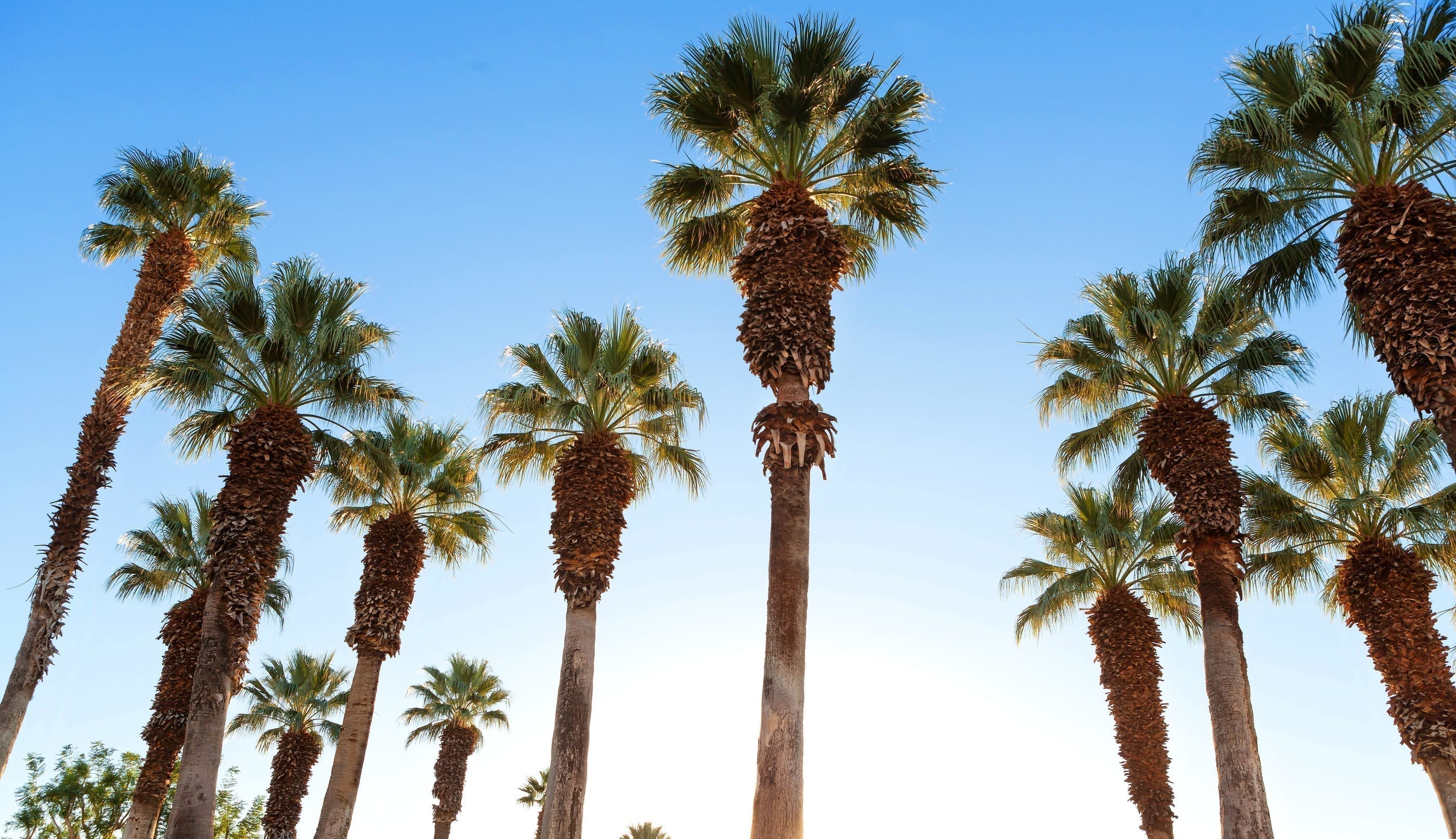 Art. Culture. History. Greater Palm Springs has an abundance of it all. Because of its close proximity to both nature and metropolitan touchstones, Greater Palm Springs has evolved with a variety of influences, which can be seen in the varied art museums and galleries, lush botanical gardens, and actually-worth-exploring architecture. Need a little culture after your camel pose? Check out these spots.
El Paseo
What's the best art gallery in Palm Desert's luxury shopping district, El Paseo? Trick question — there's no way we could answer that! The most efficient way to hit the galleries here is to do the El Paseo Art Walk. It takes place on the first Friday of the month, from November through May, and 15 different galleries participate. This is a great opportunity to catch an exhibit or show opening.
Public Art
There's so much art in Greater Palm Springs, there's even a website or two (or three) devoted to finding it all. Lucky you if you find yourself in Palm Desert during one of their six local artist showings—and P.S.: they also feature student art! For a guide to all the public art in Greater Palm Springs, download the free artsGPS app.
Palm Springs Art Museum
The world-class Palm Springs Art Museum has everything you could want in an art museum: sleek architecture, a compelling permanent collection, ongoing exhibits, and an easy-to-browse website to help you plan your visit. (There's a lot to see. You're going to want to strategize.) There are locations in Palm Springs and Palm Desert, as well as a third venue in Palm Springs devoted to architecture and design.
Cabot's Pueblo Museum
A museum that's as much about a man as it is a sweet home: that's Cabot's Pueblo Museum. Cabot Yerxa was a homesteader in Greater Palm Springs in the 1910s, and the museum is devoted not only to the adobe-style house he built, but also the way of life the region's residents paved. You'll also learn a good deal about American Indian rights and history—making this well worth the trip.
Coachella Valley History Museum
At the Coachella Valley History Museum, you can expect to learn all about the region's rich past. This sweet spot in Greater Palm Springs has exhibits on the California date palm tree, Mexican folk art, and pretty much everything in between. There are also outdoor exhibits, including many gardens. You should probably pack a lunch.
Sunnylands Center & Gardens
Time to lust after your dream home: Sunnylands is a 200-acre private nonprofit estate in Rancho Mirage with a mission to serve as a meeting spot for international diplomats. It is also open to the public, and the grounds are absolutely stunning. Plan your visit, then soak in the beauty of the expansive gardens and home. If you're into birdwatching, you can schedule a tour with a professional birder. Bring binoculars!
Palm Springs Air Museum
Okay, let's get one thing clear: Airplanes are cool. Palm Springs Air Museum isn't just for space nerds. If you've never understood how the heck those big hunks of metal actually stay aloft, this is going to be fun for you. Another important point of note: You can fly in a vintage war plane! (Which has been immaculately restored/is very safe and legit.) There are also 59 planes on display in 4 hangars.
McCallum Theatre
There's always something interesting happening at the McCallum Theatre, a venue that works hard to ensure a wide variety of interests are represented and stories are told. Here you will enjoy being entertained by The Nutcracker, real-deal Mariachi, and Melissa Etheridge. We'll take all three, please.
Celebrity Tours
We'd like to offer an alternate name for celebrity house-peeping: Instead, let's call it positive dream building. There's no harm in looking. Plan to do this on a day you want to keep things light, and prepare to feast your eyes on all of the luxe estates of stars of all eras.
Moorten Botanical Garden
There's an arresting beauty in desert plant life, and if that's your thing—calling all succulent lovers—you cannot leave Palm Springs without visiting the Moorten Botanical Garden. It's a privately owned, immaculately maintained arboretum, nursery, and cactarium (which is a real word that we did not make up).
Midcentury Modern Architecture Tours
Who doesn't love midcentury architecture from the 1950s and '60s? There's something so intriguing about the minimalist clean lines, creative pops of color, and floor-to-ceiling windows that invite the outdoors in. GPS has loads of these types of homes, and plenty of professionally guided tours you can choose from. The Modern Tour rolls deep with luxury SUVs, and it's worth noting that tour guests are allowed inside every residence. The Palm Springs Mod Squad is tons of fun, with added info about the celebs who lived in these homes, as well as the drinks they loved.
It's time to live your "wellest." That's what we've always done in this magical, sun-kissed oasis. Since the days of the earliest Native American settlers, we've created a destination for wellness. Besides our legendary hot springs, there are more than 1,000 miles of breathtaking trails for epic hikes, ancient waterfalls and light-filled spas surrounded by whispering palms. Whatever brings you joy, you'll find it here. Greater Palm Springs: nine resort cities, one "wellest" oasis.