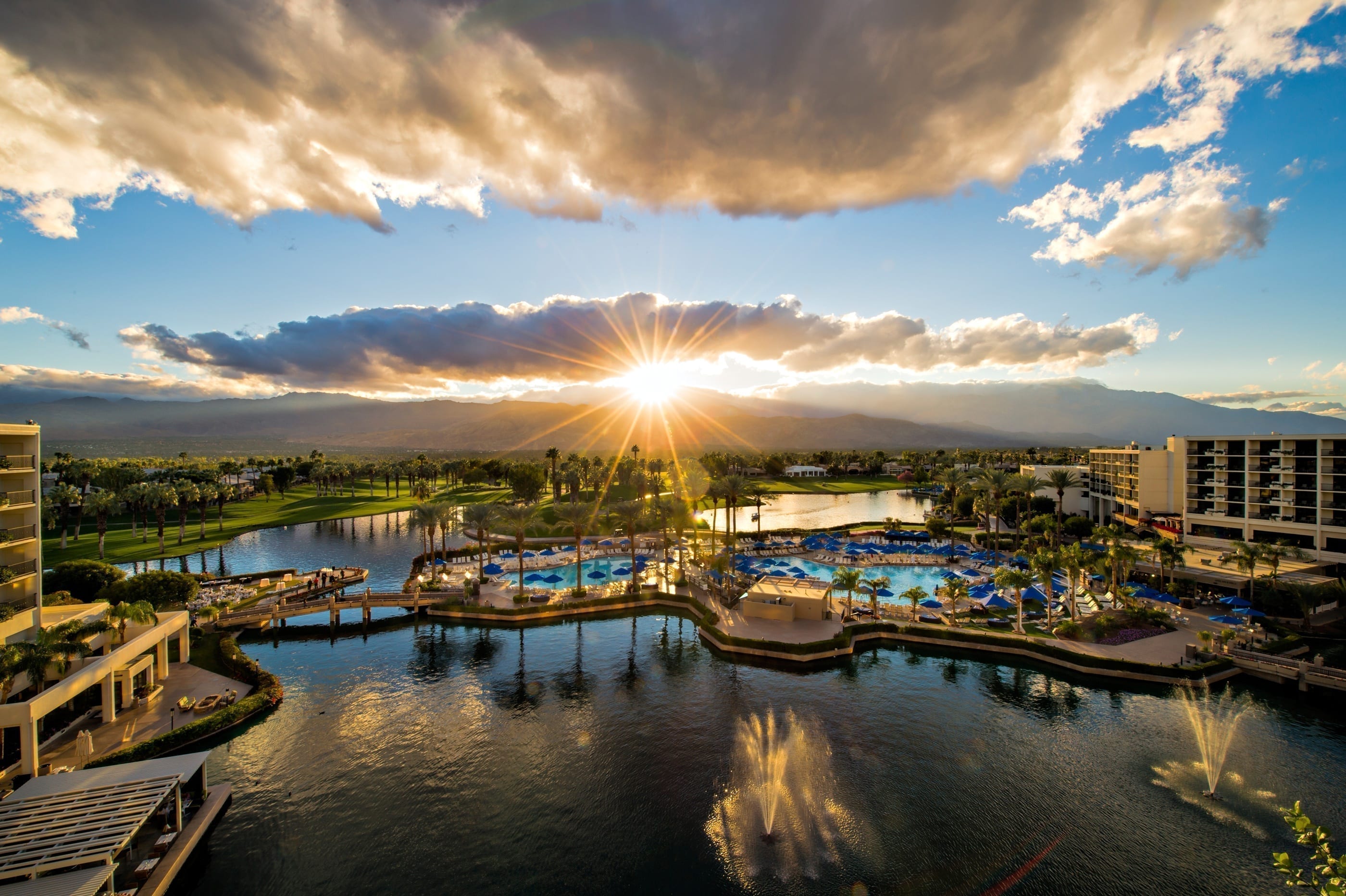 It would be a mistake to visit Palm Springs and not #treatyourself. There's so much to do (Yoga! Music! Food! Soaking in all of the good vibes!), that your hotel should feel like a peaceful retreat. After all — you can't play hard, sweat, flow, and be totally present without taking the time to recharge each night. These six resorts and hotels provide the perfect respite for the adventuring yogi. You just may find that there's so much to do at your hotel, you won't want to leave.
La Quinta Resort & Club
La Quinta Resort & Club isn't just a hotel. It's a resort. And a club. And soon-to-be your happy place. Choose from three different room styles in this La Quinta getaway: The Casitas for cozy vibes (plus private patios and hot tubs); the Suites for a little bit of luxury; and the Villas for a home-away-from-home, equipped with a kitchen and ample room to stretch out and b-r-e-a-t-h-e.
There are five different golf courses, as well as the PGA West Golf Academy, so you can perfect your swing—or just learn how to hold a club—before hitting the links.
If you're just here for the self-care, you're going to want to hit the salon for a mani/pedi, makeup, and hair, or the spa. Spa La Quinta offers massages, as well as unique offerings like an ultra-luxe pre-sun body polish.
And this is big for dog-lovers: You can stay with your pup. The resort is doggo-friendly.
Two Bunch Palms
Is it weird to have a crush on a hot springs resort? Because… wow. Two Bunch Palms in Desert Hot Springs is totally our type.
This desert oasis is an eco-friendly member of the Green Spa Network, a group of spa providers who care not just about your wellness, but the wellness and sustainability of the planet, too.
Even if you don't stay at Two Bunch Palms—which, just saying, would be a tragedy—you're going to want to visit the spa as a day guest. Soak in the rejuvenating mineral waters, and choose from one of their thoughtfully-crafted packages, which include body work, hot springs, and access to the resort's fitness and enrichment classes (and its incredible labyrinth!).
If you can pull yourself out of the light, bright, and airy rooms, hit up the garden room or dome for a wellness or educational class—you can participate in everything from chakra yoga and tarot readings to portrait painting and healing drums.
Finally, brunch and dine 'til your heart's content at Essence, the on-site veg-friendly restaurant that nixes all things artificial and heavily processed in favor of whole, delicious foods (including tons of GF options).
Sands Hotel & Spa
The Sands in Indian Wells is worth a visit for the wallpaper alone. Interior design geeks will fall in love with this boutique gem. It's a hotel that goes the distance in crafting unique experiences for every guest—each room features bespoke decor, so you'll never have the same stay as someone else.
While many hotels and resorts offer basic farm-to-table dining, The Sands brings a different vibe to the dining room—The Pink Cabana serves up authentic Moroccan fare from two of the biggest names in the food biz, Chefs Jeremiah Tower and Jason Niederkorn (and again, you're going to want to check out the wallpaper).
Getting married? Hosting a soiree or meeting? You're going to want to, once you see their event planning swagger. Leave enough time in your schedule to pamper yourself with a facial or one of their many massage options at the spa.
And word to the wise: Do not forget your camera at home. From the olive grove to the perfectly pink exterior walls, this spot is packed with picture-perfect photo ops. Say #selfie and don't forget to tag @wanderlustfest.
Agua Caliente Resort Spa Casino Rancho Mirage
We won't beat around the bush: Agua Caliente Resort Spa Casino Rancho Mirage is sexy. We're talking 16 stories of luxe rooms, a stunning pool and wet bar, and a full-service spa.
Many folks find themselves lured here by the casino (omg so much poker goodness), but if you're not a gambling man or woman, you'll definitely want to rock out at The Show. Agua Caliente Resort Spa Casino Rancho Mirage books all sorts of entertainers, from comedians to classic rock bands, to our favorite rappers (we see you, Nelly). Not a gambling person? Don't miss the Sunstone Spa, a standalone spa with massages, skin treatments, full-service hair and nail salons, a eucalyptus steam room, a dry sauna, a whirlpool, a private outdoor swimming pool, and luxury spa cabanas.
Like all good casinos, there's a sumptuous buffet, but we're going to warn you: This is not your run-of-the-mill, fill-'em-up affair. You can satisfy your cravings with international cuisine, and, duh, a Champagne brunch. Agua Caliente Resort Spa Casino Rancho Mirage is super conveniently located—it's a short seven miles from the Palm Springs airport, meaning you can luxuriate by the pool until the very last minute.
JW Marriott Desert Springs Resort & Spa
It's important to note that on their website, the JW Marriott Desert Springs Resort & Spa in Palm Desert specifically calls out its "indulgent bathrooms." This is not just marketing talk: If gleaming walk-in showers, soaking tubs, XXL mirrors, and deliciously soft robes are your thing, you're going to be very happy here.
There's a spa on-site (of course), but what makes this one different is its expertise in hard-to-find Ayurvedic treatments (plus the usual: massages, body wraps, foot treatments, CBD treatments, facials, and the like). The spa features a Turkish hammam and spa bistro.
If golf is a must on your itinerary, you've got two championship courses to choose from. If you're looking to get your sweat on, there's a large fitness center and a tennis club. Feeling peckish? There's about a zillion restaurants to choose from, including a sushi bar and a Japanese steakhouse. Oh, and a nightclub.
What we're saying here is that it's going to be very, very hard to pull yourself away from the full-service luxury of the Marriott. You have been warned.
L'horizon

L'horizon: An architectural dream. It was designed and built in Palm Springs in the 1950s, and has since been a celebrity hot-spot. No surprise why: The hotel is made up of 25 very private, very sexy bungalows strewn about over three acres. This is a DNBYB situation (stands for "do not bring your baby"… we just made that up). L'horizon is an adults-only resort.
You'll be glad of the rule once you arrive and feel blissful quiet luxury settle over you — it's a perfect place to unplug, leave technology on airplane mode, and reconnect to your yoga practice. Their spa uses all-natural Naturopathica products in their body and facial treatments to keep it natural and simple.
This is so the place to feel like a real grown-up; everything about L'horizon whispers subtle elegance with just the right amount of cheek. A little mindful movement may be just the ticket too: The resort will help facilitate hikes at Indian Canyons and Joshua Tree National Park. If you've had enough of meditation and introspection, there's always shopping: L'horizon has 18 shops in an outdoor retail area.
Finally, we'll just leave this here with you: Outdoor showers.
It's time to live your "wellest." That's what we've always done in this magical, sun-kissed oasis. Since the days of the earliest Native American settlers, we've created a destination for wellness. Besides our legendary hot springs, there are more than 1,000 miles of breathtaking trails for epic hikes, ancient waterfalls and light-filled spas surrounded by whispering palms. Whatever brings you joy, you'll find it here. Greater Palm Springs: nine resort cities, one "wellest" oasis.