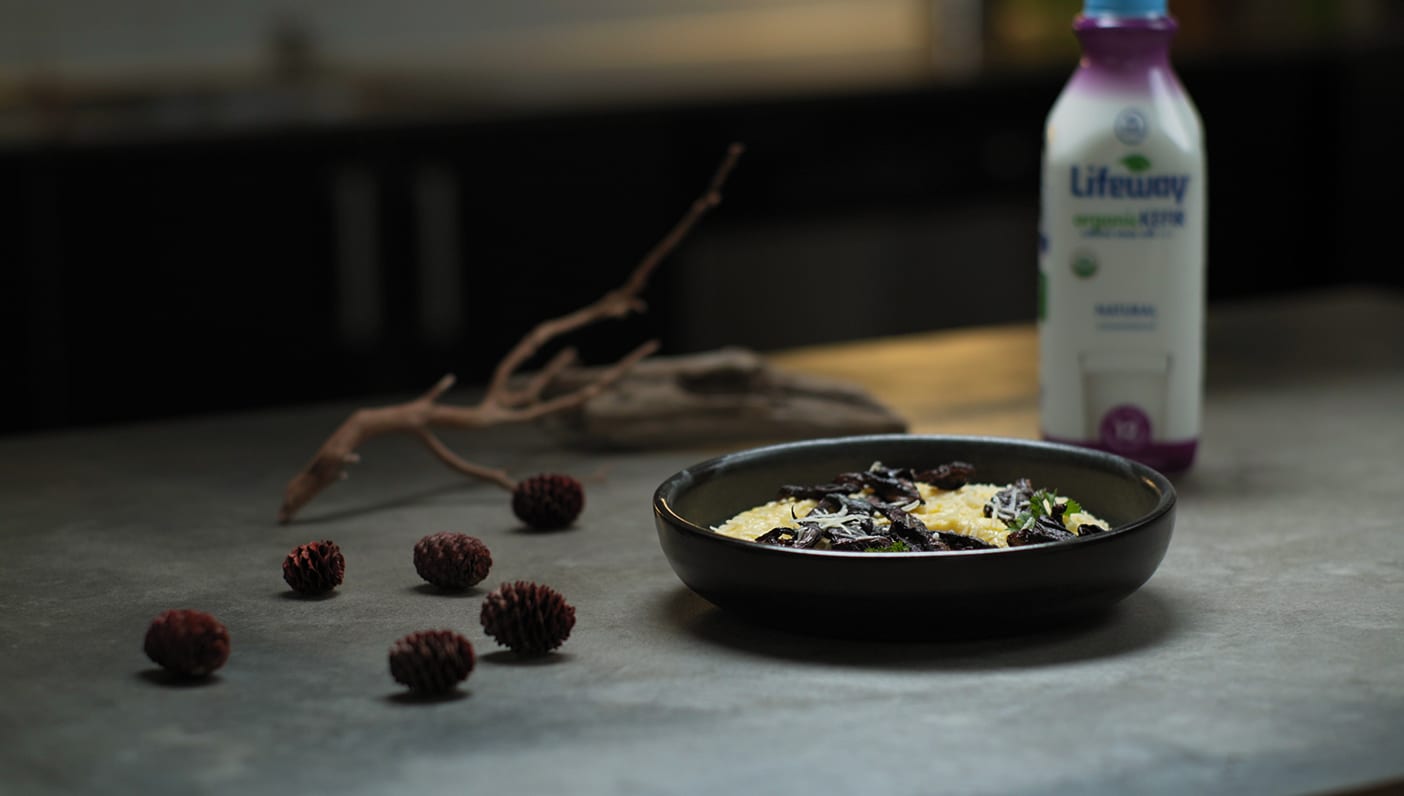 If you haven't yet had truffles, it's high time you jump on this scrumptious bandwagon. This creamy, savory, and shroomy dish combines the comforting flavors of pecorino cheese and polenta with the more rustic (and healthy) porcini mushrooms. This dish is cozy, warm, and the perfect go-to when you're in need of autumnal comfort food. 
We recommend serving it up for dinner and saving the leftovers (should you have any) for a flavorful lunch the next day. The polenta provides a hearty and naturally gluten-free base, while the porcini mushrooms add flavor, protein, and fiber. 
The truffles are packed with magnesium, calcium, iron, and vitamin D, and the kefir's fermented properties may help aid your overall gut health and alleviate anxiety by regulating cortisol levels.
What are you waiting for? Slip into your fave fall sweater and sink your teeth into this cozy meal.
Truffle, Porcini, and Pecorino Cheese Kefir Polenta
Serves 4
INGREDIENTS
Polenta:
5 cups water 1 tbsp kosher salt 1 cup polenta
2 cups organic plain whole-milk kefir
Mushrooms:
3 tbsp extra virgin olive oil
1/2 lb porcini mushrooms, sliced
For serving:
1 cup grated pecorino cheese
A generous pinch truffle salt, 1 tbsp truffle oil, or 1 fresh truffle for garnish
Maldon sea salt (if not using truffle salt for garnish)
INSTRUCTIONS 
For the polenta: 
In a large, heavy-bottomed pot, bring the water to a boil and add the kosher salt. Slowly stir in the polenta with a whisk, then reduce to a simmer. Continue stirring this mixture until all of the lumps are smoothed out and the polenta is fully incorporated. Simmer for 45 minutes to 1 hour (the polenta should bubble slightly), stirring occasionally with a wooden spoon. Be sure to scrape the bottom as you go to prevent sticking. Toward the end of the simmering, remove the polenta from the heat and stir in the kefir.
For the mushrooms: 
While the polenta is cooking, heat the olive oil
in a saucepan over medium-high heat.
Add the porcinis, evenly distributing them over the bottom of the pot. Let the mushrooms sit, without stirring, until browned, 7 to 10 minutes. (Do not stir them too early; listen for the sizzling sound of moisture evaporating before stirring.) Once the moisture has evaporated, give them a quick stir, then remove the pan from the heat.
To plate: 
Ladle the polenta into a medium/large shallow bowl, topping with the mushrooms and pecorino cheese. Sprinkle the entire platter with the truffle salt, the truffle oil, or the fresh truffle. Avoid using more than one of these options, as the truffle will overpower the dish. If not using truffle salt, sprinkle with a generous pinch of Maldon sea salt.
What's your favorite fall comfort food?