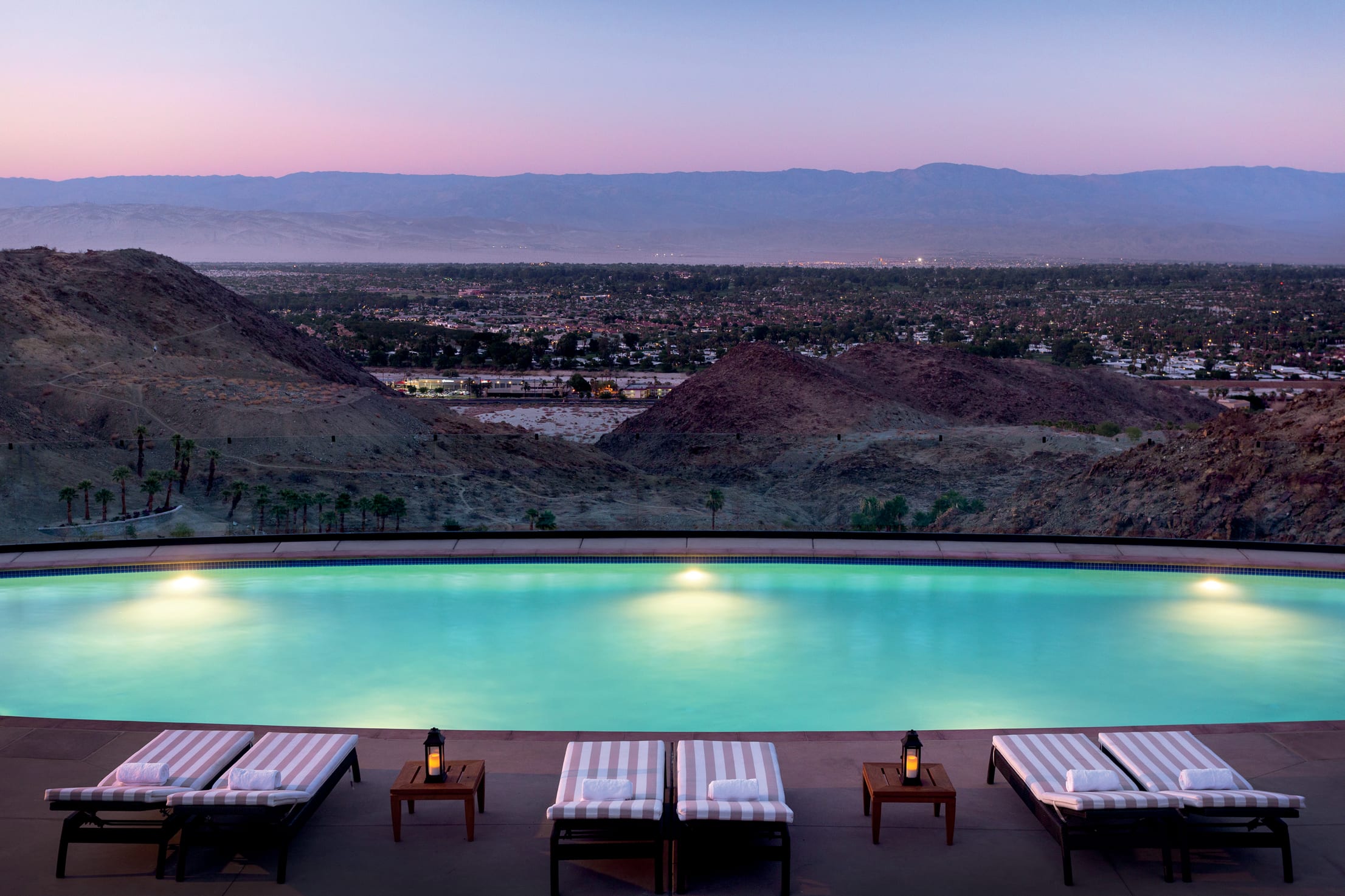 Find your happy travel place in Palm Springs when you join us for Wellspring this October! For tickets and more information, click here. Wellness industry professional discounts and scholarships available!
---
Palm Springs is the land of year-round sunshine, iconic mid-century architecture, luxury resorts, and beloved festivals. Even on top of the music and architecture, this desert oasis has long-been a popular escape for city dwellers looking for wellness-focused weekends and outdoor adventures. Visitors seeking trendy travel have endless options when it comes to lodging, from stylish resorts and boutique style hotels, to redesigned motels and camping. Here are our top recommendations with choices for various budgets and lifestyles.
Our Top Picks 
We love everything on this list—but the ones below are our designated go-to's. Hit them up for their state-of-the-art spas, bliss-inducing poolside lounge spots, and top-tier restaurants.
Renaissance Palm Springs
Book your Wellspring room at the Renaissance through the Wanderlust website when you get your ticket confirmation and get a $150 lodging credit! 
An oasis among an oasis, the Renaissance Hotel perfectly combines a relaxing interior with the soothing natural vibes of the desert. Set against a backdrop of the breathtaking San Jacinto Mountains, this picturesque hotels offers one of the area's largest outdoor swimming pools, making it an ideal spot to do nothing but soak up the healing qualities of the desert. Need a break from the sun? Slip into Spa Del Sol for an aromatherapy massage, or a nightcap at Rocks. 
Classic, trendy, and pet-friendly, the Hilton in Palm Springs is a fabulous choice for your Coachella Valley getaway. Our favorite part? You really can't beat the pool, which is decked out with dozens of comfy lounge chairs so that you never have to fight for a spot. Order a delicious snack and have it sent directly to your poolside spot or cool off in Harvey's Lounge with a classic cocktail.

Even if you don't end up staying at the Kimpton, stop by simply to check out the crazy beautiful interiors. Combining art, ease, and class, this gorgeous hotel offers some of the best views in Palm Springs—the rooftop pool is especially a gift to behold. Pair this with the luxurious and notorious 4 Saints Dining room, and you'll find yourself never wanting to say goodbye. 
Livin' the Luxe Life
From saltwater pools to hot stone massages, resort hotels provide the ultimate sensual experience. These five star hotels are known for treating their guests like royalty—so don't be shy about all those hours you spend lounging in a silk bathrobe.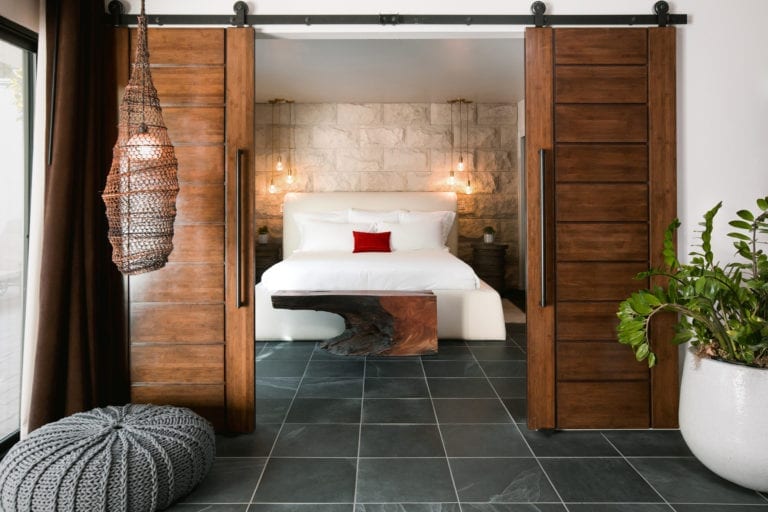 Design oozes from every nook and cranny in this hip hotel. Each room (there's 144) has splashes of bold color and patterns to accent the posh mid-century interiors. If you can drag yourself outside your resplendent room, you'll find three pools to lounge in or a spa for some quiet, self-care time. For food and drink, there's no need to leave the hotel. The Parker has two onsite restaurants to choose from as well as two bars to venture in for a night cap.

The Ritz Carlton, Rancho Mirage
The Ritz Carlton group is known for their luxurious offerings and the Rancho Mirage is no exception.  Situated on a mountainside, guests have access to unbelievable views of the valley and low-traffic hiking spots. If leisure is more your speed, spend the day at the spa which emphasizes holistic treatments like massage, body wraps and plunge pools. Named one of the top five dog-friendly hotels in the area, your pooch is welcome regardless of breed or size for a non-refundable deposit.
This 1950s resort was once the playground for Hollywoods stars like Marilyn Monroe and Betty Grable, and the golden age remains in the unique design esthetic situated on 3 acres of desert grounds. Enjoy the sparkling wine presented upon check in (did we mention this resort is adult only?) as you're led to one of 25 custom designed bungalows with views of either the mountains, desert or pool. This dreamy and luxe spot is perfect for a quiet getaway, or an intimate stay with a partner.

If you're truly looking for a place to let go, Two Bunch Palms is your spot. Even looking at the photos triggers feelings of relaxation and rejuvenation. Nestled among swaying palm trees, this perfectly secluded hotel is known for its spa. Visitors can enjoy outdoor treatments in gazebos, dips in the Watsu pools, chakra balancing massages, and detoxifying clay wraps. Be sure to finish up your spa day with some gluten-free or vegan options from Essense—all that relaxation works up an appetite.
Cool and Casual
Perfect for those looking for a heightened experiences but still cognizant of their coin, the hotels below are trendy, comfortable, and fun. Many of them offer unique amenities (the Ace even has walking sticks in each room, hello!) and delicious onsite eateries. Each one has its own theme—pick the spot that speaks most to your soul.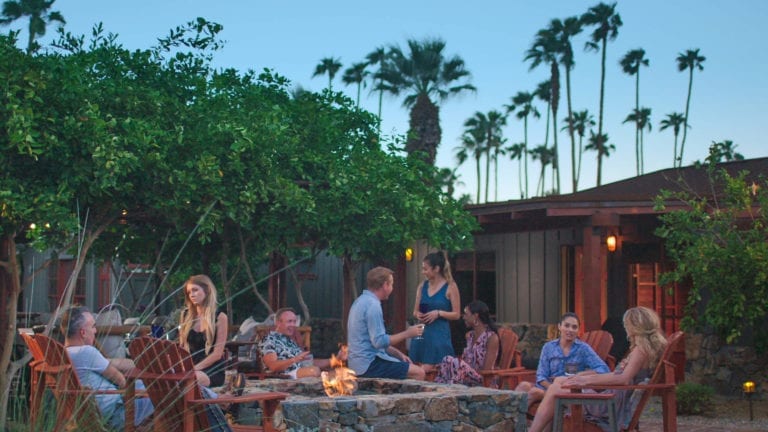 Sparrow Lodge

This is an adults only (and furry friends for a fee) hotel that flows easily between indoor and outdoor spaces. Wake up to a complimentary continental breakfast served in The Barn Kitchen followed by a dip in the pool or a walk around the lodge's vegetable garden. The cabin-chic rooms come with WiFi, but lack telephones or TVs, urging guests to unplug and unwind.
In the heart of downtown Palm Springs, this Mediterranean-style bed-and-breakfast is spread over nearly two acres of desert. The 28 rooms are divided into two parcels—the Mediterranean Villa and the Moroccan Villa—each of which boast their own saltwater pool. Unique amenities include vintage movies shown on the outdoor patio, cruiser bikes to cycle around the neighborhood, and yoga and meditation classes offered on a rotating schedule.
Desert chic meets surf vibes at the Ace Hotel. Local art and a large installation made from rope meet guests in the lobby, which doubles as a gathering space for relaxing and socializing. Another spot to lounge is Amigo Room, the hotel bar known as the best spot to sip craft cocktails. The hotel's only eatery, King's Diner, is known for their hearty brunches and coffee.
Thrifty/Camping
The spots below are perfect if you're looking to stretch your dollar—more money for food and fun! We've also included a few camping options in case your experience will be best served under the stars.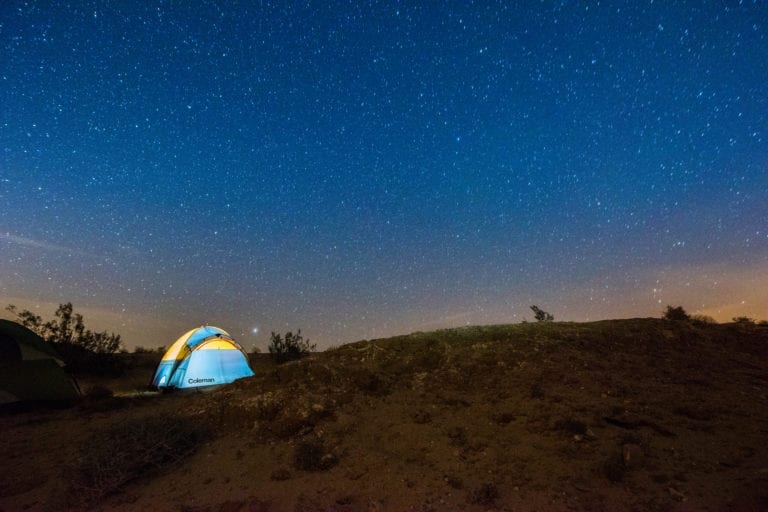 This vibrant hotel attracts a young, hip crowd whose biggest concern is what time the pool party starts. All rooms have a patio or balcony (many overlooking the crown shaped pool) and the decor inside is as colorful as the outside. Break away from the poolside cabana for lunch and enjoy tacos and tequila at the hotel's restaurant, El Jefe.
Palm Springs/ Joshua Tree KOA campgrounds
This campground has unique amenities and activities you might not expect, like hot tubs fed from natural hot springs, a mini-golf course, a kids' playground, pickleball courts, yoga, and ice cream socials. Just 10 miles from Palm Springs, and 45 minutes to Joshua Tree National Park, guests are strategically positioned to explore the greater Palm Springs Area. Open year-round, guests can choose from a tent site, a deluxe cabin, or an RV site.
It's time to live your "wellest." That's what we've always done in this magical, sun-kissed oasis. Since the days of the earliest Native American settlers, we've created a destination for wellness. Besides our legendary hot springs, there are more than 1,000 miles of breathtaking trails for epic hikes, ancient waterfalls and light-filled spas surrounded by whispering palms. Whatever brings you joy, you'll find it here. Greater Palm Springs: nine resort cities, one "wellest" oasis.