Need another reason to come explore all that Palm Springs has to offer? Check out Wellspring, Wanderlust's premiere wellness expo. For tickets and more information, click here. 
Wellness industry professional discounts and scholarships available!
---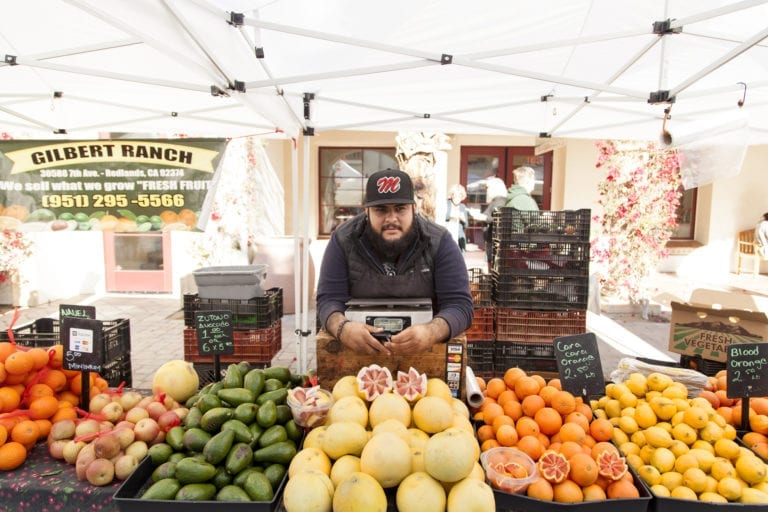 Just a two hour drive from LA lies the desert oasis of Palm Springs. The area became a popular hideaway for Hollywood stars in the 60s, but these days, the relaxed desert city draws people from all over the country with its iconic festivals, outdoor activities, impeccable weather, and ever-evolving food scene.
Heading out to this cinematic paradise? We know that meals play an important role in any travel experience, so we've done the research on the best restaurants and cafes that cater to a healthy lifestyle in the greater Palm Springs area. Go hit up that sweaty vinyasa flow class and then meet us on the misted patios. 
515 N Palm Canyon Dr, Palm Springs, CA 92262
(760) 699-7714
This is the place to start your day, regardless of whether your go-to is a green goddess juice or a breakfast sandwich on brioche. The menu is organic without being fussy, mostly vegan but with a few meat options for the carnivores. It's going to be hard to only choose one item off the menu—so don't. We suggest grabbing your pals and ordering multiple plates to share. While you wait for your meal, sip on a Pretty Mimosa (made with pitaya!) and soak up the desert sun on their flowery backyard patio.
Old Town La Quinta
(844) 732-7628

Head on down to the Certified Farmers' Market in La Quinta and easily complete a few hours of eating, drinking, and prime people watching. Open on Sundays 8am–12:30pm, October through May, the market is a great opportunity to sip a cup of coffee, grab brunch, and explore all Old Town La Quinta has to offer. Enjoy the local produce, nuts, cheese, honey, herbs, flowers, organic meat, freshly baked bread, speciality oils, live music, and chef demonstrations. Traveling outside that particular time window? The Certified Farmers' Market also operates markets in Palm Springs and Palm Desert that are open year-round.
73910 Highway 111, Unit F, Palm Desert, CA 92260-4000
(760) 862-1911
Executive Chef and owner Lorraine Ornelas was doing farm-to-table before it ever became a restaurant trend. Drawing inspiration from her own quarter-acre farm and local farmers' markets, this organic cafe is known for its unique smoothies, soups, salads, and sandwiches. You can also grab specialty hot drinks made with your fave superfoods—think reishi hot chocolate and turmeric lattes—as well as their signatures "raps" using gluten-free tortillas. 
72990 El Paseo #3, Palm Desert, CA 92260
(760) 636-0441
This farm to table restaurant is "Organic AF" (you know, always fresh) and the place to fulfill your fresh food fantasies. Beat the heat and start with the low-sugar "After Sweat Rehydrator" juice with water, apple, celery, lemon, lime, and sea salt, and take your time looking over the extensive menu. The burgers with secret sauce are a popular choice, as are the Buddha Bowl and Asian Noodle salad. Come for happy hour to snag some sweet samples on Tuesday-Sunday, 4pm through 6pm. 
706 S Eugene Road, Palm Springs, CA 92264
760-832-9007
Regardless of whether or not you're vegan, you'll want to come out to Chef Tanya's. Vegan substitutes can often look a little scary, Chef Tanya's are all totally fresh and flavorful. The Chupacabra "Chicken" Sandwich is stuffed with thinly sliced crispy seitan filets, avocado, cilantro, and house-pickled jalapeños and is a beloved crowd-pleaser. If you need to get your fill of fresh veggies, opt for the Modern Hippie Veggie sandwich with avocado,  jicama, shredded carrot, cucumber, purple pickled cabbage, and lettuce. The kitchen is located in a more obscure part of town, but the interior emits a relaxing and welcoming vibe to sit down for a great meal.
6 La Plaza, Palm Springs, CA 92262
760- 322-2724

Owner Liz Ostoich traveled through the South of France and returned to the states a changed woman. That experience became her inspiration for opening FARM, a traditional Provencal-style restaurant comprised of French dishes made with locally-sourced produce, eggs, and artisanal meats. On any given day you'll see their garden-like patio full with patrons, enjoying brunch dishes or the ever-changing 5-course, prix fixe dinner menu. Get lost in the daydream of French living while sipping on a fresh french press coffee and enjoying a pommes crepe.

78742 CA-111 Suite A, La Quinta, CA 92253
(760) 564-0004
The poke craze is here to stay and we're not mad about it! If you're looking for a delicious and nutritious on-the-go meal, stop here. You can even order online so it's ready for a quick and convenient pickup. Pokehana has 5+ signature bowls to choose from, but we suggest customizing your own and getting creative. You can experiment with unique toppings like coconut meat, mango, and lotus chips while testing out a few of their house made sauces on the side.
68327 E. Palm Canyon, Cathedral City, CA 92234
(760) 699-8536
The menu at Beyond Balisage is based solely on the season and what's available. Owner and Chef Daniel Villanueva partners with local farmers throughout Southern California to source the freshest ingredients, resulting in rare dishes that might only make it to the menu a handful of times. While the menu is subject to change, the dishes are always Mediterranean inspired and include items such as baked dates, lamb kleftiko, and chicken pastilla. For an extra special experience, check the restaurant's website and/or Facebook for a 5-course Earth to table experience event.
74985 Highway 111, Indian Wells, CA 92210
760-834-7700
If you're looking for a casual and fun dining experience, this Gastropub is your destination. Carnivores unite at this hotspot as there are TEN different burgers to choose from—the most famous being the Fresno Fig burger with melted goat cheese and fig marmalade. Vegetarians can get their fill with the veggie beet burger or a quinoa-laden salad. Pop by on a Thursday for live music and attend their daily "Hoppy" hour from 2–5pm or 9pm–close.
61695 Twentynine Palms Hwy, Unit B, Joshua Tree, CA 92252
(760) 366-3600
Natural Sisters is a must-stop if you're on your way to or from Joshua Tree National Park. The vegan carrot cake is worth an early arrival (they only make one a day) and totally considered a valid breakfast option. If sweets aren't your thing, opt for a savory veggie omelette or a warm curried rice wrap. And be sure to check out the psychedelic Jack Rabbit mural outside before you get back on the road for a great photo opportunity!

73511 Twentynine Palm Hwy, Twentynine Palms, CA 92277
760-910-9206

If you've traveled all the way to the Yucca Valley, you've got to try the Yucca fries at Mojave Moon Cafe. But that's also not where your appetizer order should end—the Polish pierogies stuffed with mushrooms and smothered in cheese and peppers are hard to pass up, as are the crab cakes. If you haven't completely stuffed yourself on starters, the terra melt on rye bread and the taco rice are cafe favorites. This pet-friendly place has become a favorite for visitors and locals alike.

Get more desert goodness by signing up for the 10-Day Wellest Challenge, filmed in the Greater Palm Springs area and featuring Mary Beth LaRue and Jacy Cunningham. Sign up now—the challenge begins September 10!
It's time to live your "wellest." That's what we've always done in this magical, sun-kissed oasis. Since the days of the earliest Native American settlers, we've created a destination for wellness. Besides our legendary hot springs, there are more than 1,000 miles of breathtaking trails for epic hikes, ancient waterfalls and light-filled spas surrounded by whispering palms. Whatever brings you joy, you'll find it here. Greater Palm Springs: nine resort cities, one "wellest" oasis.