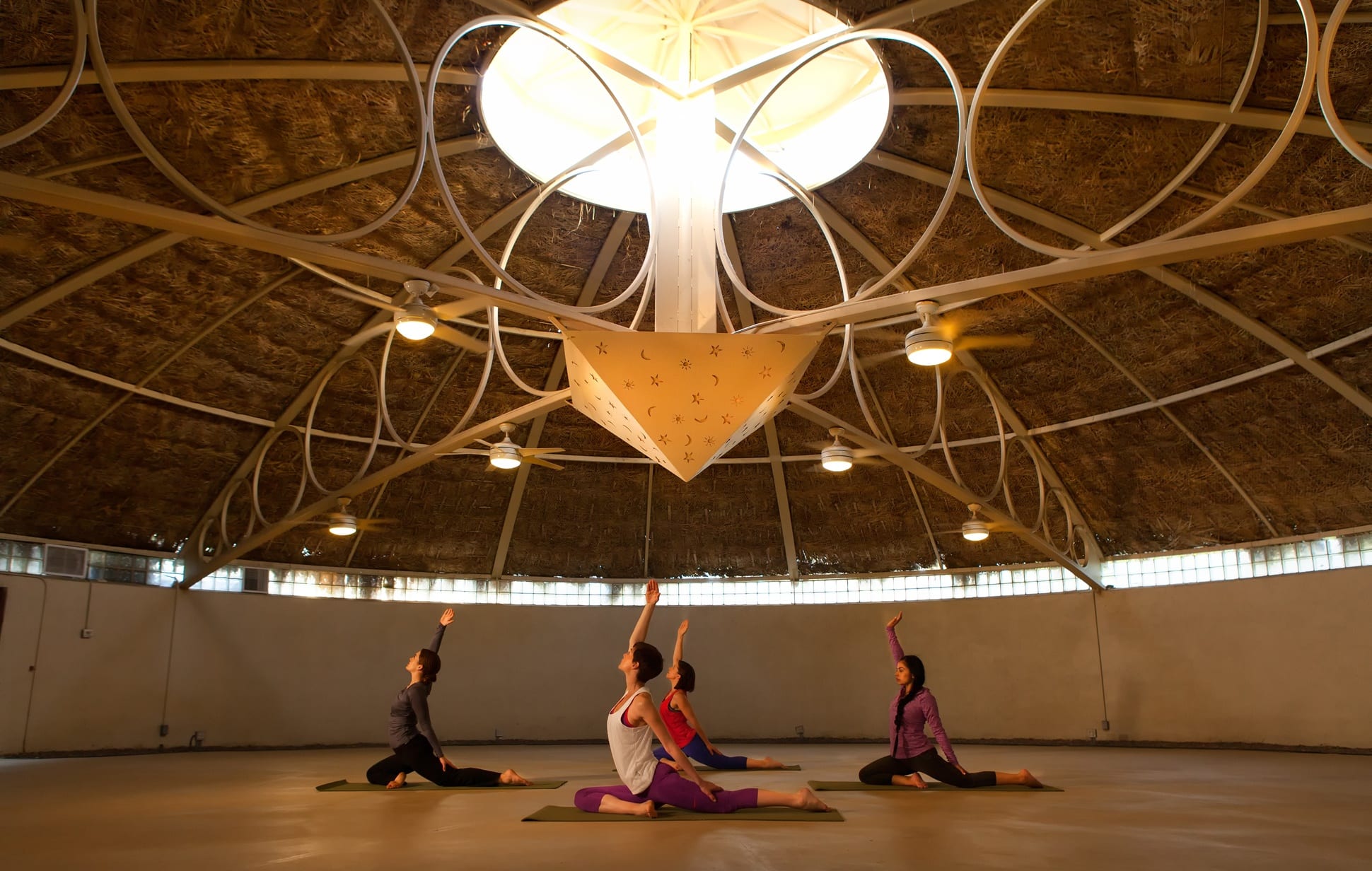 If by some chance she's not on your radar already, holistic wellness rockstar Mary Beth LaRue is a name you should know. The Silver Lake, Los Angeles-based yoga teacher, coach, writer, and co-founder of Rock Your Bliss has traveled the world teaching yoga for over ten years (including a number of Wanderlust Festivals), spreading the ideology that if we can get out of our own way and put in a little work, "we can design the life of our dreams."
LaRue's range of experience is nothing short of astounding—from teaching alongside Michael Franti to designing custom yoga programs for rehabilitation centers, homeless shelters, and the Down Syndrome Association of Los Angeles. Says LaRue, "whether it's through a sweaty yoga practice, a gratitude meditation or a conversation over coffee about big goals, my mission is to lead people toward their bliss…sustainable, fulfilling bliss."
In anticipation for the upcoming 10-Day Yoga Challenge filmed in Palm Springs, we spoke with LaRue about her favorite places to practice around in the greater Palm Springs Area of Los Angeles. Choosing a number of spaces off the beaten path, LaRue gave us a true insider's look at the secret gems of the desert's yoga scene. Check out her picks below.
Denise DuBarry's studio in the Coachella Valley is a grab bag of quirky and playful yoga classes. From traditional hot Bikram classes to warm vinyasa flows, there's ample opportunity to drop into your favorite styles or test your boundaries. (They've even got Trapeze Yoga!) Classes are divided into the Sun Room or the Moon Room, with the former being mostly hot classes. Find your fix and start flowing.
Voted the best yoga studio in La Quinta, Evolve is a soothing oasis of rejuvenation and relaxation. Those interested in the slow-flow style especially appreciate the restorative, Yin, and "gentle" yoga classes. They also offer tons of practical health and wellness information on their blog, including an audio podcast on yoga for golfers!
Shay's yoga studio may be based in the Coachella Valley, but it's totally mobile. Shay teaches everywhere from spin studios to cancer treatment centers (you can find the specifics using the link above). She's also a private spin teacher who's down to teach at bachelorette and birthday parties, corporate events, and more. A particular favorite is her Serenity Sunday Candlelit Flow, which is great for those looking to add a healthy cap to their weekend.
A staple of downtown Joshua Tree–Instant Karma Yoga is an oasis from the bustling city life. With its ironclad rustic charm and retro sign, the studio is hard to miss when driving along the town's main strip. During the day, the loft-style wood-paneled studio is filled with light, and after class you can sit out back and enjoy a cup of coffee from Joshua Tree Coffee Company. Offering a variety of styles including Ashtanga, Anasura, Kundalini, and Hatha Yoga, Instant Karma is great for both experienced yogis and newcomers to the practice.
Palm Springs' yoga studio, located downtown on N Palm Canyon Drive, offers this community a wide range of yoga classes, 7 days a week, morning, day and night. Specializing in power yoga as well as a hot fusion, gentle, yin and many beginner classes, no matter what level of yoga you practice at we have a class for you. Owned by desert native Kimberleigh Funkey and assisted by many amazing instructors, all with the same goal- to make every yogi feel at home and at peace all while getting an amazing practice for their body, mind and soul. Kim recently purchased the studio and continues to bring a fresh and fun vibe by creating a space for local artists to share their art, pop ups, essential oil workshops and so much more. The studio also offers massage and Polarity therapy.  We are the yoga oasis of the desert!
Yoga Bliss's vision of yoga is all about finding what works for you, given "the body that you have for today." Each of their classes—ranging from traditional yoga to belly dancing to aerial yoga—is all about understanding your body and building awareness. Their expert teachers encourage self-inquiry and offer the idea that each of us is unique, and there is no one set way to connect to one's inner bliss. Offering classes to people of all ages and levels, Yoga Bliss prides itself on guiding people towards reaching their fullest potential.

Founded in 2001 by Kristin Olson—a longtime teacher of "Hollywood luminaries and sports figures"—the Urban Yoga Center is the longest running yoga studio in the Coachella Valley. The center offers 30 classes a week, including a variety of meditation-based restorative classes and refreshing faster-pace flows. In addition to their regular schedule, the center also hosts a number of visiting teachers and bands from around the world to lead workshops and kirtans. The goal of the Center is to give students the "authentic and sacred yoga experience… In the modern urban environment," taking a "light-hearted, dedicated, educated, enthusiastic, passionate, (and) humorous" approach.
Rooted in the Hatha tradition, Peace Love Yoga offers a wide range of classes suitable for yogis of all ages and backgrounds. For beginners (or practitioners looking to reground their practice), they offer wonderful foundation classes in which students can learn to practice safely and avoid injury. They also have a number of restorative and flow-based classes for more advanced yogis. Each class, regardless of the level, is taught with props and modifications in order to suit each student's unique body and practice. In addition to asana classes, Peace Love Yoga also offers daily guided meditation classes—get your om on.
Located in California's beautiful Palm Desert, Go with the Flow Yoga Studio offers yoga and pilates classes to the local desert community. The studio was founded in 2004, and has grown to become the "go-to" desert spot for pilates, yoga, and rehabilitation after surgeries or injury. Go With The Flow operates on the belief that yoga is for everyone, and the team of expert teachers offer specialized classes to fit each individual's personal need, regardless of their age or physical ability. On top of that, they're the first studio in Palm Desert to offer aerial yoga! 
A favorite among Palm Desert locals, Bikram Yoga El Paseo fosters a community in which students can comfortably learn and practice bikram yoga, regardless of their age or ability. Owner and teacher Ann Marie Palma's goal is to spread knowledge about bikram yoga's countless health benefits. In addition to her core staff, Palma often invites guest teachers to lead workshops.
Located in the heart of Palm Desert, the Yoga Center offers classes in the Ashtanga and Iyengar traditions. Students of all levels are welcome to study with the center's master teachers and guest instructors. The space is beautiful and well-equipped with a plethora of props. There's also the occasional retreat and workshop, including adaptive yoga for those who have a history of injuries.
Founded by Jayne Robertson over ten years ago, Desert Yoga Therapy is a center committed to creating a nourishing environment for yoga, meditation, and pilates. In addition to a variety of classes ranging from beginner to advanced levels, workshops, retreats, and teacher training courses, Robertson and her team offer individualized, one-on-one yoga and yoga therapy sessions, and assist in supporting students to find the right class to suit their needs. Teachers at the Desert Yoga Center believe that the practice of yoga can fit the needs of anyone who wishes to try it, and can have immense health benefits.  
Unleash the healing powers of the desert and explore one of the studios above. Where's your favorite place to practice?
It's time to live your "wellest." That's what we've always done in this magical, sun-kissed oasis. Since the days of the earliest Native American settlers, we've created a destination for wellness. Besides our legendary hot springs, there are more than 1,000 miles of breathtaking trails for epic hikes, ancient waterfalls and light-filled spas surrounded by whispering palms. Whatever brings you joy, you'll find it here. Greater Palm Springs: nine resort cities, one "wellest" oasis.