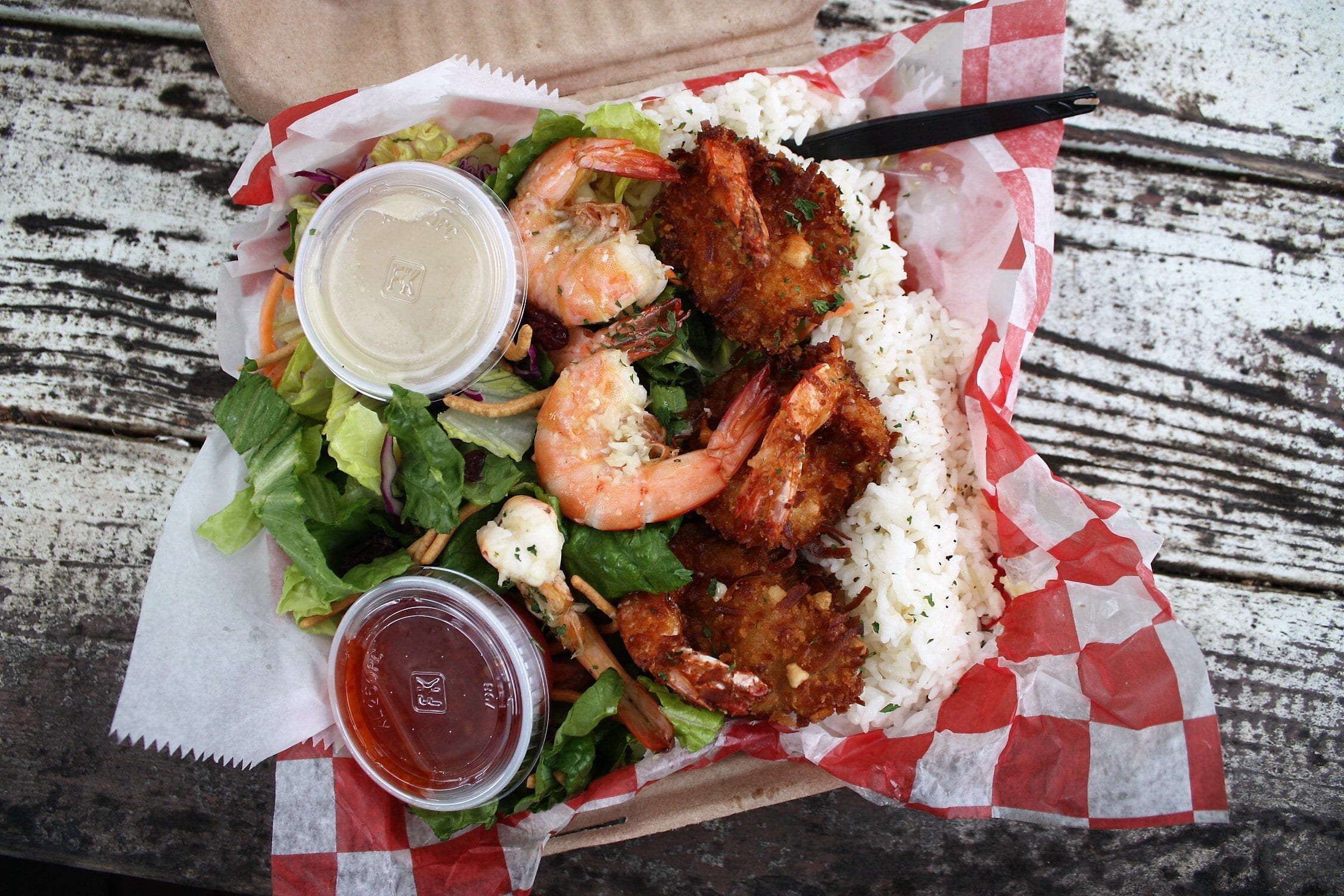 You ready to celebrate yourself and your mindful community in the Hawaiian sunshine? Yeah, we are too. Wanderlust O'ahu tickets are on sale now! Click here for more details—and see you in the sand. 
---
From shrimp and Hawaiian specialties to Thai and Korean BBQ plates, a wide range of options makes Kahuku's food truck scene the perfect North Shore snack stop.
It's real Hawaii: dirt roads, palm trees, locals grabbing coffee on their way to work, tourists waiting for Giovanni's famous shrimp truck to open, grilled corn, and—of course—chickens, chickens, everywhere. Kahuku's food trucks—with a few food shacks mixed in—sit halfway between Turtle Bay and Laie, and are a must-do for locals and tourists alike. Not hungry enough for an entire lunch plate? Try the roasted corn or sip from a fresh coconut. Most trucks are open 11am-6pm Monday through Saturday, but there are exceptions. 
Pro tips: If Kahuku is a quick lunch or dinner stop on a busy sightseeing itinerary, call ahead or place an order online. Then breeze to the counter and grab your food with a smile like a local instead of standing in line forever like a tourist. If your heart is set on the well-known shrimp scampi from Giovanni's, consider getting there when it opens at 11am or else risk an hour-long wait at peak times. A few places accept credit cards, but many are cash only. Fill your wallet before you fill your belly and enjoy our top six favorite Hawaiian food trucks.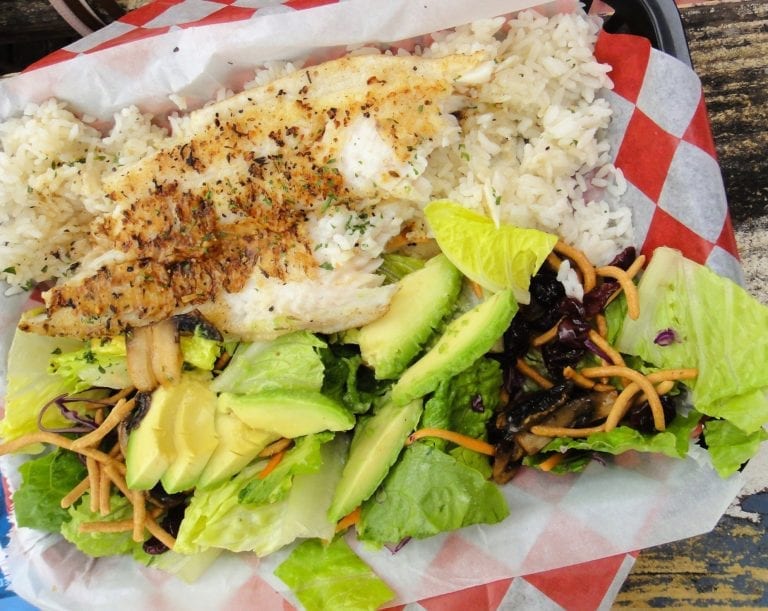 Well fed, chill stray cats happily napping around the deck at Seven Brothers is the first clue that this place is something special. Technically more of a shack than a truck, the menu is the same idea—fresh shrimp, fish, sandwiches. Don't hesitate to order the Coconut Macadamia Nut Shrimp—it's a culinary masterpiece. While some places dish up coconut shrimp that skews overly sweet (almost a donut with a shrimp inside), this is not that place;  the shrimp is crunchy and flavorful, even without the accompanying Thai dipping sauce. The Garlic Lovers Shrimp is cooked in the shell to seal in the flavors, so fingers will definitely get messy. Add some of either shrimp to the Basa Filet to make a killer combo plate.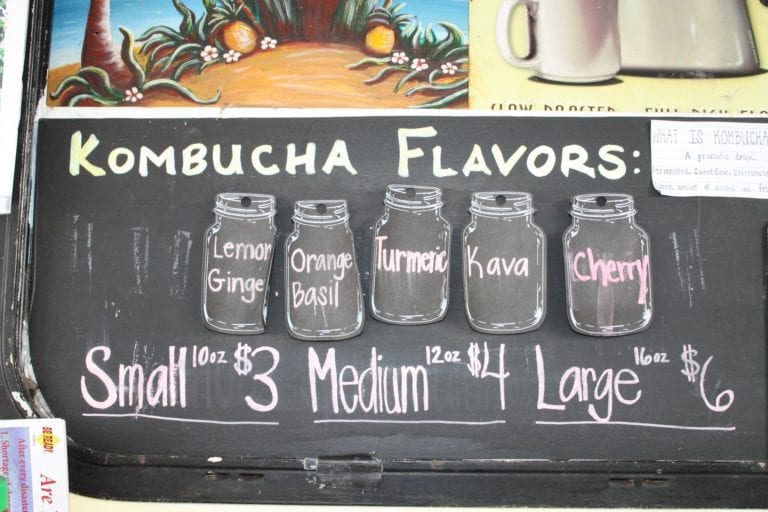 Passionfruit vines twist up and around the coconut palm shading the garden lanai of Aunty's Lil Green Hut, making this delicious oasis an edible paradise. Aunty's is also the place for gluten-free crepes. The Mediterranean and Southwest crepes, also available as bowls, are some of their best-loved offerings, as well as a line of kombucha that includes flavors like lemon ginger, orange basil, kava, cherry, and turmeric. For a mid-morning refresh, relax in a garden chair and sip Aunty's Green Dream, a tropical elixir that incorporates coconut milk, ginger, cucumber, and banana.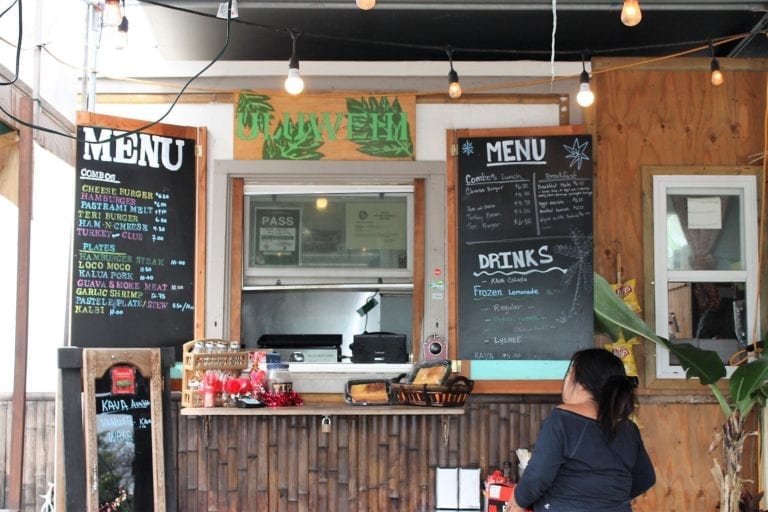 If you came to the island for local grindz, Uluwehi's is the classic menage of culturally divergent flavors that work—Hawaii's specialty. The most popular plate, Guava Smoke Meat , is smoked, chopped, and served up with guava sauce and onions. The Pastele Plate and Garlic Shrimp keep locals coming back, and for dessert, slide to the caboose next door for a Coconut Mac Nut Haupia Frappe at the Hang Loose Coffee Caboose. The caboose is where you'll find a line of locals waiting for fresh local North Shore drip coffee before the other trucks open.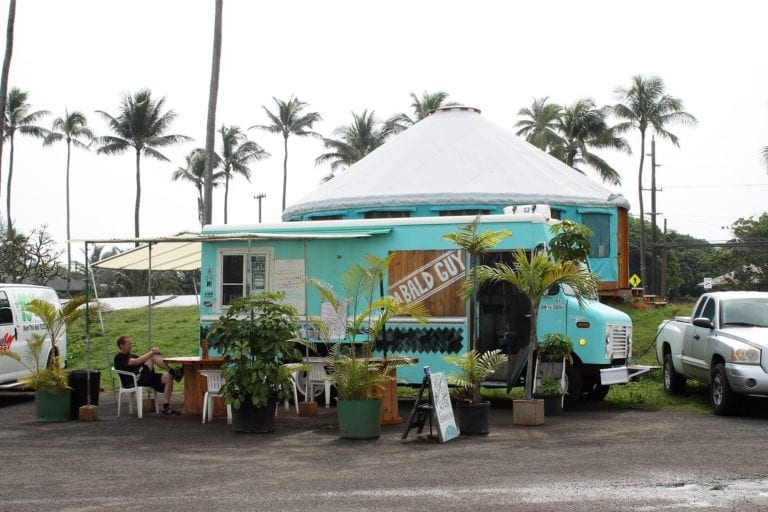 The sea-green aqua of Da Bald Guy truck calls one and all to the best-selling, no-nonsense $5 breakfast: seven lil smokes, two eggs, rice. For an extra dollar, swap out the smokies for Teriyaki Furikake Spam. From the lunch menu, try the Ahi Poke Plate with furikake (a Japanese dry topping of seaweed, sesame seeds, bonito and salt). Poke (pronounced POH-keh) is Hawaiian for 'small piece' and is usually a bowl of seasoned, bite-sized pieces of raw fish served over rice. Da Bald Guy serves it up fried, making this joint an exceptional addition to your food truck roundup.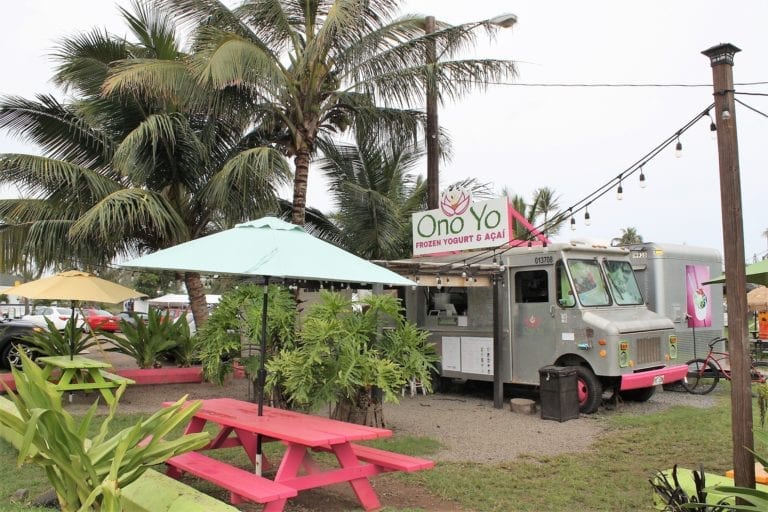 Ono is Hawaiian for delicious—and this truck lives up to its namesake. Candy-colored picnic tables surround this bastion of organic Greek frozen yogurt and acai bowls ($3.25-8.50). Layer your pick of fresh, local, fruit toppings or choose from the menu; the fruit bowl features pineapple, strawberry, and kiwi topped with honey. Layers of Heaven, with dark and white chocolate shavings, condensed milk, and chocolate hazelnut sauce, is another favorite. The perfect balance of tart and sweet, the high-quality yogurt really shines through. Try the locally-sourced lilikoi (passionfruit) butter and guava sauce.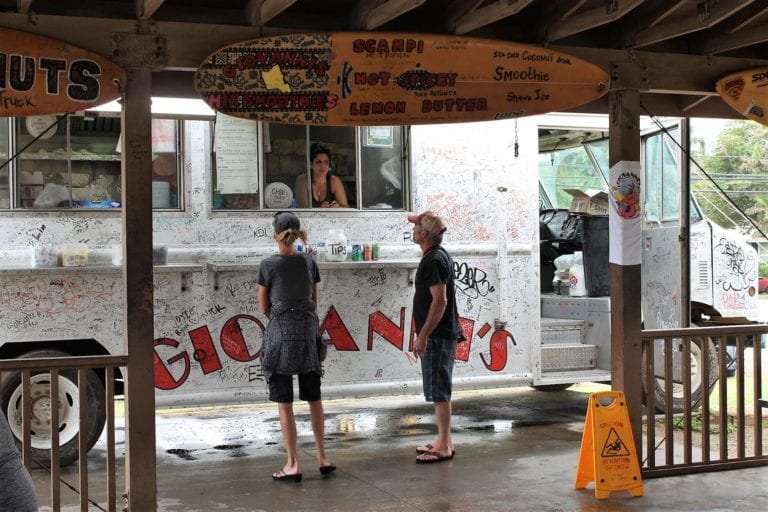 We couldn't make a list without Giovanni's. Whether it's the lemon butter, the scampi, or hot and spicy, the shrimp at this truck is some of the most beloved on the island. In fact, it's so good that many of the sauces and marinades have gone on to win multiple awards.  The former bread truck turned shrimp wagon was one of the first to hit the North Shore and has since earned its place as a regular stop among Hawaiian locals. Many will argue it's not a real trip to O'ahu without a stop at Giovanni's, and we couldn't agree more.
To get to Kahuku from Turtle Bay Resort, travel south (turn left) onto Kamehameha Highway. In just over three miles, you can't miss the cluster of food trucks on the left. Don't be timid about shooing the chickens off a picnic table as you grab something from Hawaii's culinary melting pot. Because if there aren't chickens dancing around your feet, it's not an authentic Hawaiian experience. 
—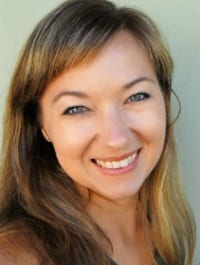 Mari Krueger is a freelance writer and photographer based in Kailua, HI. The perfect day includes family, stand up paddle boarding, and being outside at sunset. She loves hopping on a plane to meet her favorite sailor in port. Follow her at Mari's Passport Diaries and Instagram.