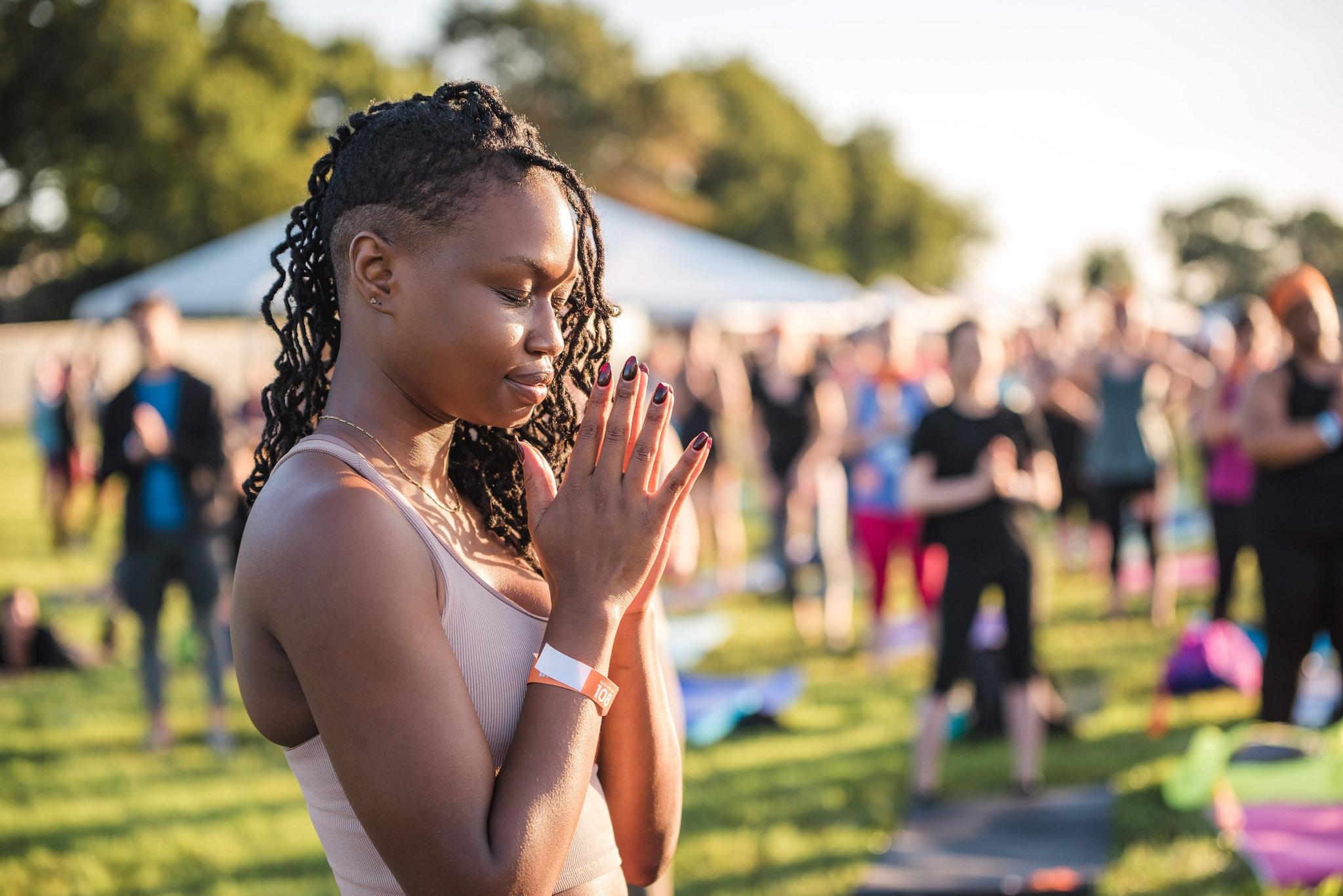 Photo by Thurston Willis
Learn from Octavia IRL at our inaugural 2-day Festival in Atlanta! Not sure what a 2-day Fest is all about? Read on here. Ready to have the best weekend ever? For tickets and more information about lineup and class offerings, click here. See you in the park!
---
My physical yoga practice was five years strong before I was introduced to a meditation practice that resonated with me and worked for the 60-hour work week I was working at the time.
Now, I have tried several techniques that range from voice guided, to super "technical" (sit exactly this way, cross this leg exactly like this), to joining a walking meditation group at my yoga studio. It all left me feeling very zombie like or distracted. At best, I felt like a meditation failure.
Fast forward a few years, to when I decided to participate in a yoga teacher training. There was asana, anatomy, pranayama, and philosophy, but the aspect that excited me the most was the meditation.
My teacher Graham Fowler didn't make a big production the day that he introduced us to his style of meditation. We sat and breathed deeply for a few minutes and then we let the breath return to its natural rhythm. Then we added a mantra or anchoring phrase to our sitting. It was so straightforward and the effect was so pronounced.
In that moment, my meditation practice was born. I started by sitting every morning for 3 minutes, then 5, then 10, then 20 minutes.
Who knew, I'd tried all of these elaborate techniques, but what actually worked for me was simply sitting and staying aware of the repetition in my breath or repeating an anchor sound or statement.
I begin my mornings with this meditation and it prepares me to meet the day with greater clarity, sense of balance, and ease.
If you don't have a meditation practice, here's a simple way you can begin right now:
Designate a place at home or even at work that you can sit quietly for at least three minutes. (When I was a school teacher I did this at my desk before students came. Now I use a corner in my guest room at home)
Take a comfortable seat. If you need support, use a pillow, blanket, or yoga block to sit on. If sitting in a chair, sit up tall.
Set a timer for three minutes. (When using an online timer or a phone app make sure that all of your email notification sounds are off so that you are not distracted by mail messaging.)
Close your eyes.
Follow your breath for 5-10 cycles of inhales and exhales.
Choose one of the following anchoring phrases: inhale "I am" exhale "here" or inhale "Let" exhale "Go"
When the timer goes off, release your anchoring phrase and sit quietly for 5 or 10 more breaths.
As you become comfortable with three minutes, work up to five, ten, and so on.
As you go throughout your morning, notice how you feel in your body, your thoughts, and your reaction/response to challenges and the unexpected.
—
Octavia Raheem is an Atlanta based yin, power-influenced, hot yoga teacher and student, third year lululemon ambassador,  and writer. She loves movement and stillness, sweat and water, heat and chillin'- she loves dichotomies. She loves the south (USA), real food, real folk, and real deep hugs.