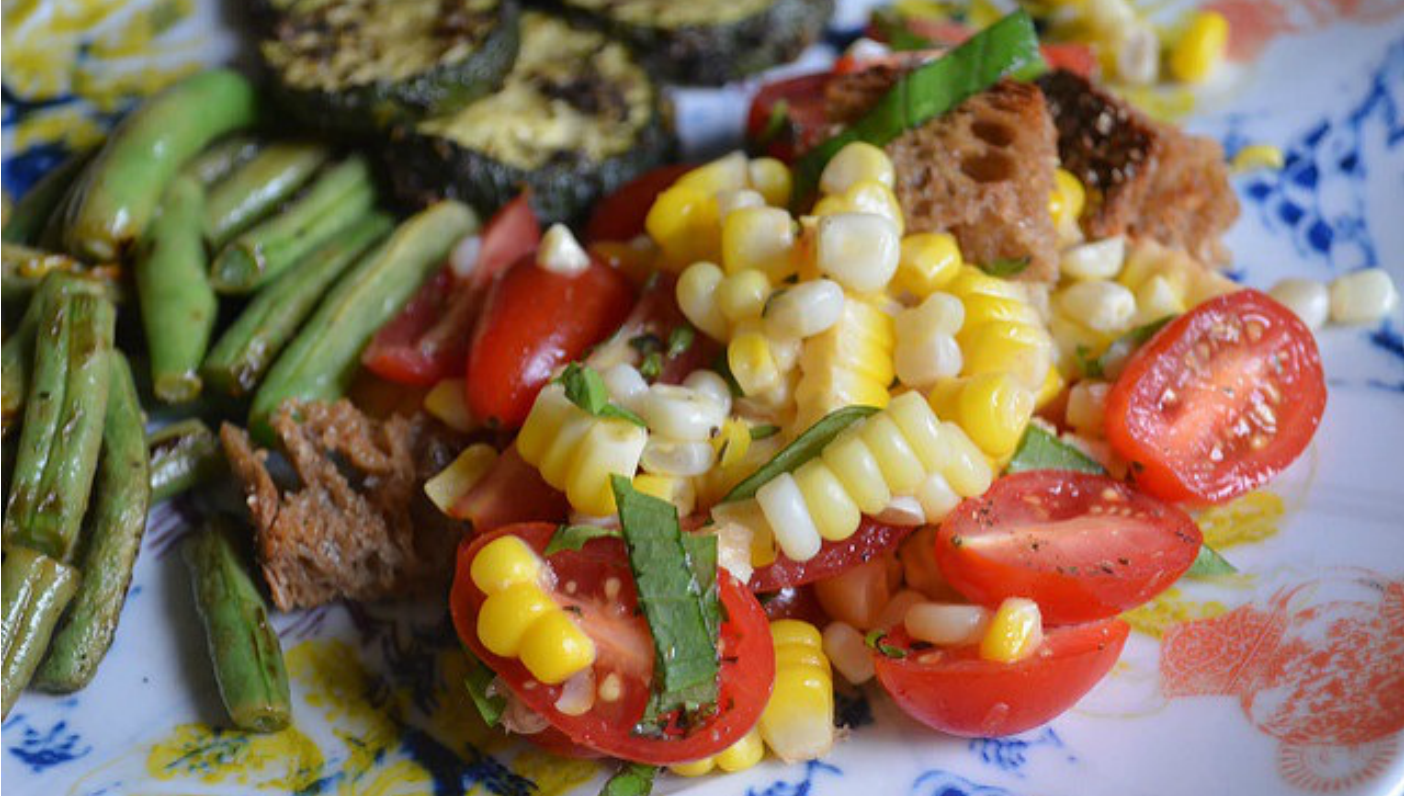 This post originally appeared on Green Girl Eats.
---
Sometimes it's just too hot to turn the oven on. I don't usually bend to that rule—even on the hottest summer days—but this has been a scorching summer season.
Weather like this tend to make my appetite lighter anyway, which is the perfect set-up for a dinner that doesn't take much effort and yet still captures all the peak flavors happening right now: Tomatoes, sweet corn, and fresh basil. It's pretty much a dream combo.
What goes perfectly with this summer bounty trifecta is some day-old bread to create a take on the classic Panzanella salad. For those of you who are new to the Panzanella scene, it's originally from Tuscany and includes "chunks of soaked stale bread and tomatoes, sometimes onions and basil, dressed with olive oil and vinegar."
It's simple, but some of the best stuff is.
Vegan Corn, Tomato, and Basil Panzanella
Ingredients
1 ½ cups of cherry tomatoes, halved
2 ears fresh organic corn, cooked with kernels removed
1 cup stale rye sourdough, cubed
1 bunch fresh oregano, chopped
1 (big!) bunch fresh basil, torn up into small pieces
Olive oil
Red wine vinegar
Salt and pepper
Directions
Any tomato variety will work, even the big ones. If you can't find any of the smaller sizes (though this time of year that should be a cinch), just dice them into bite size pieces. And if you wouldn't dare let your bread go stale? Just put it under the broiler for one minute per side.
Is it fine if the instructional part of this recipe is to just toss everything together in a medium-sized bowl? Because seriously, that's how simple this is. You should let it sit for a few minutes just so the crisped up bread starts to soak up the juices from the tomatoes and some of the olive oil and vinegar. But not so long that it starts to get soggy. Otherwise: Dinner is served!
—
Helen Williams is a Colorado transplant who is passionate about cooking, writing, and combining the two on her vegetarian and vegan food blog, Green Girl Eats. She strives, every day, to be less sorry. When she's not in the kitchen, you can find her reading, loving the community at Holstee, or trying to pet your dog.