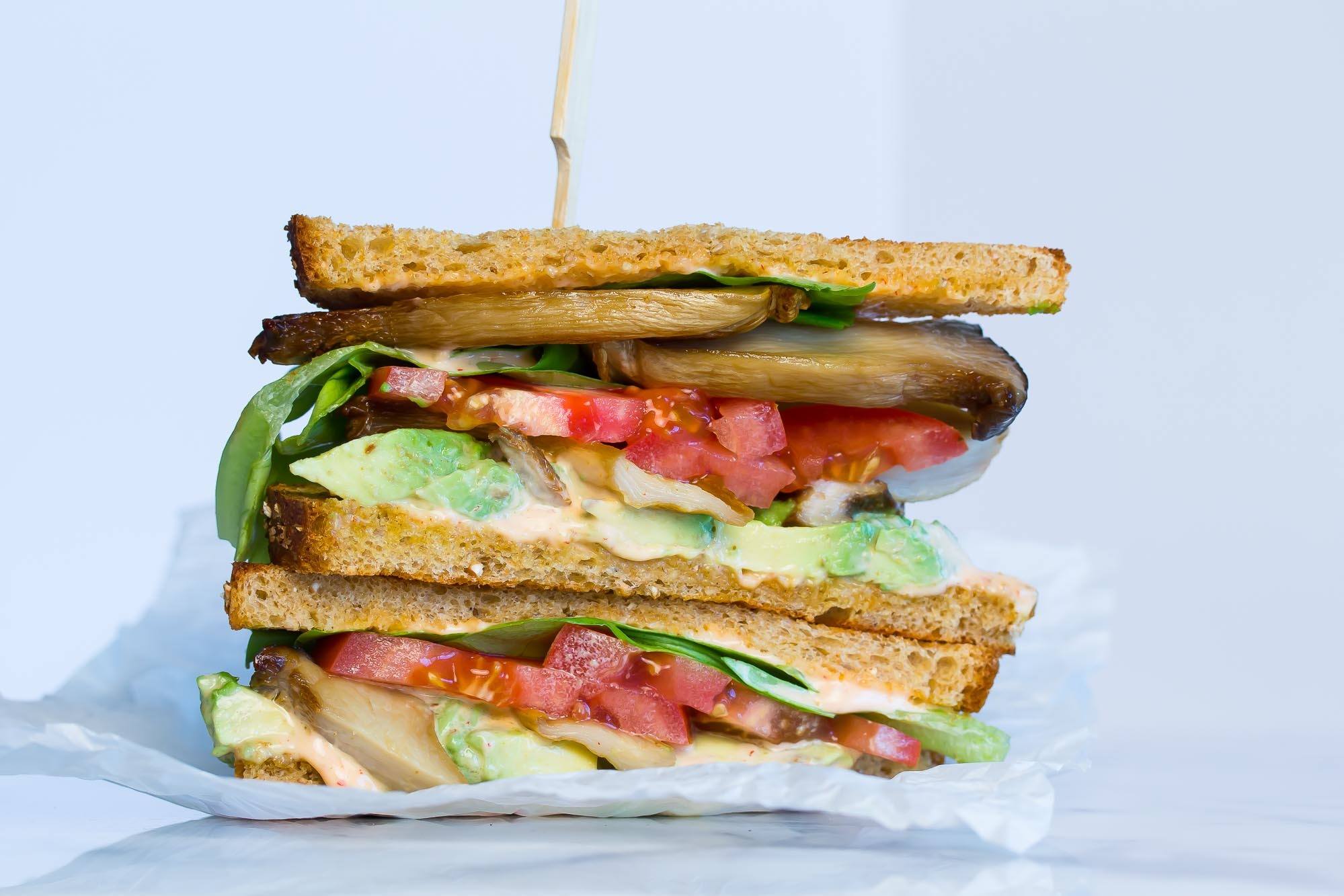 Rachel Carr is the Chef and Culinary Manager at the Wanderlust Hollywood Café. Stop by for a bite!
---
There's something so nourishing about a sandwich—the easy-to-assemble lunchtime staple is customizable and full of varying but compatible textures and flavors, making it well-worth all the hullabaloo. This M.A.L.T. sandwich, for example, is a vegan version of a classic BLT, and combines fresh and good-for-you ingredients that work together effortlessly. The avocado and mushroom are filling and nourishing, and the pickles add a nice crunch to contrast the creamy vegan aioli. Perfection on a plate.
Roasted mushrooms are one of our favorite foods. They give a meatiness to a wide variety of dishes and have a succulent, earthy flavor. We suggest you try different mushrooms until you find your favorite—each variety will have a unique flavor profile in this simple sandwich.
Bonus: We think you're going to love the spicy and slightly creamy sriracha aioli that tops this sandwich. Make a huge batch and save it for dipping sauce! (Sweet potato fries anyone?)
Vegan M.A.L.T. Sandwich With Sriracha Aioli 
INGREDIENTS 
For the sriracha mayo:
1/4 cup vegan mayo
1 tbsp sriracha
Pinch of salt
For the sandwich:
8 large trumpet or king oysters mushrooms (you can substitute 2-3 portobello caps if you prefer)
2 tbsp olive oil
1 medium tomato, cut into thick slices
1 small head of romaine or butter lettuce
1 avocado, pitted and sliced
6 pickles
6 pieces of whole wheat bread, toasted (can substitute gluten-free)
INSTRUCTIONS
In a small bowl, mix the mayo, sriracha, and salt until smooth. Set aside. Preheat oven to 350 F. Slice the trumpet mushrooms lengthwise and toss in olive oil, salt, and pepper.
Place mushrooms on a sheet pan and place in the oven for about 10 minutes. Roast until tender. Remove from oven and set aside until ready to use.
Take the toasted bread and spread some of the sriracha aioli onto each slice. Arrange 1/2 the avocado and mushrooms onto one side of the bread. Top with 2–3 slices of the tomato, 2–3 pieces of lettuce, and 1 or 2 pickles.
Put the final piece of bread on top to finish the sandwich. Cut in half and hold in place with sandwich picks if desired.
For more mindfully-inspired recipes, check out the Wanderlust Find Your True Fork cookbook, available online and through all major book retailers. 
—
Rachel has been preparing raw food/vegetarian/vegan cuisine for over 11 years. Previously, Rachel, was the Head Chef and Manager of a raw food cuisine restaurant, Six Main, which she co-owned in Chester, CT. Rachel has also worked as a Chef in a number of top rated raw food, vegetarian restaurants in the Los Angeles area such as Cru, and by Chole.