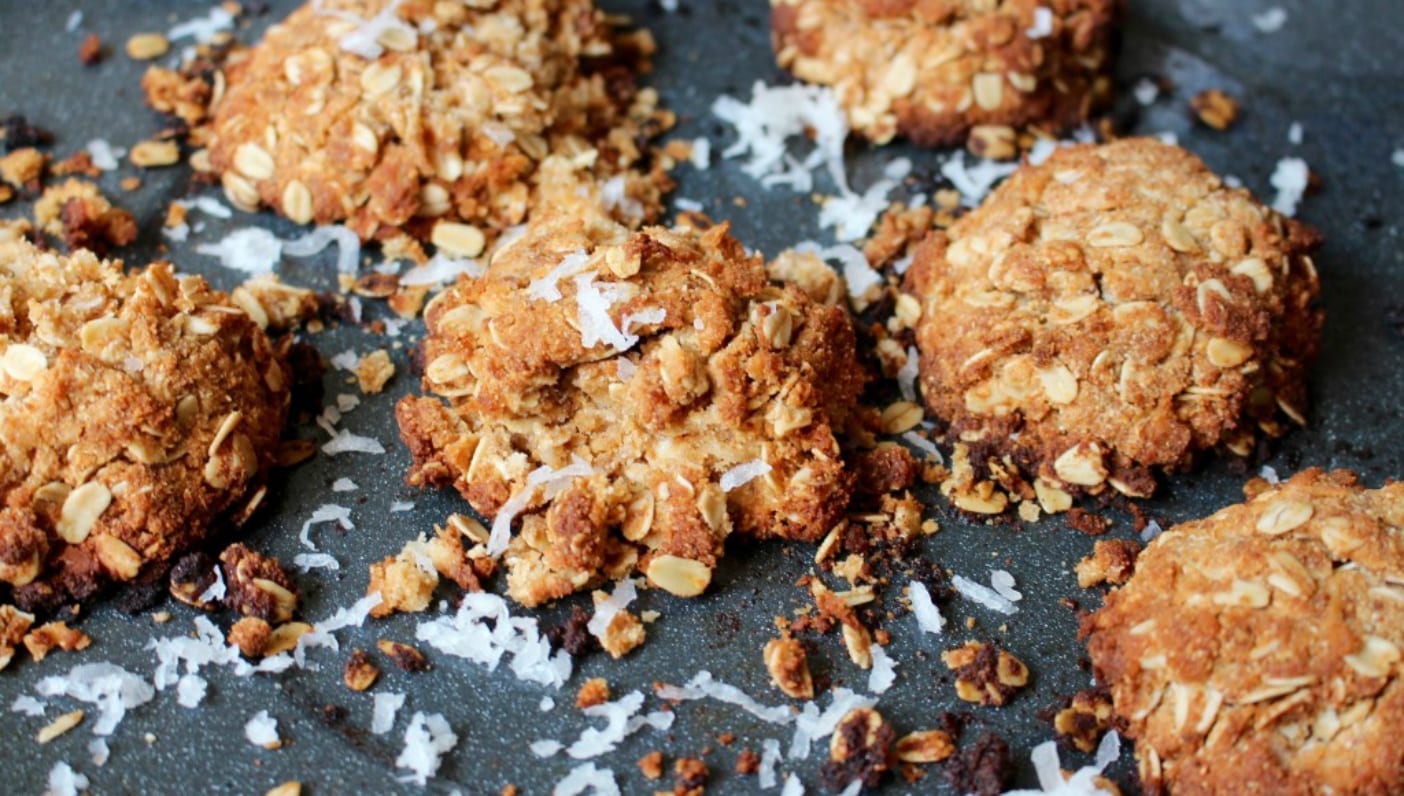 This piece originally appeared on TheWholeTara.com.
I never knew cookies could taste so good until I made these coconut oatmeal power cookies. They're a cross between a sugar cookie and coconut macaroon in the best way possible. The only bad thing about them is that you might not be able to stop at just one. With a sweet, crumbly, and addicting cookie like this one you better make a double batch to go around!
The first time I made these cookies I didn't add any flaxseed, so they crumbled up everywhere—but they were still to die for. I ended up putting them in a bowl with yogurt and enjoying it with a spoon. You can still do this with the cookies, you'll just have to crush them up first. Since coconut and oats are the main ingredients here, you can count this as a breakfast and a dessert. With coconut used in four different ways here (yes, four!) you're getting a ton of super food action and reaping a host of health benefits. This recipe uses coconut flour, coconut palm sugar, coconut oil, and shredded coconut. The first three can be hard to find, so I recommend scouting your local natural foods store.
Coconut Oatmeal Power Cookies
Makes 6 to 8 cookies.
INGREDIENTS
1 cup rolled oats
1 cup coconut flour
½ cup coconut palm sugar
1 cup shredded coconut
1 tbsp ground flaxseed
½ tsp baking soda
¼ tsp salt
½ cup coconut oil, melted
2 tbsp agave syrup
3 tbsp water
DIRECTIONS
Preheat oven to 350 degrees F and lightly grease a baking sheet. In a large bowl, stir together the oats, flour, sugar, shredded coconut, flaxseed, baking soda, and salt. In a separate bowl, mix the coconut oil and agave together. Add this mixture to the dry ingredients, along with the water, and stir until well combined. Using your hands, create cookie shapes with the batter and place on the baking sheet. Bake for 15 minutes, or until the tops have crisped and turned a golden brown. Let cool to firm up for about 10 minutes, then enjoy!
Photo courtesy of Tara Milhem
—

Tara is a recipe developer, nutritionist, and writer at TheWholeTara.com.