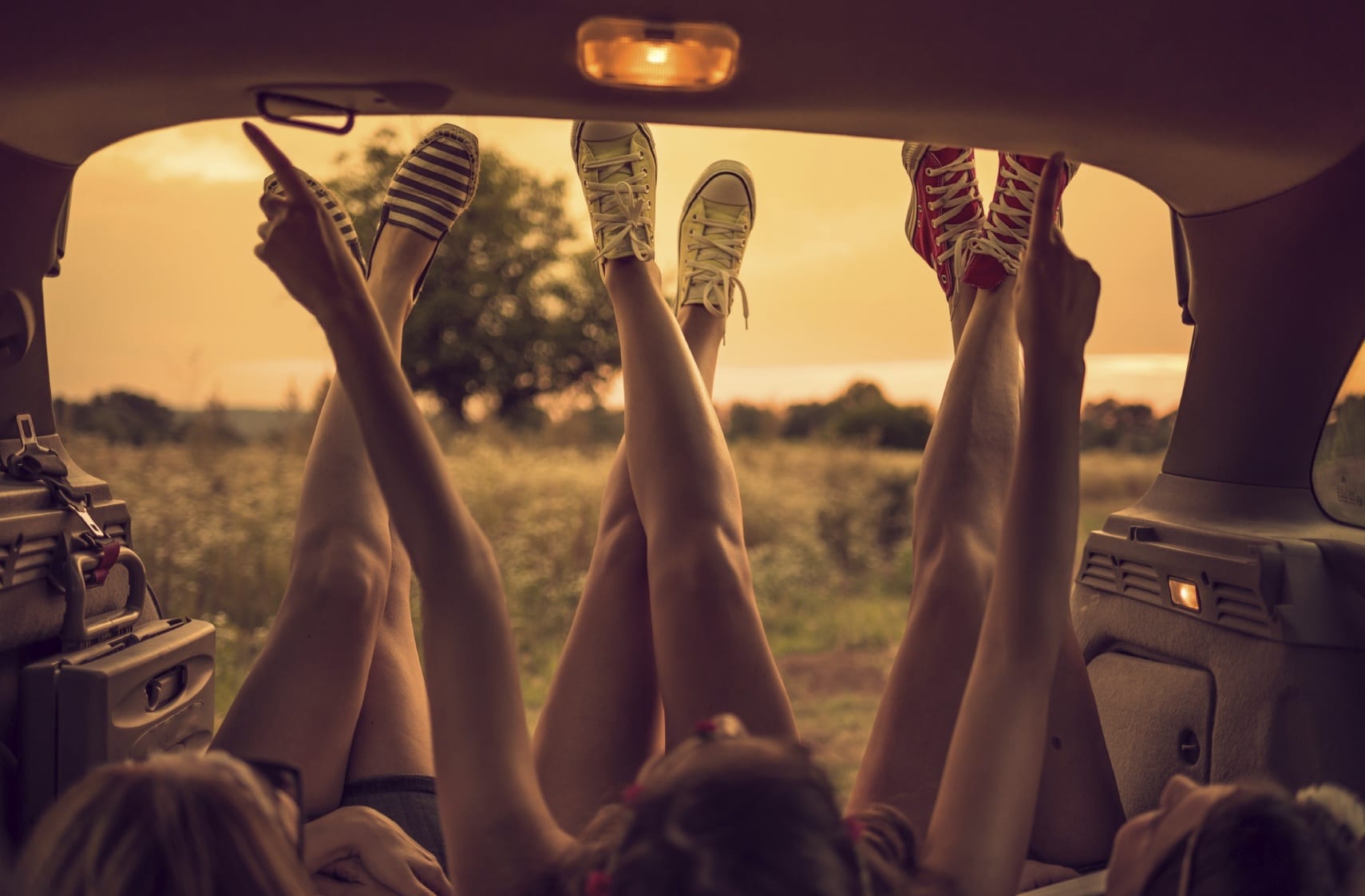 As cards fill the grocery store and advertisements sing through the radio, it's impossible not to acknowledge Valentine's Day. The holiday is greeted with mixed reactions. Some couples let it slide by without a cent of recognition, while others head straight for the CVS candy aisle. 
Some would argue that all of those diamond ring commercials and giant teddy bears support the whole "love is what you buy" mentality. And when it comes down to our inner truth, the majority of us don't really want five-star dinners or strings of jewels; we simply crave a little reminder of love.
One of most mindful ways spread love is by a shared experience. How often do you and your loved one spend your quality time in a loud bar, or in front of the television? Getting out and exploring is an amazing way to bring people together. It forces you away from the screens, and looking out into the sunset. Perhaps you dig your hands into the sand, or high five your friends after an epic hike.
These "mindful explorations" allow you to let go of the commercialization and embrace the ones you love (including yourself!). And these certainly don't need to be limited to one day of the year; you can keep them on file and pull them out whenever you're looking to reconnect.  Enjoy with your friends, family, partner, or all on your own.
Go for a ride.

Whether it's the wind in your face or the smell of fresh air, there's something about riding a bike that unleashes a sense of freedom. If you're currently bike-less, look for opportunities to rent, and stroll the local park or beach.
Go camping.

Getting back to nature is like pressing the reset button. It allows you to connect with minimal distractions. If you're with others, it also demands that you work together (Build a tent! Light a fire! Getting lost while hiking!), and therefore shows you what you're capable of.
Build a sandcastle.

Again, teamwork. Not only does building a sandcastle require communication, but it also promotes mindfulness and concentration. Building alone? Great. You'll have time to appreciate the feel of the sand and the effort you put forth in your creation.
Roadtrips. Pick a neighboring town or city (the more foreign, the better), pack the car, and head out into the unknown. Explore your new destination by checking out the local fauna, or testing out the town's restaurants. You can even save the business cards from each establishment and keep them as little tokens of your trip.
Wine-tasting. Tasting rooms don't need to be excuses to drink; you can transform an afternoon with wine into an incredibly mindful experience. With each sip, take a moment to notice the flavors and mouthfeel. There are dozens of biodynamic and sustainable wineries available, and the varietals are all the more delicious.
Horseback riding.

Not only does this experience allow you to connect with your fellow human, but it also brings you closer to the animal kingdom. Horses are sensitive animals, and they can pick up on human emotion. Horseback riding allows you to get in touch yourself, other living beings, and the natural world.
Go stargazing.

It's the perfect time of year to wander out into the wilderness and stare into the gifts of the galaxy. Lay out a comfy quilt, pack some snacks, and enjoy the view.
Test out a new hike.

Getting out into the wilderness with a hike allows you to enjoy a delicious sense of accomplishment. For an added bonus, add some light yoga once you reach the top.
Kayaking.

Good exercise and a wonderful excuse to see the local scenery, kayaking puts you more in tune yourself and with the natural environment. Lots of places enable day rentals so that you can dedicate an entire afternoon to enjoying the world around you.
Catch the sunrise.

Sunsets are stereotypically labeled as being a number one romantic activity, but let's not to forget it's early morning counterpart. Catching the sunrise is a wonderful way to start the day; the feelings of rebirth can inspire a sense that anythings possible.
Still looking for more ideas? She-Explores offers dozens of guides for hikes and natural landmarks throughout North America, and Living Social and Groupon are great ways to score deals.
Remember, it's not about the holiday, it's about spending time with the ones you love. No trips to the jewelry store necessary. 
—
Amanda Kohr is a 25-year-old writer and photographer with a penchant for yoga, food, and travel.  She prefers to bathe in the moonlight rather than the sun, and enjoys living in a state of the three C's: cozy, creative, and curious. When she's not writing, you can find her driving her VW Bug, looking for the next roadside attraction or family diner. She also roams the internet at amandakohr.com.