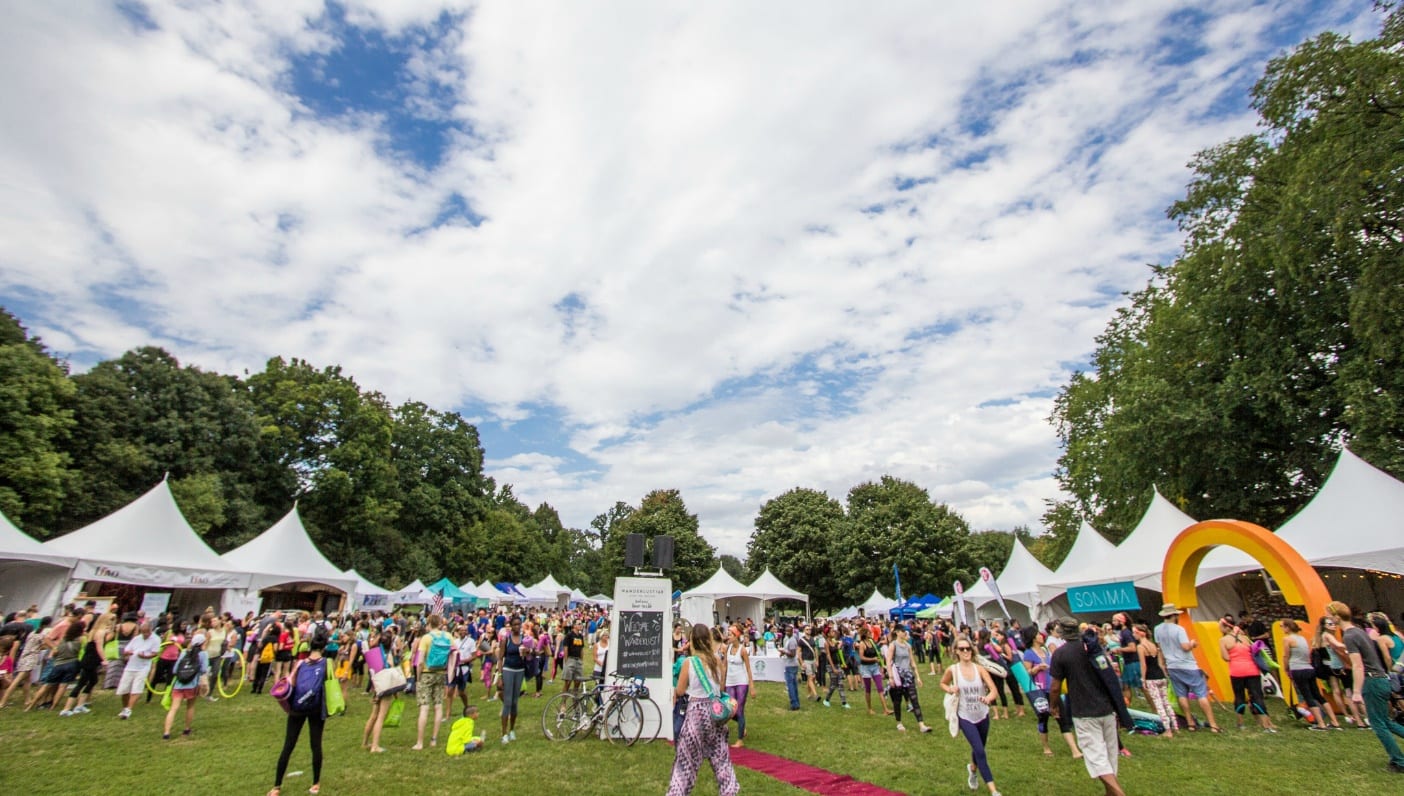 Are you as excited as we are for next week? As you're getting ready to #ComeTogether with us, check out these great vendors who will be joining us at RFK Stadium. We can't wait to see you there. Still need a ticket? It's not too late! 
---
adidas and Wanderlust share a vision of holistic, high-touch experiences that create community around sport and mindful living. Wanderlust, in partnership with adidas, brings an entirely new level of everyday engagement to the fitness and healthy-lifestyle enthusiast. Check out the adidas x Wanderlust Store on-site for great deals on our co-branded apparel line!
Created with ingredients from the Amazon Rainforest, Surya Brasil is passionately committed to creating the best natural, organic and vegan lifestyle products that promote health, wellness and sustainability. Sold in over 40 countries, everything the brand makes is made with the utmost respect to the interconnectedness of all life and environmental preservation. In Clelia Angelon's words, our founder and CEO, "Surya is the HEART of a family with the MINDSET of a corporation".
RXBARs are the real upfront protein bar. Egg whites for protein. Dates to bind. Nuts for texture. Our core ingredients are all there for a reason. No free rides. No fillers. No B.S. Just good, clean food with 100% natural flavors. What you see is what you eat.
There's actually a very simple recipe for eating well: keep it close to the earth. This may be easy to grasp, but because we all lead busy lives, it's not always easy to execute. That's why we founded ALOHA: to make plant-based products derived from whole ingredients convenient and accessible for modern life. Treating our bodies right should always be an available option.
Local artist, Sandy Rueve has been creating millefiori clay beads for over 20 years. Over the years, she has married her passion for beadmaking with her knowledge of astrology. Each bead is hand-rolled from raw clay during powerful astrological transits to create a unique talisman. By capturing the energy present, Intention Beads help you realize a desire, prayer or intention.
Malabella Jewels blossomed from a burning desire to create, spread love, and chase dreams. Founder Hannah Skedsvold came to yoga in 2013 in search of a healing mechanism for her anxiety, depression, and a feeling of being stuck. As she delved deeper into her practice, she came across these magical strings of gemstones known as Mala Beads. A young entrepreneur and new yogi, Hannah taught herself how to handcraft Mala Beads. Malabella now ships Mala Beads, bracelets, and stacks to yogis and gem lovers from around the world.
Gurus are made primarily from natural rubber that is sustainably sourced from trees. Everything in our sandals and yoga products is completely eco-friendly. In addition to keeping our products sustainable, Gurus packaging also uses environmentally friendly materials.  From our natural jute bags, to the paper and cardboard used to ship our sandals, we aim limit our effect on the beautiful world around us.
Bali Malas was created in  2006, and is proud to have been the first company to bring awareness of these sacred beads to the West. Our predominantly female workforce in Bali receives living wages, and benefits, we are bringing a new paradigm to the workers of Bali! Our designs are lovingly handmade with fair-trade, authentic beads and all are traditionally blessed before leaving this "island of the Gods".
Wolven Threads fabric patterns are inspired by sacred geometry found all around us in nature.The vibrant colors of our garments are inspired by the colors of Indian art, celebration and the roots of yoga. We believe that mother nature is our home and that we should do whatever we can in our power to protect her. We believe that beautiful fashion should not come at the expense of our planet. Our garments are made with OEKO-TEX certified Recycled P.E.T fabric (RPET), a fabric made from recycled plastic water bottles. This certification ensures that our material is free of harmful and toxic chemicals.
LesserEvil Healthy Brands is a family owned food company. Our mission is to create a better and simpler life for people and the planet. Responsibly sourcing ethical, organic and healthier ingredients we make every effort to be kind to the planet. We manufacture most of own food to support our local communities, control the quality, costs, and safety of the food we produce, and use only the best ingredients so you can feel good about what you and your loved ones are eating.
Samsung and Verizon are the new power couple and let you do bigger things with the Galaxy Note8. At Wanderlust 108, experience virtual reality meditation, a custom design bar, refreshments and giveaways. See how the all-new Note 8 brings your words to life and keeps the ideas flowing. Visit your local Verizon store for special offers.
We're all about preparing food without added colors, flavors, or preservatives (other than lemon or lime juice, which can be used as preservatives—though we use them only for taste). Just genuine raw ingredients and their individual, delectable flavors. We source from farms rather than factories, and spend a lot more on our ingredients than many other restaurants. We wouldn't have it any other way.
La Colombe is a leading coffee roaster known for ethical, long-term trade practices with growers. Considered one of the pioneers of the third wave of coffee, we provide signature classic blends and exceptional single-origin coffees to cafés, hotels, restaurants and retailers around the world. In addition, the company owns and operates 25 cafés in Philadelphia, New York, Chicago, Boston, Washington, D.C., and Los Angeles, among other cities.
Perfect Bar is a family business developed out of love for optimal health, fitness & nutrition. The late Dr. Bud Keith (aka Dad), a renowned nutrition pioneer, created the original Perfect Bar recipe as a healthy, on- the-go snack for his king-sized family. At Wanderlust, Perfect Bar will showcase & sample its complete line, boasting new project verified USDA organic & non-GMO seals on its nutrition bars.
Ford Motor Company aims to deliver great products, a strong business and a better world. From our factories to our dealerships and into the communities in which we serve, our purpose is to Go Further so all people can move freely about the world. Ford is proud to be the Official Vehicle of Wanderlust. Event attendees can stop by the Ford display for exclusive activities, to learn more about our full line-up of vehicles and to take home some incredible giveaways.