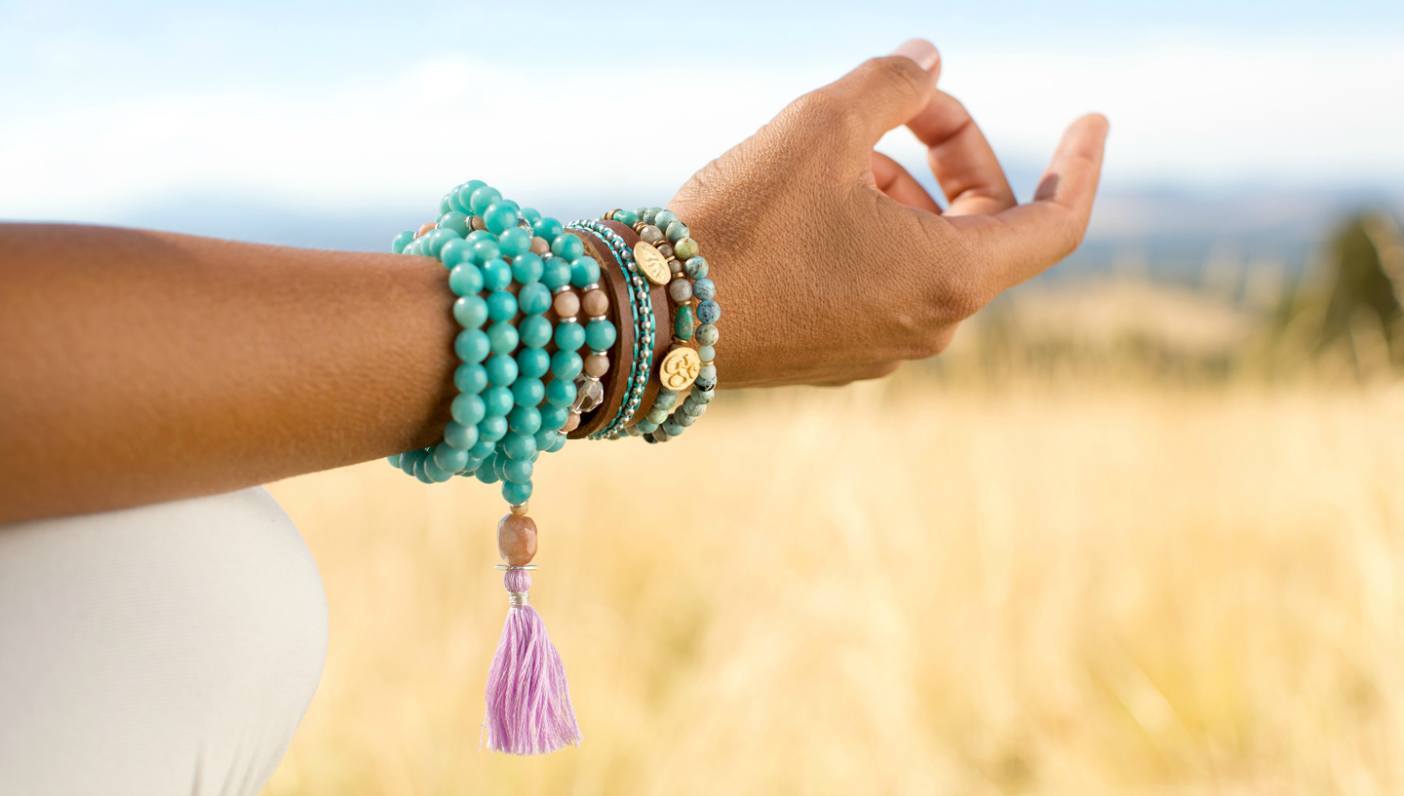 Join Silver & Sage Jewelry at a Wanderlust Festival this year for one of their Yoga and Mala Design workshops! Choose from Mala–Asana, a creative flow and mala design class, or Mindful Steps–Meaningful Stones, a meditation and mala design class. Get your tickets today. 
---
If you've practiced yoga or meditation before, you've likely seen or heard of malas. But have you ever thought about the creative energy that goes into designing and making them? Like yoga, malas date back thousands of years, with origins in Hindu practice. In Sanskrit, the word "mala" means garland, and malas are just that: a garland of beads traditionally used in meditation to help one quiet and still the mind.
Having evolved over time, malas are significant beyond personal meditation, and are now used in a range of faiths and practices. While malas are made from a variety of materials—ranging from wood to seeds to gemstones—the true beauty and meaning of a mala lies in the heart and soul of the one who uses it.
Fun Fact: Malas are traditionally made with 108, 54, or 27 beads (all divisible by nine). There are many reasons for the significance of these numbers. One that's easy to remember: 1—Highest Self; 0—Absence of Ego; 8—Connectedness.
Designing Your Own
Every person is an innately creative being. By tapping into our creativity, we move closer to our life energy and source. The design of a mala can become more meaningful when we're able to contribute to the creative process of making it. Through introspection, the mala becomes a personal reminder of who we are, where we are on our journey, and what we wish to manifest. Some traditions say that a mala should be gifted—why not gift one to yourself?
Fun Fact: The word Guru means teacher in Sanskrit. It used to be that malas were gifted from teacher to their student. As such, most malas have a large bead at the end called the "Guru Bead," meant to remind one of the bond between teacher and student. Remember, sometimes we are our own best teacher.
Choosing Materials
Good news: There is no right or wrong! Whether you are considering buying a mala, or planning on designing one, take time to learn about the properties of stones. Dig into what inspires and moves you, make a list of your dreams for the future, and consider how to overcome barriers or bad habits along the way. Be aware of how stones interact with these considerations—but don't be held back by them. Stay open and hold onto the truth that things (and malas) will manifest the way they are supposed to. All natural stones have properties that will resonate with a person in one way or another.
Let yourself be drawn to the materials, without thinking too much about why. Sometimes, the "why" doesn't reveal itself until later.
Fun Fact: Most malas are finished with a tassel made of cotton or silk. The tassel symbolizes the lotus flower and its path to enlightenment. Sometimes people choose to have their mala made without a tassel because going tassel-less is more practical for their lifestyle. While traditional malas do have a tassel, it's OK to choose something else as an accent, or just nothing at all.
The tradition of malas and meditation is rich with meaning and history, but that doesn't mean you shouldn't feel free to use your mala however it works for you in your everyday life. Maybe you'll use it for a daily sitting meditation practice. Perhaps you'll use it for saying prayers. Or perhaps it is simply to serve as a reminder of personal goals or the bounty and abundance in your life. There is no right or wrong, because your mala will become a beautiful reflection of the one and only you.
"We create so as to transform our daydreams and musings through the crucible of our own hands into an object that can reveal our awe-the miracle of this life and how we feel about it. Our souls are bound up in our hands and they always have been." – Carrie Bloomston, The Little Spark
—
Silver & Sage founder and lead designer, Logan Mauldin began her love of design at a young age as she spent her childhood accompanying her mother on jewelry buying trips around the world. Silver & Sage grew from these creative roots, allowing Logan to blend her passions for yoga, nature and travel. Having built life-long friendships on her childhood journeys, Logan works with some of the same families of silversmiths she has know for over 25 years. She continues to travel the world, building relationships with the artisans who manufacture exclusive Silver & Sage designs. Silver & Sage jewelry is handmade in Scottsdale, Arizona from a carefully curated assortment of natural stones, organic elements and charms.
Silver & Sage creates simple, natural and beautiful stone jewelry designs, hand-made in Scottsdale, Arizona. The balance of symbolism with naturally inspired elements invites women and men of all ages to connect with Silver & Sage Jewelry, making each design much more than an accessory, but a reflection of their own story. To learn more about them, visit silverandsagejewelry.com.