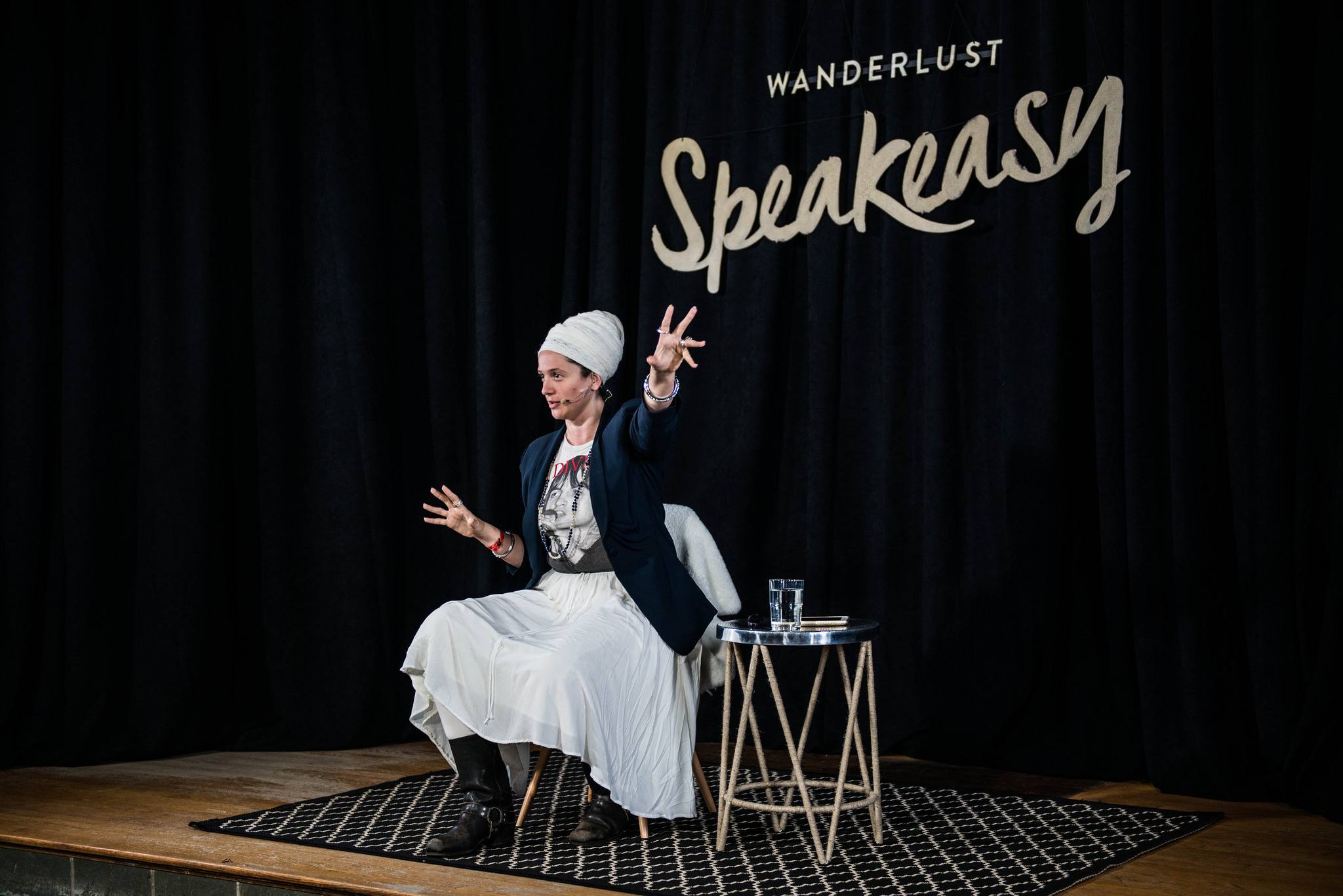 Photo by Ali Kaukas
Enhance your practice with lectures from the Wanderlust Speakeasy Podcast, available here or through iTunes. For live versions of each episode, check out "Speakeasy Practice" on Wanderlust TV. 
---
Yogis know that a consistent yoga practice can bring balance, clarity, passion, and a sense of calm to their lives—this is, after all, why we continually show up on our mats. But what if we could show up in every moment of our lives? In western culture, yoga is often mistaken simply as a form of physical exercise. While the physical poses of yoga, called asana, are an integral part of the practice, they are just one of the eight limbs stipulated by Patanjali in the Yoga Sutras. Patanjali's Yoga Sutras (dating back over 3,000 years) offer guidance for leading a meaningful life; consisting of ethics, discipline, and practice.
Yoga is a sacred science, which we must continually practice and cultivate in every aspect of our lives. Says B.K.S. Iyengar, "yoga is an art, a science and a philosophy. It touches the life of man at every level, physical, mental, and spiritual. It is a practical method for making one's life purposeful, useful, and noble."
Each day is a chance to elevate a little higher, to see a bit more clearly, and to become more in tune with ourselves.
The Wanderlust Speakeasy Podcast invites us to take our yoga off the mat and into everyday applications that often bear little physical resemblance to a downward facing dog. It features lectures from master teachers on topics pertinent to leading a mindful life, ranging from meditation, nutrition, asana, stress-management, psychology, and more. Dharma Mittra speaks about the Yamas, the fifth limb and ethical groundwork of yoga; Dr. Sarah Gottfrind talks how to balance out your hormonal system and destress; Maty Ezraty discusses creating a holistic space for your students; Justin Michael Williams speaks about cultivating a meditation practice to help us achieve our goals; and these are just a few. The talks cover a great deal of ground on methods toward living a holistic, well-rounded lifestyle including traditional yoga, the business of yoga, mental health, meditation, spirituality, and the environment.
Practice Beyond the Mat
Have you ever experienced a shift in your perspective from before and after you've taken a yoga class? Maybe things have slowed down a little, maybe you feel that you can see things just a little more clearly. Spiritual practice can help us to identify what is holding us back so that we may shift things around. In her talk May Cause Miracles, Gabby Bernstein discusses making simple shifts in our practice and mindset in order to overcome fear and make positive change. Elena Brower reminds us of the power we have to bring joy, no matter how small, into our own lives and the lives of others.
Learning the history of yoga, or yogic tradition, is another way to enhance our practice. In Rod Stryker's talk Yogic Tradition: Missing Treasure or Obsolete Relic, he speaks about how he came to yoga, and the role of tradition in yoga in his practice. He asks the question "why tradition?" and shares,  "yoga is not separated from the mind. The idea that (some) well-known yoga teachers don't have a clue about meditation is a symptom of lack of tradition." As teachers and practitioners, it is not only important that we personally foster a practice that is fundamentally steeped in the extensive history of yogic tradition—but that when we innovate and create new teaching styles, we must look to the lineage as a base.
The business of yoga may be tricky territory for some, particularly when it comes to embodying and growing upon the rich lineage of yoga. But there are ways to approach the more technical aspects while still honoring the integrity of the practice. Maty Ezraty, one of the founders of YogaWorks, is a great example, as she speaks of building a prosperous yoga school and teaching the lineage of yoga to new students. Maty talks about the importance of creating a space for growth and wellness for your students, and identifying your motivation for opening up a school. For her, it was making yoga more accessible to a greater number of people, as she has a firm belief that yoga can positively change people's lives.
Meditation is perhaps one of the most obvious complements to yoga, as the practice of yoga is often referred to as "moving meditation." But have you tried meditating while keeping your body still? What might that do for your practice, and your life? Justin Michael Williams gives a powerful talk on the reasons that we meditate and how meditation can activate a path to becoming our truest selves, stating "We want to feel the most authentic versions of our own selves and share that with the world."  Olympic medalist Gretchen Bleiler also speaks of meditation as a way of retaining what she calls a "flow state" when placed under a great deal of pressure.
There's also the opportunity to go beyond our own bodies. How do we apply a yogic mindset into the rest of the world, specifically, the health of the planet? To challenge this idea, Shiva Rea offers ways to channel our mindfulness practice toward energy activism, to preserve the natural world in her talk Yoga Energy Activism. By opening our eyes and ears to the bigger picture, we can contribute the benefits of our practice to something bigger than ourselves.
Yoga incites a feeling of gratitude within us, and allows us to be present, active, and aware in each moment. When we apply each of these practices in congruence with one another, we build a holistic practice that will remind us to continually ground ourselves so that we may emanate our love. It's really all about showing up. What better way is there to continually show up than to cultivate mindfulness on a grueling morning commute? Expand and enhance your practice. Apply yoga to all areas of your life.
Subscribe now to the Wanderlust Speakeasy Podcast. Want the live experience? Visit one of our Wanderlust festivals to hear from various luminaries within the yoga and wellness industries.
—
Jillian Billard is a poet, yoga teacher, cellist and avid wanderer. A native New Yorker, she is often caught daydreaming of sprawling green fields and mountains. She trained and received her ashtanga yoga teacher's certification in Goa, India and works at Laughing Lotus Yoga Center in Brooklyn. You can often find her with her head buried in a book, doused in lavender. Follow her on her (very newly developed) Instagram page for class schedules and updates at @jillboyoga.