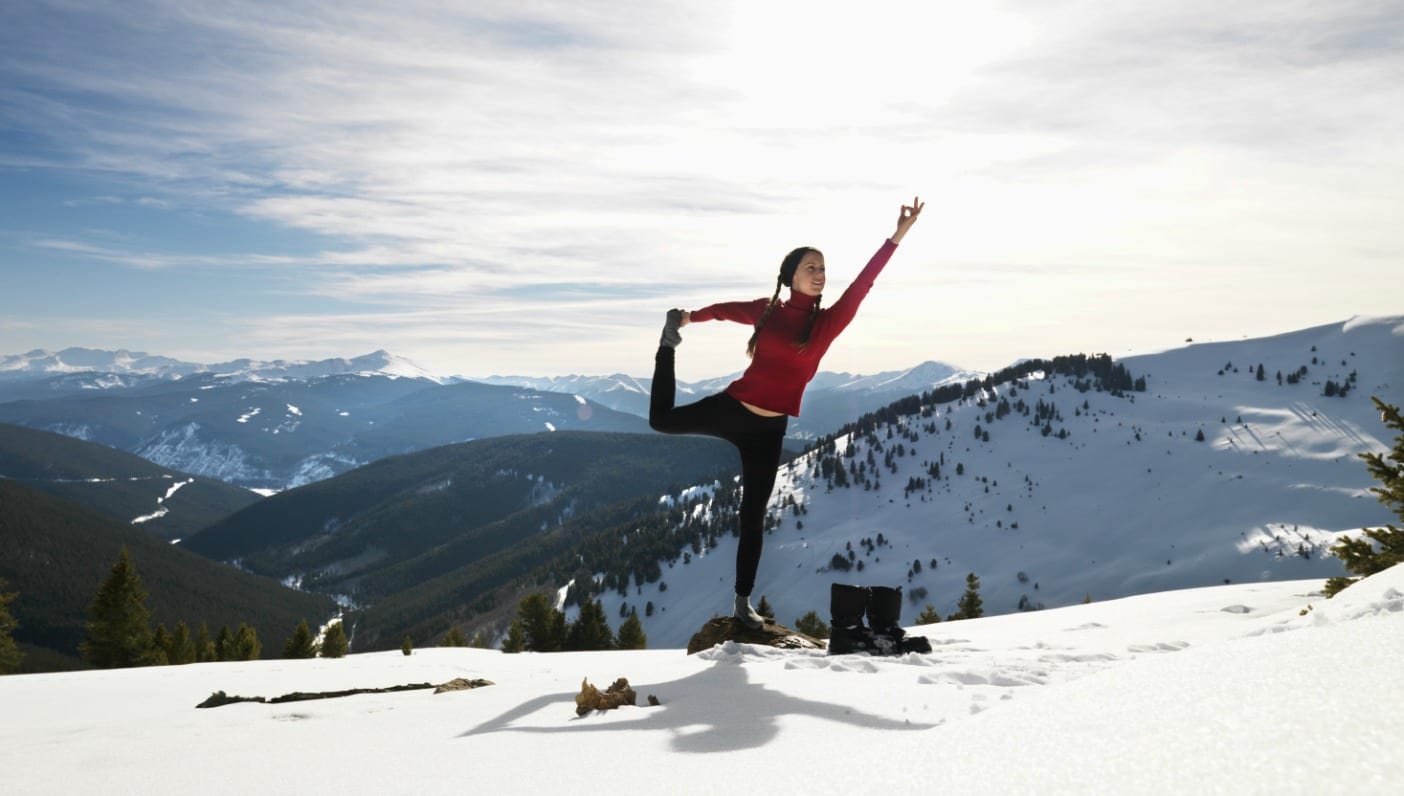 Beer and yoga. Cats and yoga. Silent disco yoga. Laughter yoga. There's no shortage of unusual yoga classes these days. And earlier this year, a strange hashtag surfaced in the social media-sphere that quickly gained widespread popularity: #snowga.
As that long, dark season drew to a close—remember the polar vortex?—it became clear that practicing yoga outside in what seemed as less than ideal conditions was in fact, a highly sought after winter activity.
Snowga was born.
Though this year's winter solstice is just right around the corner, many of us still bask in El Niño's warmth. But for others, snowga season has already kicked off on Instagram—and with plenty of fresh powder to boot.
Why would we want to practice yoga in the snow on a bone-chilling winter's day, when we have the comforting warmth of a cozy, heated yoga studio? Because it's a great reason to get outside and yes, you really can do yoga just about anywhere. If winter sports are already your thing, then take your practice with you the next time you hit the slopes.
In Bozeman, Montana, Flow Outside leads innovative snowshoe-yoga hybrid treks. At the Windham Mountain Resort in the Catskills last year, yoga-inspired movement was also incorporated into snowshoeing expeditions. For skiers at Mohawk Mountain in Connecticut, breathing exercises proved useful as a calming mechanism, and poses like Eagle and Chair help with executing better downhill posture and to strengthen overall performance.
With trends like these on the rise, it's safe to say the forecast this season is predicting plenty of snowga.
Brittany Holtz, founder of Studio B Power Yoga in Annville, Pa., said when the fluffy stuff hits the ground this season she plans to lead a 45-minute outdoor snowga class.
Hotlz, 27, who typically teaches in an indoor yoga studio heated to 85 degrees, said she initially had the idea for a snowga class last winter and about 8–12 students showed up.
"It was a little shocking," she recalled. "But once I really thought about it, not so much. A big theme in all of our classes is play time. If you can't play in yoga, where can you play as an adult? It's a really fun opportunity to just play in the snow as an adult… And it's acceptable."
Hotlz added that snowga is great for those who want to increase their balance, focus, concentration and muscle toning. That's because most snowga classes typically focus on holding standing or balancing poses such as the tree pose, eagle pose, dancers pose or warrior pose.
In response to the rise of snowga earlier this year, Carin Gorrell, editor in chief of Yoga Journal told The New York Times, "People who are passionate about practicing yoga want to do it everywhere—they'll tell you yoga goes with everything,"
Maybe we can think of snowga as the stand-up paddleboarder's answer to the long, cold winter months that lay ahead. And while hibernation might seem more appealing than trekking out in the cold to do yoga, those who practice snowga swear by its powerful, warming effects.
Read more from the Times:
"Yoga and cold just sounds like an oxymoron," said Ms. Riedman, a public relations consultant. "But I got hot. There were some parts where I had to open up my coat and take my gloves off. We were really working out."
Laurie Riedman, who regularly skis, snowshoes and practices yoga (but never all together), said she was surprised by how good a combination snowga was when she tried it recently in Canandaigua.
Still not convinced? With the proper attire—a warm coat, a hat, and pants and boots you can move in—it's possible snowga just might be your new favorite winter sport, or at least give you a reason to get some fresh air this winter. Just be sure to warm up your body indoors beforehand, and bring a friend along to make snow angels with. Because no yogi is ever too old to play in the snow.
Photo via iStock
—
Andrea Rice is the Practice and Community Editor for Wanderlust Media. She is also a writer and yoga teacher. Her work has also appeared in The New York Times, Yoga Journal, mindbodygreen, and a variety of online magazines. Her teaching style is a blend of her love for music and intuitive movement, with emphasis on core strength. You can find her regular classes at shambhala yoga & dance center in Brooklyn, and often as a guest teacher for Deep House Yoga. Connect with Andrea on Instagram and Twitter.