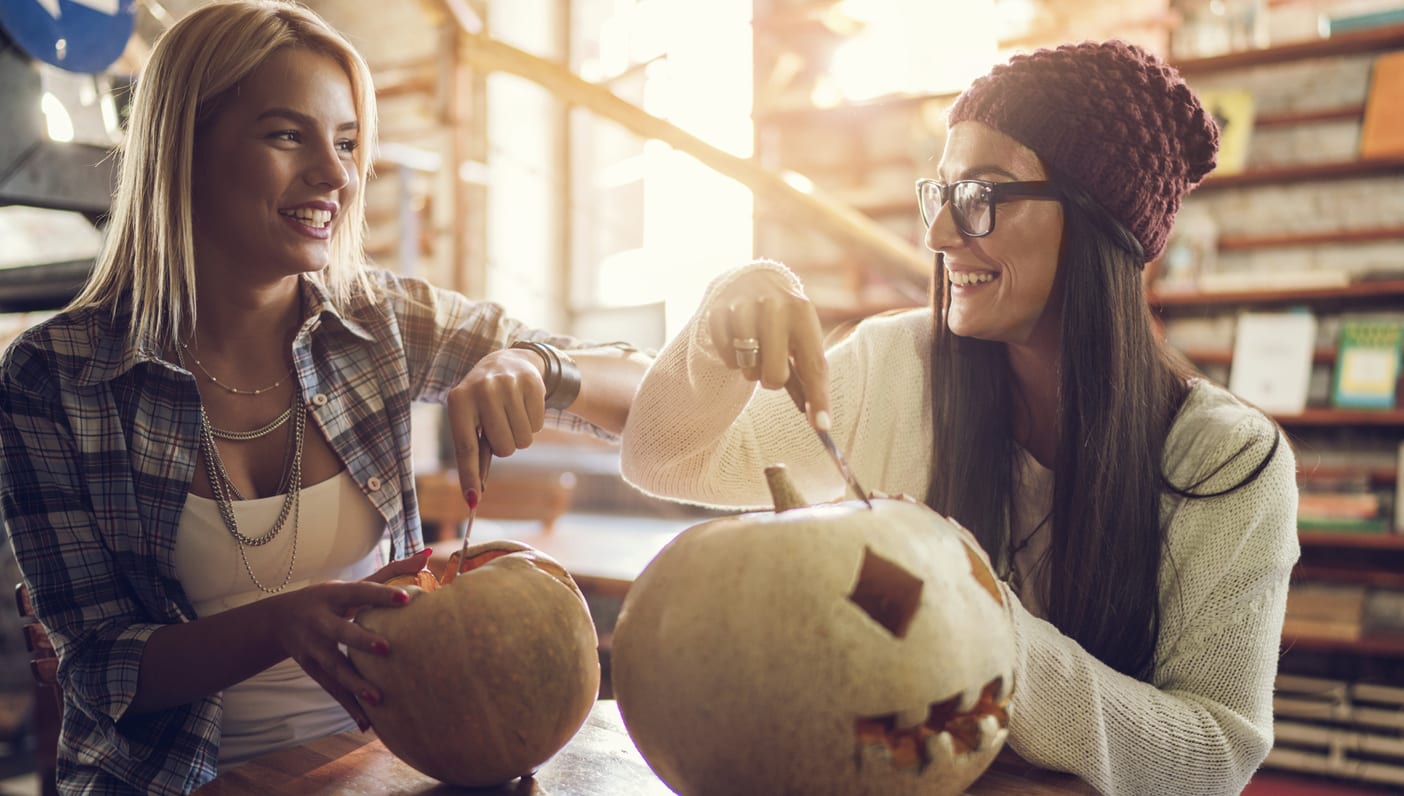 Whether it's in the form of a cake, candle, or coffee, pumpkin-flavored goodies dominate the fall season. And for good reason, too. In addition to its familiar and comforting flavor, pumpkins are packed with vitamin A, beta-carotene, potassium, and antioxidants that may help prevent degenerative damage to the eyes. No wonder everyone wants to add it to their lattes.
It's for these reasons we've dedicated an entire article to all things pumpkin. Bonus? The recipes are all 100 percent vegan. Get cozy and spice up your morning, afternoon, or evening with some of our favorite seasonal recipes. (Giant sweaters highly encouraged.)
Many pumpkin soup recipes duke it out to get on your "must-make" list, but this one should definitely be at the top. Using only five ingredients, these gluten-free and vegan recipe makes use of some of the best fall flavors, namely chestnuts, ginger, and pumpkin. The oat cream binds everything together to create that comforting consistency found in milk-based soups, and the fresh ginger adds a solid kick of spice. Top with pumpkin seeds and you've got yourself a new go-to October recipe.
We hopped on the roasted chickpea train months ago, but flavoring them with pumpkin spice? It's a pumpkin-junkie/yogi's dream come true. (Chickpeas are the ultimate post-flow and on-the-go snack.) Pumpkin butter, sugar, and spice dust the exterior, creating a crunchy snack that looks great in a festive mason jar. Enjoy on a Halloween movie night, or serve as an appetizer when entertaining guests on a cozy night in.
Creamy pastas are one of the season's best comfort foods, which is why we're featuring this vegan pumpkin cream sauce. While it's recommend on pasta (bow-tie, angel hair, spaghetti, penne…whatever your fancy), you can also use it atop pizza or inside enchiladas for an autumnal take on some classic recipes. For depth and an earthy fall flavor, sprinkle the finished product with a few bits of chopped sage.
For an aromatic night in, go for these pumpkin and corn enchiladas. While making enchiladas from scratch may seem a bit intimidating, the simplicity of these recipes makes it something you can whip up within an hour. The tortillas are stuffed with a combination of pumpkin, corn, spinach, pecans, and series of Mexican spices, and then drizzled with more pumpkin, salsa, and vegan cheese. Just one is fairly filling, and would pair nicely with a Mexican soup or salad. Save two and have for a comforting lunch the next day.
We could dedicate an entirely separate post to pumpkin desserts, but we'd be remiss to leave out these vegan blondies. The recipe is unique while still channeling those necessary-fall flavors, and creates bars that can be shared at home, in the office, or for your kid's next Halloween party. Chickpeas are used for texture and fiber, and maple syrup adds just the right amount of that fall-inspired sweetness.
What are your favorite pumpkin recipes?
—
Amanda Kohr is a 25-year-old writer and photographer with a penchant for yoga, food, and travel. She prefers to bathe in the moonlight rather than the sun, and enjoys living in a state of the three C's: cozy, creative, and curious. When she's not writing, you can find her driving her VW Bug, looking for the next roadside attraction or family diner. She also roams the internet at amandakohr.com.