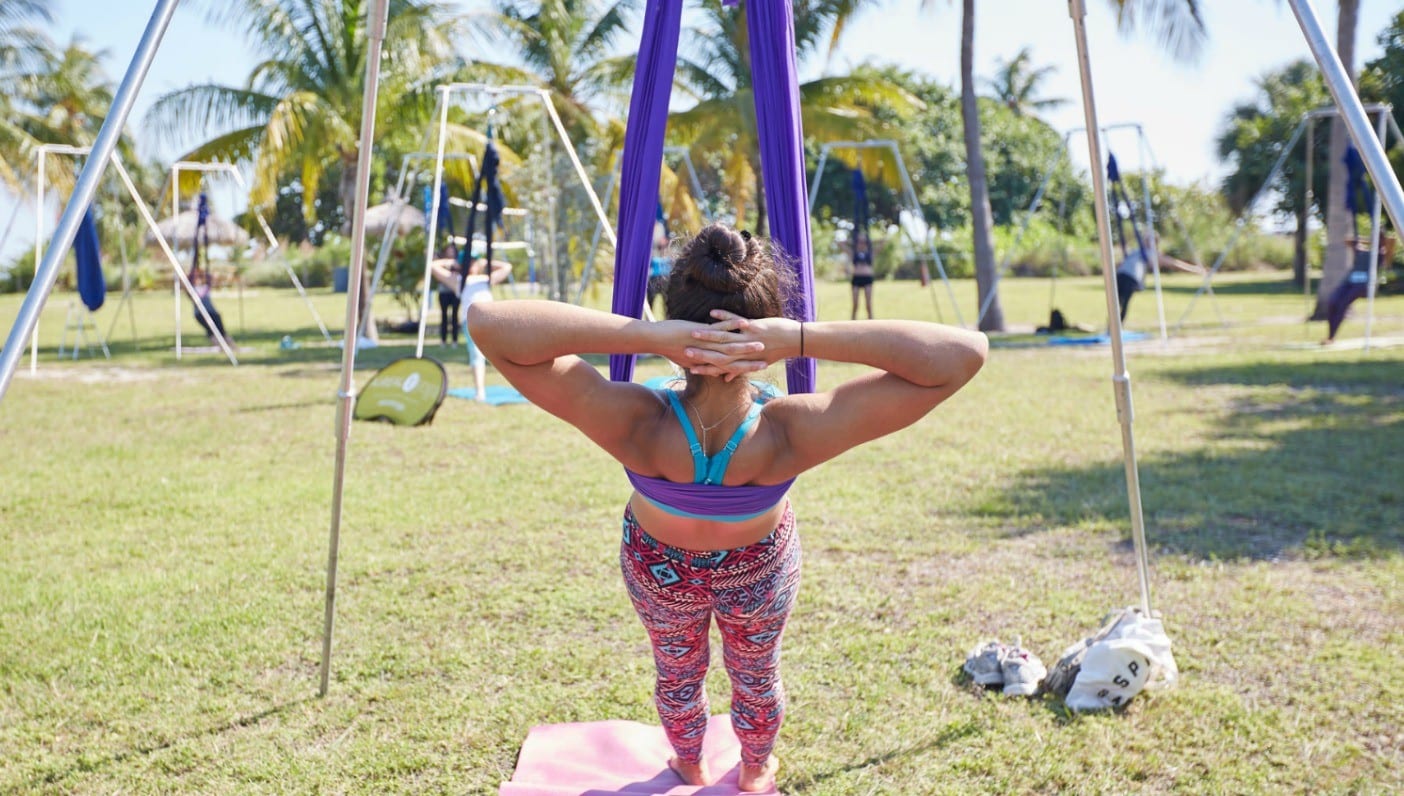 Photo by
Want to attend a Wanderlust 108 in your city? Click here tickets, locations, and information. 
---
Beyond the stereotypes, tourist traps, and glamorized hype that many may automatically associate with the Miami area, The Magic City is nothing short of a bustling microcosm of the modern world. Situated between coral reef, wetlands, and estuarine ecosystems, this northernmost point of the Bermuda Triangle is a natural vortex for people from across the globe and all walks of life. The Miami area hosts a distinctive hub of design, culture, music, and natural beauty.
And there's history, too: Significant Native American archeological sites and artifacts are constantly being revealed during excavations for new developments in the area. Protected sites reside amongst mangroves, beaches, and luxury skyscrapers.
So take in this guide and enjoy Miami-Dade County. It's full of delicious places to eat, unique places to practice, nature to explore, and places to shop and have a good time.
Where to Eat
La Sandwicherie
229 14th St., (305) 532-8934
34 SW 8th St., (305) 374-9852
These French sandwich shops focus on fresh ingredients, a signature vinaigrette, and tasty baguettes and croissants. The healthy eateries offer up vegan, vegetarian, and gluten-free options. You can also enjoy creative smoothies and cold-pressed juices at just about any hour as both La Sandwicherie locations stay open until 5 AM!
Blue Collar
6730 Biscayne Blvd., (305) 756-0366
This cozy joint on the main strip in the hottest neighborhood offers up innovative fusions of comfort food classics, like macaroni and cheese and shrimp and grits. The selection of seasonal veggie the mouthwatering menu is sure to please carnivores, omnivores, and herbivores alike.
Tap Tap
819 5th St., (305) 672-2898
In Haiti, "tap tap" refers to colorfully decorated local buses. Tap Tap on South Beach is a landmark for incredible Caribbean Diaspora cuisine. This family-style restaurant is a colorful hidden treasure.
Where to Sweat
3rd Street Beach Yoga
3rd St. and Ocean Dr., (786) 529-6423
There are few things that are more simultaneously energizing and relaxing than practicing on the beach to connect with the ocean and sky. Donation-based classes are offered up daily at sunrise and sunset by some of the best teachers in Miami.
Inner Balance Mind Body Studio
12579 Biscayne Blvd., (786) 383-3088
Tucked away in a strip mall on Biscayne Boulevard just 10 minutes north of Miami and caddy corner to Whole Foods Market, this family-owned and operated hidden gem of a mind/body studio is simple and chic. The instructors are friendly, knowledgeable, and dedicated to creating a peaceful, yet challenging experience.
Peaceful Rock at X-treme Rock Climbing
13972 SW 139th Ct., (305) 233-6623
Check out the largest climbing facility in South Florida for an off-the-beaten-path yoga experience and some bouldering or sport climbing practice. Day passes include yoga classes, which are usually followed by an acro jam with the regulars. This is a great spot to meet people from around the country who share a love for adventure.
Where to Shop
Under the Mango Tree
714 6th St., (786) 558-5103
This smoothie and juice bar plus gift shop is a perfect place to stop post-yoga for an acai bowl and to check out charming, locally crafted, and eco-friendly gifts. It's an ideal low-key lounge spot for a relaxing afternoon.
Coconut Grove Organic Market
3300 Grand Ave., (305) 238-7747
This Saturday open-air farmer's market is a raw and vegan paradise. There's a variety of music and unique produce, as well as specialty vendors selling everything from teas, to handmade soaps, to spice blends. With plenty of meal options, as well as incense, clothing, and home goods to peruse, the Coconut Grove Organic Market is a full afternoon worth of sensory delight.
Where to Spend Time Outdoors
Tigertail Airboat Tours
(305) 439-2745
The Everglades are the fastest disappearing, completely incomparable pieces of wilderness on this planet. Contact Love the Everglades Movement for an awe-inspiring airboat experience in conjunction with this family-owned and operated company for a once in a lifetime way to experience the legendary River of Grass. The guides make it a priority for everyone to walk away with better understanding for this fragile, endangered ecosystem. Call to set up a reservation with this operation, located in the Miccosukee reservation on the Tamiami Trail near Miami.
Yogi Hot Spot
Crandon Park
6747 Crandon Blvd., (305) 361-5421
Make plans to visit this 808-acre urban park with stunning, serene beaches and botanical gardens. It's easily accessible via the Rickenbacker Causeway, which is great to bike across, so grab a rental and enjoy the view. The botanical gardens in Crandon Park were originally part of Miami's first zoo, the structural remains of which still stand and make for an interesting trip back in time.
Have a Good Time
Gramps
176 NW 24th St., (305) 699-2669
A standout place in Wynwood that has live music, a great beer selection, and handcrafted artisanal cocktails. Gramps also has great indoor and outdoor spaces that are conducive to great times.
Moshi Moshi
7232 Biscayne Blvd., (786) 220-9404
Visit either restaurant location for high-quality, contemporary, and innovative sushi in a fun, relaxed atmosphere. Moshi Moshi's locations are great spots to grab lunch, have a happy hour social sesh, or lounge late at night with fabulous cocktails.
s along with the rest oTraveling this fall? Check out our complete list of Wanderlust city guides.