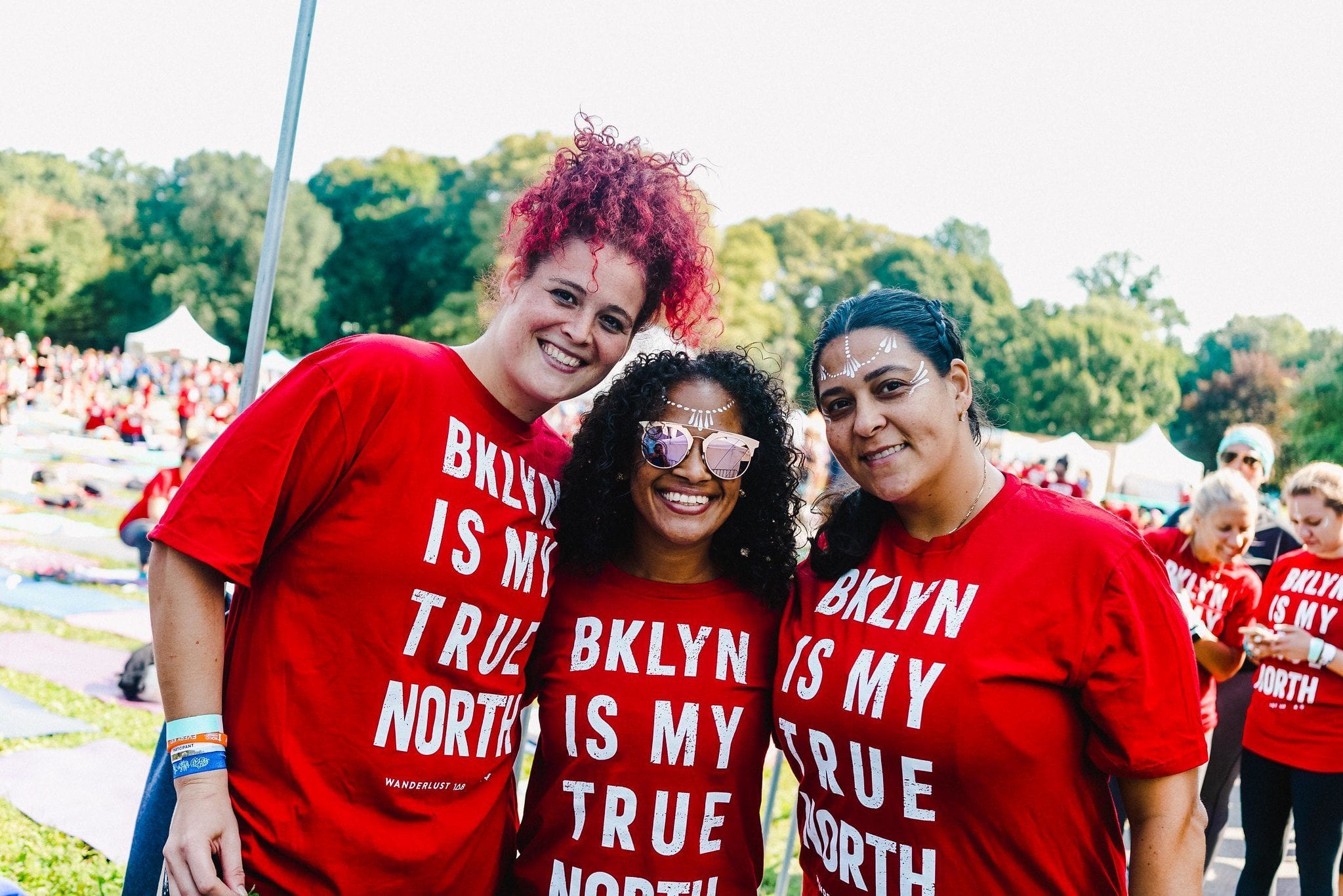 Want to attend a Wanderlust 108 in your city? Click here tickets, locations, and information. 
---
Brooklyn is on everyone's radar these days, with the borough becoming a hot spot for tourists and locals from all walks of life. And it's no wonder: This vibrant slice of the city—and the place Wanderlust is proud to call home—offers so much, especially if you're living a sustainable and ethical lifestyle. Mindful eating, shopping, and entertainment destinations abound.
What to Eat
Applewood
50 11th St., 718-788-1810
This Park Slope fave is dedicated to local, sustainably produced ingredients, many of which come straight from the owners' farm in the Berkshires. The atmosphere is chill; the food is legit.
Little Choc Apothecary
141 Havemeyer St., 718-963-0420
Opened in early 2015, this little creperie is fast becoming a Williamsburg staple. They serve up delicious vegan savories, sweets, fresh juice, coffee, and tea with a focus on healthy, sustainable fare in an adorable setting.
Paulie Gee's
60 Greenpoint Ave., 347-987-3747
This gourmet pizzeria in Greenpoint serves up wood-fired pies that they believe are so good right out of the oven they've discontinued take out. Expect a crisp crust, locally-sourced ingredients, and eight vegan pies to choose from—including a dessert option.
Where to Practice
Kula Yoga Project
85 North 3rd St., 347-463-9886
Whether you want a yoga class with music, for kids, for moms-to-be, or a meditation session, you'll find all that and more at this Williamsburg studio. You're in good hands with studio director Schuyler Grant, a co-creator behind the Wanderlust Festivals.
Prema Yoga Brooklyn
236 Carroll St., 718-237-2373
Practice yoga by candlelight and join in kirtan meditation at this intimate brownstone studio in Carroll Gardens. Yoga classes emphasize the Prema principles of correct alignment, steady breath, ease, and joy.
Yoga to the People
211 N. 11th St., 2nd Floor, 917-0573-9642
This Williamsburg yoga studio has donation-based classes and prides itself on a "yoga for everyone" approach. Enjoy hot yoga and power vinyasa flow classes with a suggested donation of $10 (though the understanding studio has a "pay what you can" philosophy).
Also check out: Greenhouse Holistic, Bend & Bloom Yoga, Goodyoga, and Laughing Lotus Yoga Center.
Where to Shop
Kaight
382 Atlantic Ave., 718-858-4737
One of the city's most chic boutiques, this shop has an eco-friendly, ethical women's selection. Whether it's vegan, organic, or fair-trade, you'll find your sartorial true north here.
Owl & Thistle General Store
833 Franklin Ave., 347-722-5836
Fair trade, local, and sustainable are the pillars of this eclectic Crown Heights shop purveying everything from clothing, to food, to gift items.
Where to Spend Time Outdoors
Prospect Park
718-965-8951
Not only is this 585-acre expanse of nature beyond beautiful, it's also like exploring several parks in one. Enjoy the copious green space or visit one of many attractions, including a greenmarket, roller rink, historic Dutch house, and doggie swimming hole. There's also Smorgasburg on Sundays and the Prospect Park Zoo.
Yogi Hot Spot
Brooklyn Grange
63 Flushing Ave., 347-670-3660
Brooklyn might seem like the last place you'd find a farm—but some are thriving up high. With three rooftop locations, Brooklyn Grange utilizes formerly unused space in the city to produce more than 50,000 pounds of organic veggies each year. Brooklyn Grange also raises bees and egg-laying hens. Bonus: the Flushing Avenue farm is set in the borough's fascinating historic Navy Yard. This location accepts visitors on Wednesdays, by appointment only.
Have a Good Time
Brooklyn Brewery
79 North 11th St., 718-486-7422
Making tasty brews and fostering community are at the heart of this Brooklyn beer destination that gives back to local organizations. Sign up for a tour or gather with pals in the Tasting Room.
Brooklyn Bowl
61 Wythe Ave., 718-963-3369
This hot spot surpasses its name, offering stellar musical acts, local beer, and fantastic food in addition to its lanes. But what makes Brooklyn Bowl really unique is its commitment to sustainability: It's the first bowling alley in the world to achieve LEED certification, running on 100 percent wind power, banning bottles and cans, and boasting reclaimed and recycled floors.
Traveling this fall? Check out our complete list of Wanderlust city guides.