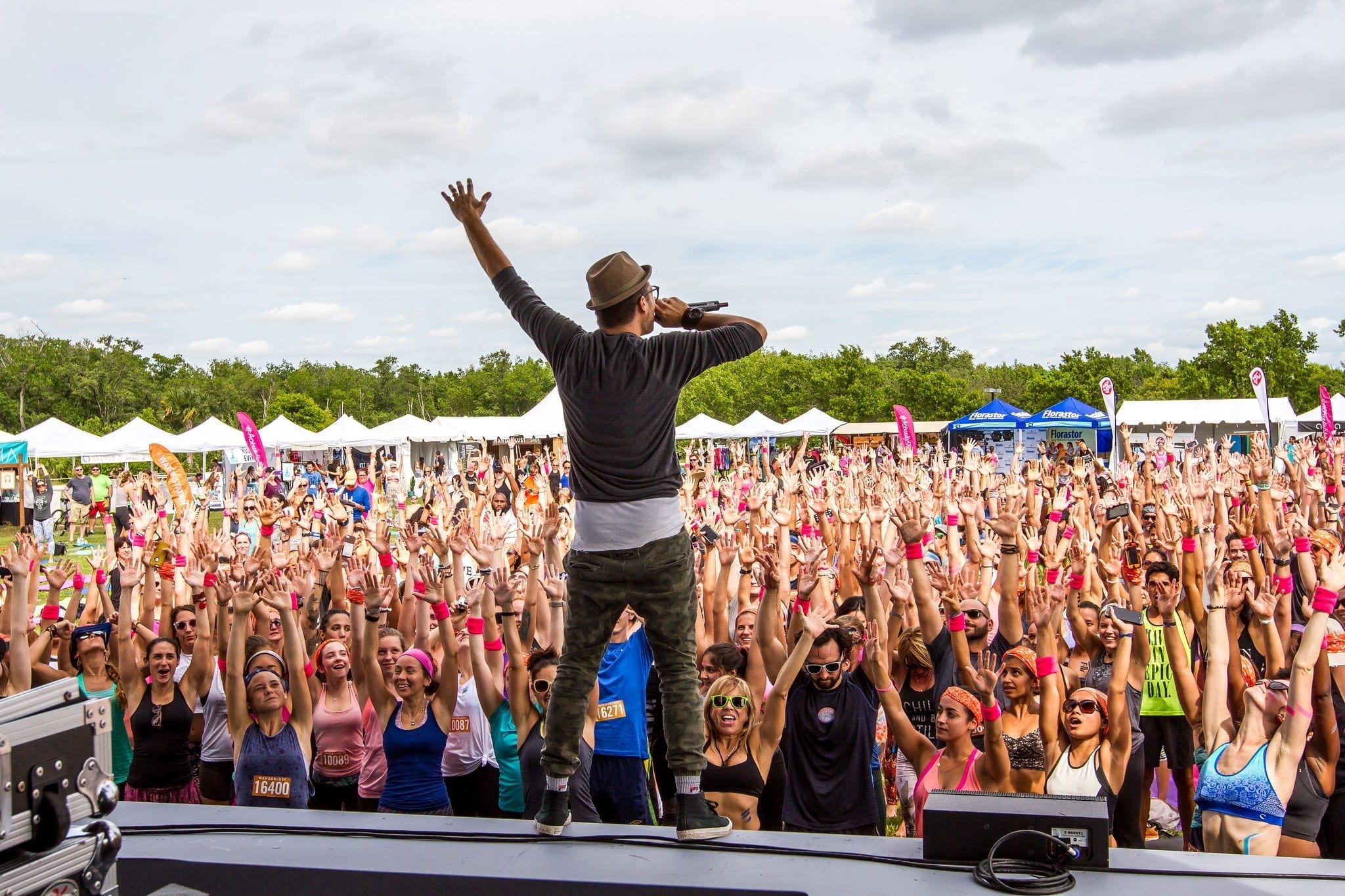 Join us at Wanderlust 108 this year! Fall events are now on-sale.
---
As I was climbing the small hill that overlooked the park, I felt a tingling sensation make its way across my body. My heartbeat quickened. The energy from Wanderlust 108 was vibrating throughout my skin. On top of the hill, I overlooked a sea of yogis chatting among one another. I could see the city's capital peering over the park. The sun was shining down on the Wanderlust 108 fam. I walked-ran down the hill to find my friend and we rolled our mats onto the grass. With anticipation, our hearts beat raced on, as we chatted about our excitement.
So What the Heck Is It?
Billed as the "world's only mindful triathlon," you'll have the opportunity to run your heart out in a 5K run… Though don't worry if you're not a runner or have never completed a 5K before. This is a 5K your way—feel free to skip, hop, or dance your way to the finish line. Bonus: Body paint is included! 
Next, find your flow in a gigantic yoga party. An incredible DJ and yoga teacher will guide your 90 minute flow. If you've never participated in a huge yoga class before, let me tell you, it's AWESOME. Later on, a guided meditation will lead hundreds of yogis OMing at once.  If that isn't enough to have you hooked, there are TONS of mini-lessons to participate in. This year you can join acroyoga classes, acroyoga therapeutics, body work, tarot classes, hooping classes and more!
Still not sold? Turns out going to Wanderlust 108 is good for the world too. For every ticket sold, $1.08 will be donated to The Global Fund to Fight AIDS through (RED). Your ticket donation is enough to provide more than 5 days of life-saving HIV mediation to someone in need.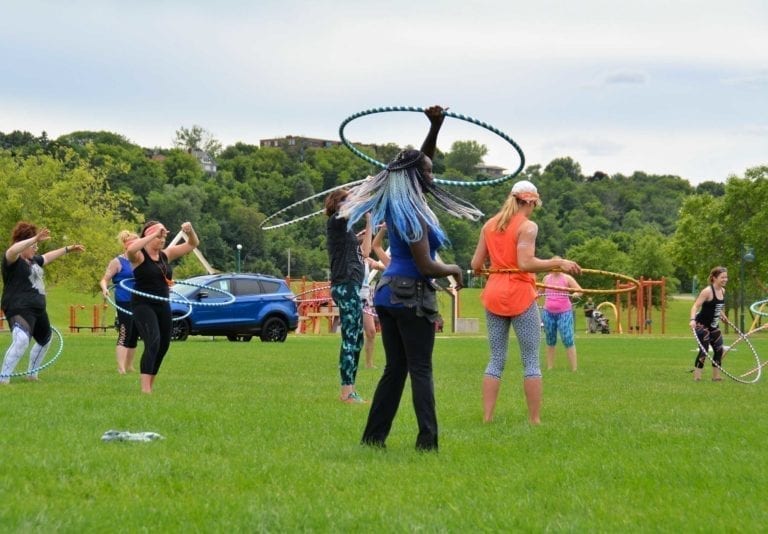 What to Bring
A yoga mat (I preferred my travel yoga mat… It was lighter & I could throw it in my backpack.)

A backpack (to carry your yoga mat, samples received, snacks, etc.)

Snacks (or you can purchase a meal from the event)

A water bottle (there will be refill stations)

Money if you'd like to purchase from vendors or buy a meal

Sunscreen

A camera/phone (there will be tons of photo opportunities!)

Tips for Wanderlust 108
Buy your tickets as early as possible! 

The prices will continue to rise as the event nears.

Classes and workshops also fill up! I bought my ticket about a month beforehand and many of the classes—aerial yoga and acroyoga—were full. With the being said, it's possible to drop into many of the classes the day of. Especially if the class doesn't require props that Wanderlust supplies.

Arrive early. You may have to walk a long ways if there is only street parking.

Join the Facebook Event for your city to stay up-to-date on the announcements leading up to the event… And meet your community beforehand!

Ticket Information
Wanderlust has joined (RED) in the fight to end AIDS. For every Wanderlust 108 registration purchased, Wanderlust will donate $1.08 to the Global Fund to fight AIDS with (RED), which could provide more than 5 days of life-saving HIV medication. Click here for more details.
Premium Bundle: (RED) Charity Pacl
Attendees will receive a WAN(DER)LUST Manduka travel mat, organic WAN(DER)LUST t-shirt, Wanderlust 108 tote, and a fandana.
Entry to the entire mindful triathlon: 5K run + yoga + meditation
Premium mat placement for the yoga and mediation portions of the event.
A scheduled bonus activity.
A Wanderbowl will be included (Wanderbowls are also available for purchase at any ticket tier.)
A free Wanderlust TV class to continue the Wanderlust experience online at home.
$1.08 of each ticket sold and a percentage of the product bundle value goes to the Global Fund to fight AIDS.
108 Package
Wanderlust 108 t-shirt, 108 tote, and Wanderlust fandana
Entry to the entire mindful triathlon:  R(un) + Y(oga) + M(editate)
Reserved mat placement
Free Wanderlust TV class to continue the Wanderlust experience at home, online.
A scheduled bonus activity.
$1.08 of each ticket sold goes to the Global Fund to fight AIDS.
R+ Y + M Registration
Ticket quantity depends on location; prices will rise as the event date approaches.
Full entry to Mindful Triathlon of the day
Drop-in access to Bonus Activities on-site
Fandana
$1.08 of each ticket sold goes to the Global Fund to fight AIDS.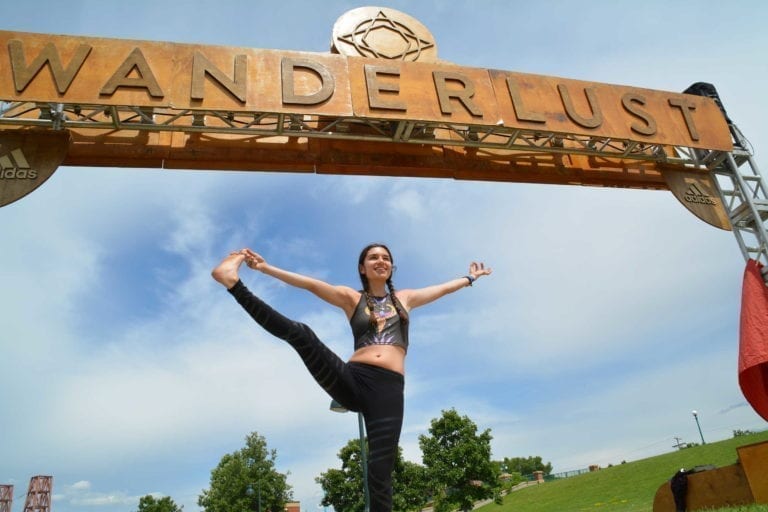 My first Wanderlust 108 surpassed my expectations. It was a great way to spend a day, in nature trying new things, with one of my yoga girlfriends… And the chance to make hundreds more. See you on the mat! 
All photos courtesy of Jenna Lewins. 
—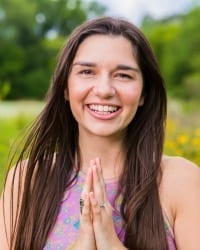 Jenna is currently on a 6-month-honeymoon-around the world. She is a nature-lover that is obsessed with yoga, travel, and her vintage camper. Jenna spends her time writing & creating videos for her online community, The Exploring Yogini. It's a space for inspiration, reflection, and adventure! Find Jenna on a Camper Yoga Tour of The U.S. this Summer!