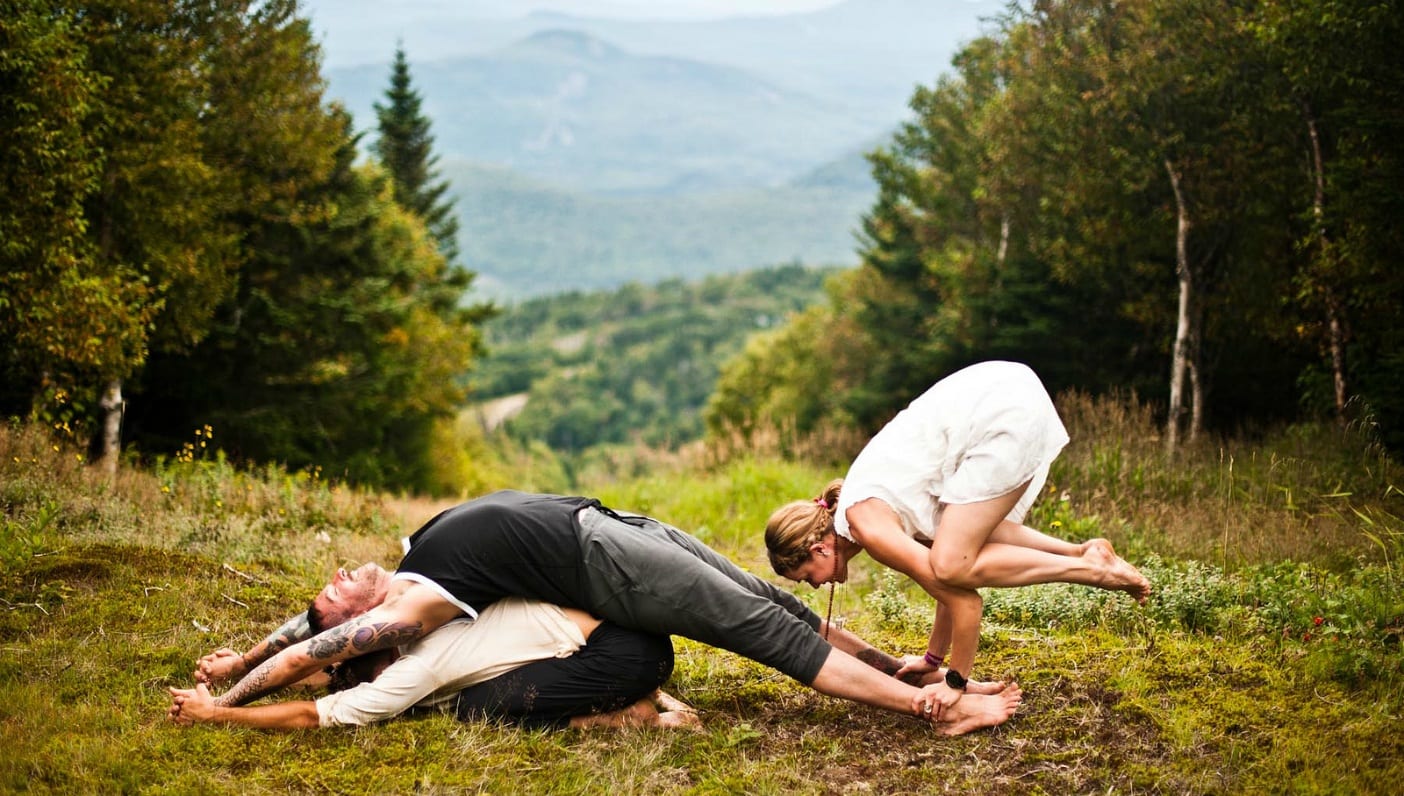 Photo by Ali Kaukas
Ahhh, Acro. That high-flying, Cirque du Soleil form of partner yoga that can inspire, awe, or intimidate (though it shouldn't! Anyone can do Acro, trust us.) But there's more to Acro than jaw-dropping tricks and the feeling of flying. Therapeutic Touch is the practice of using the body's own energy to heal—similar to therapies like massage, bodywork, or Reiki. When the principles of therapeutic touch are combined with Acro, you get a powerful modality that's both healing, and that feels cool to do. Enter: Acro Therapeutics.
We caught up with Jim Gilligan of Yoga Nature to learn a bit more about Acro Therapeutics. Curious? Try it at a Wanderlust 108 this season! Tickets are on-sale now. If you're in the Washington DC, Cincinnati, or Detroit area, give it a go with Jim himself.
Video shot on location at Yoga Nature in Michigan. Music by Penman Productions. Videography by Anahata Productions.
---
Wanderlust (WL): Let's start with the basics. What is Acro Therapeutics?
Jim Gilligan (JG): Acro Yoga Therapeutics is a way to care for ourselves and others. The practice borrows from many traditions including acrobatics and Thai massage, plus other healing modalities.
WL: How is the practice different than Acro Yoga?
JG: The Acro Yoga Therapeutics practice is one limb of Acro Yoga. Acro Yoga blends the ancient traditions of yoga, acrobatics, and Thai massage. In contrast to the Solar, or acrobatic limb, Therapeutics is the Lunar limb of Acro Yoga. Through giving and receiving Thai Massage and Flying Thai Massage, Acro Yoga Therapeutics gives us the opportunity to slow down into Metta, Loving Kindness.
WL: Why should someone—or who should—practice Acro Therapeutics?
JG: Reasons that someone would practice Acro Yoga Therapeutics include decompression of the skeletal system, improved blood flow/circulation, and to calm the nervous system. Through guided inversions and twists, the neural pathways are being rewired. The practice also helps build trust, heightened sensitivity and awareness, not only with a partner but also within your own being and body. AcroYoga Therapeutics would be practiced by any body who wants to give and or receive the healing benefits. Anybody that wants to bring playfulness into their practice. Anybody that just wants to try something different!
WL: Are there emotional or social benefits as well as physical? If so, what are they?
JG: Trust, play, sensitivity, Metta, community, playfulness, consensual non-sexual touch.
WL: How did you discover Acro Therapeutics? What was your personal journey to the practice?
JG: Early on my path to becoming an Acro Yoga International teacher it became clear that Therapeutics is a vital part of a balanced practice. I immediately discovered a profound sense of joy upon giving and receiving Flying and grounded Thai Massage and to this day Therapeutics is essential to maintaining my well being.
WL: How has the practice helped you or changed your life?
JG: I found long lasting relief from a history of low back pain while improving my strength and flexibility. Most of my life I was tactile defensive and touch averse. The safe container provided by the practice helped me heal through the consensual non-sexual touch that is integral to Acro Yoga. I also used to hate being upside down and had a primal fear of falling. I never enjoyed diving boards or trampolines. It wasn't until my first Acro Yoga Immersion just shy of my 50th birthday that I did my first cartwheel. Now I love to fly and get upside down!
WL: Any advice you'd give people who are interested in beginning a practice?
JG: Find a teacher or class and laugh and have fun!
Find that teacher at Wanderlust 108! Tickets on-sale now. 
—
Jim Gilligan wants to turn your world upside down! He began practicing Yoga in 1988 and as a RYT200 certified instructor started formally teaching Yoga in 2012. He Founded AcroYoga Ann Arbor in 2012 and became Michigan's first certified AcroYoga teacher in 2014. He teaches playshops internationally and weekly classes and hosts regular jams throughout Ann Arbor and surrounding area. Jim and his wife Sherryl connect Body, Mind, Spirit in Nature at Yoga Nature, their rustic lakefront home studio devoted to helping clients find peace through Yoga, Thai Massage, Reiki, and Meditation.