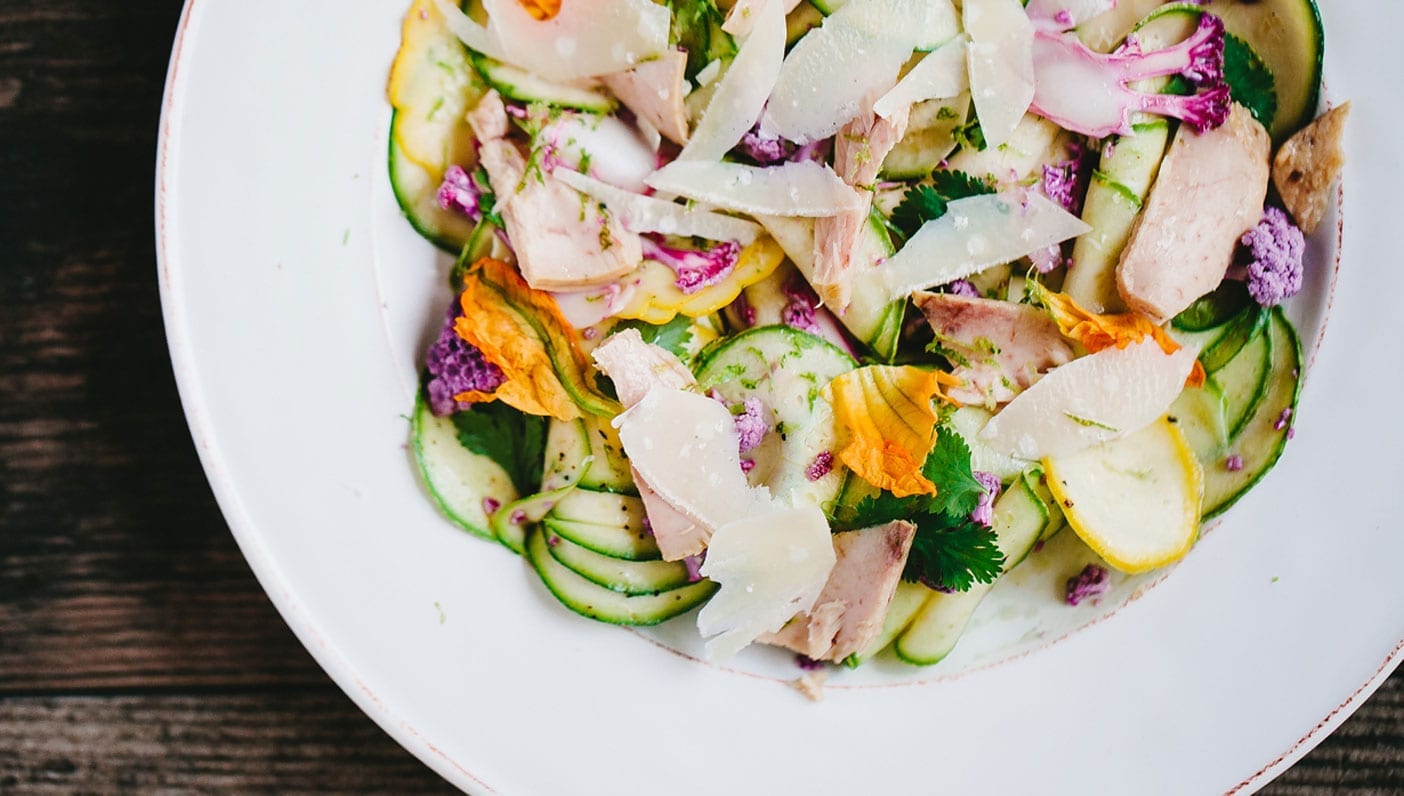 This recipe is part of a new series, From the Wanderlust Kitchen, celebrating real, good food. Receive a digital cookbook of this season's recipes by signing up here.
•••
The fall equinox may be upon us, but that won't stop us from enjoying this bright and colorful salad with summer squash and citrus vinaigrette. It's is a go-to for Wanderlust Hollywood executive chef Seamus Mullen. "This is probably my favorite summery salad," he says. "I love the bright colors, the punchy flavors, and the balance that the tuna brings to the plate."
As always, skip the tuna if you'd prefer a vegetarian dish.
Summer Squash Salad
Are you trying this recipe at home? Let us know with #WanderlustKitchen.
INGREDIENTS
3 oz mixed summer squash (small courgettes, pattypans, yellow squash, zucchini, etc.) sliced paper thin into a coin shape
1 oz mixed radish, sliced paper thin into coins (cello radish, watermelon, etc.)
1 oz best quality tuna (Seamus recommends canned Ventresca tuna from Spain)
1/2 shallot, sliced into paper thin rings on a mandoline
6 sun gold tomatoes, cut in half
1/4 Serrano chile, thinly sliced on a bias
1/4 cup raw purple cauliflower, sliced on a mandoline
Squash blossoms or edible flowers
Fresh dill
Fresh cilantro
Sea salt and pepper
1/2 oz Parmesan, cut with a peeler
Juice of 1 lime
Zest of 1 lime
4 tbsp extra virgin olive oil
Salt and Pepper
DIRECTIONS
Combine all ingredients except cheese, season with salt and pepper and and dress with lime and olive oil. Plate in a medium round plate, garnish with fresh herbs, and finish with lime zest and Parmesan sliced with a peeler.
Makes 1 serving 
Photo by Melissa Ryan
•••
Hungry for more from the Wanderlust Kitchen?
Sign up for seasonal recipes, digital cookbooks, and inspiring interviews.