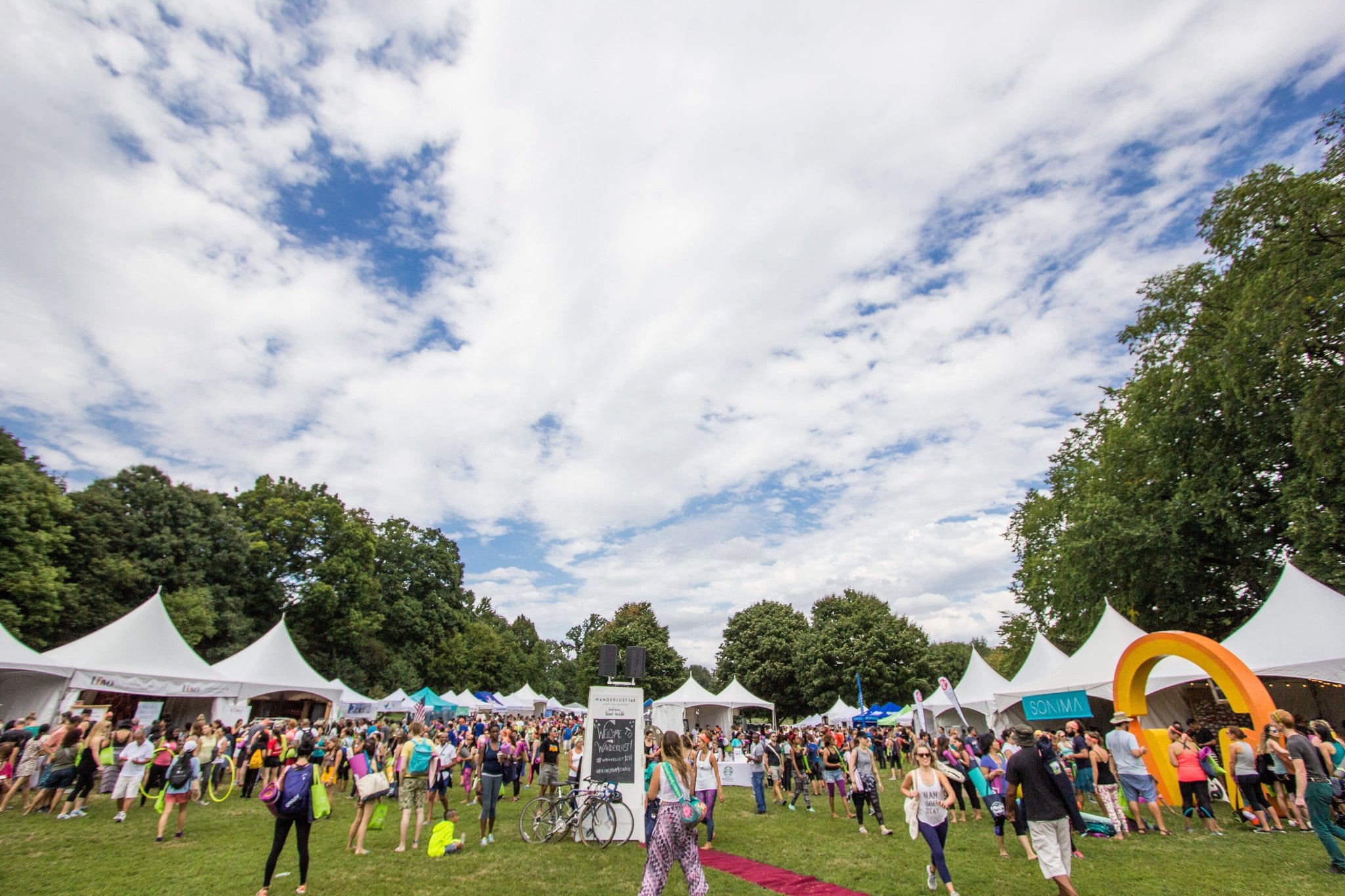 Are you as excited as we are for next weekend? As you're getting ready to #ComeTogether with us, check out these great vendors who will be joining us at the Historic Virginia Key Beach Park. We can't wait to see you there. Still need a ticket? It's not too late! 
adidas and Wanderlust share a vision of holistic, high-touch experiences that create community around sport and mindful living. Wanderlust, in partnership with adidas, brings an entirely new level of everyday engagement to the fitness and healthy-lifestyle enthusiast. Check out the adidas x Wanderlust Store on-site for great deals on our co-branded apparel line!
Ford Motor Company aims to deliver great products, a strong business and a better world. From our factories to our dealerships and into the communities in which we serve, our purpose is to Go Further so all people can move freely about the world. Ford is proud to be the Official Vehicle of Wanderlust. Event attendees can stop by the Ford display for exclusive activities, to learn more about our full line-up of vehicles and to take home some incredible giveaways.
With real fruit, whole nuts and dark chocolate in bite-sized portions, goodnessknows® tastes delicious and takes the guesswork out of eating well. As a brand, goodnessknows® helps you be good to yourself so you can be your best self. Its mission is to encourage and celebrate little actions towards a better you – starting with the food you eat.
KRAVE is an all natural jerky. We are gluten free, nitrate free and MSG free! We will be offering our jerky, along with our new KRAVE Bars and KRAVE Sticks. We will also be offering sales – so please bring a credit card! We're excited to spread #jerkylove at Wanderlust!
Each batch of Brew Dr. Kombucha is crafted from the beginning. We start with the same loose-leaf organic teas served in our Townshend's Teahouses. Then we blend in organic herbs, fruits or other botanicals. No juices or flavorings are added after fermentation, making Brew Dr. a truly 100% raw kombucha with the most naturally occurring probiotics possible. Each bottle is 100% Raw, Non- GMO, Gluten – Free, and Certified Organic & Craft Brewed.
At Lifeway Foods, we are on a mission. A mission that started in 1986 when we first began producing Lifeway Kefir. Like all good missions, ours is simply expressed: We're here to provide the best in probiotic and nutritious foods. We're here to improve the health of our customers. And we're here to leave the world a better place than we found it. On a lighter note, we're also here to change the meaning of the word delicious, and to have a little fun along the way.
We're all about preparing food without added colors, flavors, or preservatives (other than lemon or lime juice, which can be used as preservatives—though we use them only for taste). Just genuine raw ingredients and their individual, delectable flavors. We source from farms rather than factories, and spend a lot more on our ingredients than many other restaurants. We wouldn't have it any other way.
As seasons change, so do our activities. We take up new sports or exercise routines; we take to the outdoors to start gardening again or to tackle a home improvement project. Strains from unaccustomed tasks such as these are likely to cause sore muscles. Fortunately, there's Boiron Arnica, a convenient and reliable medicine for muscle pain, stiffness and bruises. Arnica has been used for centuries as a natural pain reliever. Stop by our booth and get free samples of Arnicare Gel, Cream and Calendula topicals. Relieve everyday aches and pains with Boiron Arnicare Gel. Arnicare Gel helps you feel better, so you can continue the activities you love… with the people you love. Arnicare Gel absorbs quickly and has no smell. Learn more at Arnicare.com.
La Colombe is a leading coffee roaster known for ethical, long-term trade practices with growers. Considered one of the pioneers of the third wave of coffee, we provide signature classic blends and exceptional single-origin coffees to cafés, hotels, restaurants and retailers around the world. In addition, the company owns and operates 25 cafés in Philadelphia, New York, Chicago, Boston, Washington, D.C., and Los Angeles, among other cities.
We are the first and only company to create plant-based food using time honored techniques. We've figured out how to make buttery fresh ricotta, aged nut milk delicacies, creamy almond milk yogurt, and fantastic entrées and desserts — all out of fresh nut milk.
Natalie's Orchid Island Juice Company is a women-owned and family-operated squeezed fresh Florida juice company. We are committed to squeezing juices that are clean label with no preservatives, no concentrates, and no artificial ingredients. Due to our quality and freshness, our juices have won over 10 National Awards for taste and nutrition. Stop by our booth and give our squeezed fresh Florida juices like Orange Beet and Honey Tangerine a taste! They're a great source of authentic nutrition and are good for your mind, body, and soul! We look forward to seeing you there!
We believe if you eat good things, made from real, simple ingredients, you'll feel good. That's why we created a thicker, creamier cottage cheese made with ingredients you can pronounce. we never use preservatives, gums, or artificial anything, and a portion of sales goes back to the planet. We made cottage cheese, but better ™.
d.stil is a line of bottles purposed-built to weave fashion and function together. Developed by Chef'n, a Seattle-based company with more than 30 years of product design experience, each highly functional bottle has curated combination of colors, materials, and finishes. With d.still, you can look good, feel good, and give back with every sip (to Water.org).
At the helm of our essential oil activation, Stinky Yogi was founded in 2012 by Yoga Teacher Stacey Orr, a west coast native now based in Ithaca, NY. She is currently on an epic road trip in her Stinky Subaru with her pug Gibson, teaching and vending with Wanderlust Festival at cities nationwide through the end of 2017. Stinky's mission is simple and genuine: to help people feel elevated through the magic of essential oils. We are a small, woman/yogi owned and operated company. Our products are made by hand in small batches by our team of yogis in PA and NY. We love our tribe and believe deeply in the power of community, connection, and being part of the mindful movement.
Inspired by fellow yogis and the extraordinary social entrepreneurs they met traveling to places like South Africa and Thailand, he and his husband Steve Dobbins sought to find a way to take the love and light they experienced on their yoga mats out into the world.
Deanna Saracino created La Clé to bring to life her ideas of creating products that people can wear as a reminder to stay positive. Her goal to create a line of "action-based" accessories and apparel was developed. As she continues to develop her brand the products she designs are to be worn and interacted with as a healthy reminder to consciously focus on the positives in yourself and the people around you.
Bali Malas was created in  2006, and is proud to have been the first company to bring awareness of these sacred beads to the West. Our predominantly female workforce in Bali receives living wages, and benefits, we are bringing a new paradigm to the workers of Bali! Our designs are lovingly handmade with fair-trade, authentic beads and all are traditionally blessed before leaving this "island of the Gods".
Our mission is to create organic, fun, comfy, multi-functional garments just for you! Buddha Pants is a clothing company dedicated to creating multi-functional travel ready apparel, focusing on comfort & encouraging an active lifestyle. The harem pant that packs into it pocket was inspired by the Eno Hammock and designed and manufactured by Rachel Raab.
Gurus are made primarily from natural rubber that is sustainably sourced from trees. Everything in our sandals and yoga products is completely eco-friendly. In addition to keeping our products sustainable, Gurus packaging also uses environmentally friendly materials.  From our natural jute bags, to the paper and cardboard used to ship our sandals, we aim limit our effect on the beautiful world around us.
Wolven Threads fabric patterns are inspired by sacred geometry found all around us in nature.The vibrant colors of our garments are inspired by the colors of Indian art, celebration and the roots of yoga. We believe that mother nature is our home and that we should do whatever we can in our power to protect her. We believe that beautiful fashion should not come at the expense of our planet. Our garments are made with OEKO-TEX certified Recycled P.E.T fabric (RPET), a fabric made from recycled plastic water bottles. This certification ensures that our material is free of harmful and toxic chemicals.
WAN is a 501c3 nonprofit organization dedicated to protecting the earth and all of its inhabitants.  An abundance of clean water is what provides the foundation for communities to prosper. We strive to protect species and their habitats to ensure that we are all protected from the harmful effects of pollution. We aim to educate people about the impact simple day to day tasks have on our planet, and help them adopt an eco-friendly lifestyle. Our goal is to spread awareness throughout communities worldwide, and to inspire young leaders to make a difference.
To Write Love on Her Arms is a non-profit movement dedicated to presenting hope and finding help for people struggling with depression, addiction, self-injury, and suicide. TWLOHA exists to encourage, inform, inspire, and also to invest directly into treatment and recovery.
Our yoga clothes designs are courageously inspired by constant world travel. These journeys are a spiritual quest for 'wearable art.' Prints are meticulously and lovingly hand-picked to be incorporated into unconventional styles—so the wearer always feels original. We bring back these impressions, ideas and cultures from remote parts of the world as offerings, expressed as stunning works of art and treasured forever.
Goddess swimwear is designed for the free-spirited woman who loves living life in a bikini with a flower behind her ear, salt in her hair, and sand on her toes. A woman who loves to let her inner goddess shine and empower those around her to do the same. A mix of sexy and feminine yet effortless… A boho-chic traveler who is up for adventures and says yes to life.