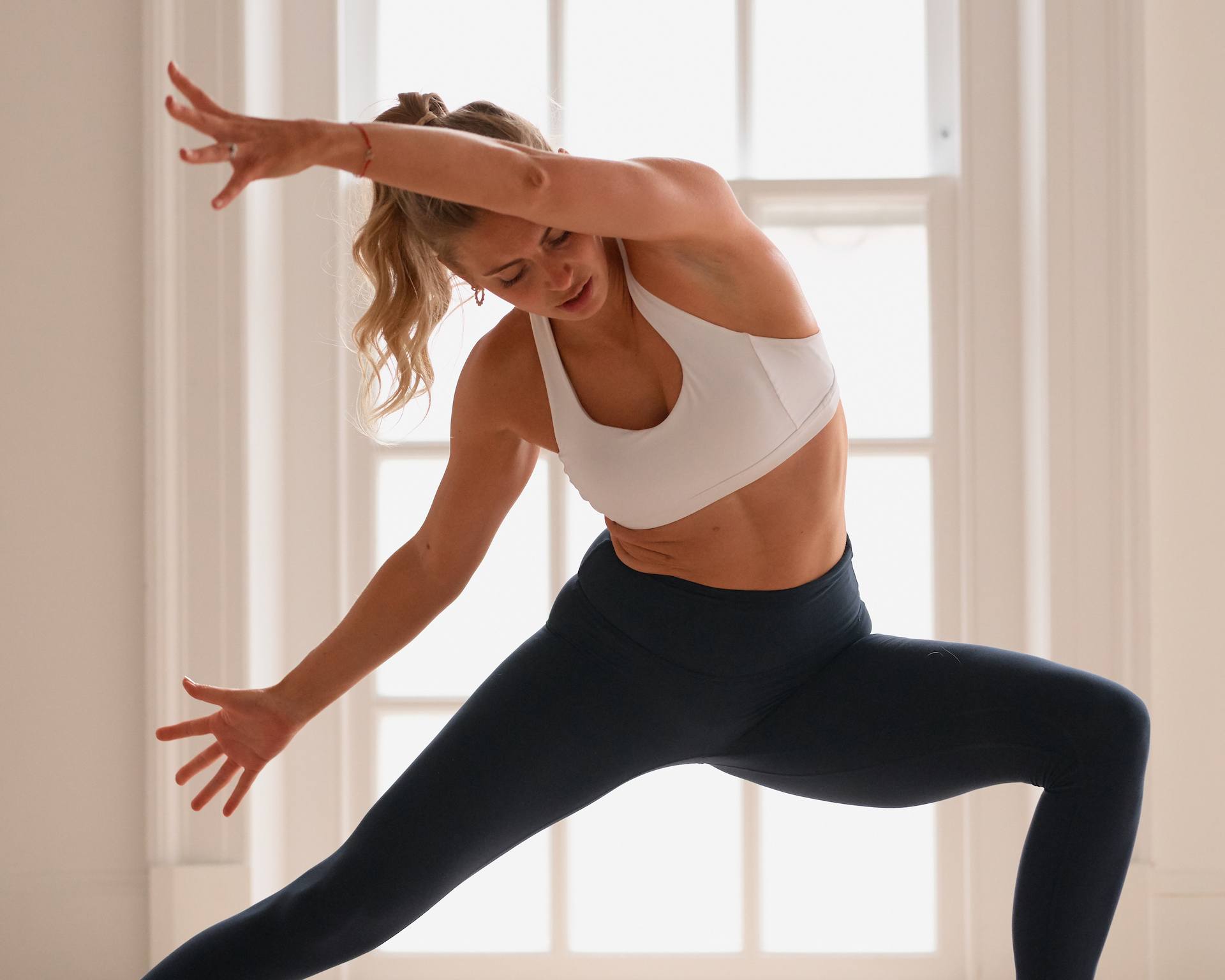 Join Kim Hartwell on Fridays at 6 PM GMT on Wanderlust TV LIVE to bring mobility back to your body after a long work week..
Kim is a personal trainer, movement coach, yoga teacher and avid rock climber. In love with life, nature and all things adventure, Kim has a passion for teaching classes that fuse biomechanics and yoga flow, so that you can feel stronger to do what you love for longer. Kim takes great passion in empowering people to push past their comfort zones, using nature and adventure to become the best version of themselves. Kim is also a contributor achieving recognition in many of the fitness industries leading publications.
---
How did Yoga enter your life? Was it love at first sight?
I did quite a bit with my mum when I was in my teens, but never really connected fully with the practice until I was living in New York (around 8 years ago). I definitely first came to it for the physical aspect (being a keen gym bunny), but slowly learned the incredible power of mindfulness that comes with it.
A lot of your work is focused on bringing more mobility to people's static lives and bodies. Where does one begin if she or he feels that the muscle and energy blocks are everywhere?
We tend to overcomplicate things with mobility. We simply need to move more. That doesn't mean going to the gym or doing thousands of studio classes. It can as simple as walking or stretching throughout the day. Motion is the lotion and movement is the medicine to help us free our bodies from the sedentary (unnatural) environments we've created for ourselves.
It's been almost a year since the world of yoga has turned its necks and heads to digital. Can you reflect back and notice changes in yourself that this transition has carved out, as a teacher and as a student too?
We've seen a huge shift in how we teach and how we learn. I've found the process to be an incredible way of connecting with more and more people from around the world. It's also meant I've been able to practice with teachers I could only dream of before as they've taken their classes and coaching online.
What would be the one piece of advice you could give to the Wanderlust TV streamers to deepen the connection with a teacher and themselves during the online practice?
I'm always a fan of bringing playfulness into learning. It's been proven as the best way we can learn is through play (you only have to look at children to see this). By bringing that sense of playfulness and exploration you'll open yourself up to fun and new ways of moving. For me, that is where the joy of learning and movement shines. If you love the practice or are intrigued to know more about the teaching, always get in touch with the teacher. I absolutely love hearing from my students and want to help in any way I can.
Is there one feeling you always seek your students to leave with?
Wonder – for the human body, for the human mind. No matter what you're going through your practice will allow you to tap into your truth. It will allow you to seek clarity. It will allow your honesty and compassion to be directed towards yourself. It will allow you to experience the joy that mindful movement brings.
One asana that makes you feel in your element?
Not an asana, but free flow. Moving and breathing with the body. Moving for the joy of movement itself.
We know that you're a climber. How does yogic philosophy help you to conquer the fear?
Yoga has a huge influence on climbing ability. It allows us to use a toolbox of mindfulness techniques to get you into your flow state quicker on the rock. When I climb I feel like nothing else in the world matters. I am truly present. I have to be focused, aware of my breathing, and centered through each step of the climb. This for me is where yoga off the mat has been hugely beneficial. This is also why I created my online course: Yoga for Climbers. This is a 6-week movement and mindfulness plan aimed solely at keeping climbers climbing stronger, better for longer. 
If you could have dinner with an influential persona, past or present, in the history of yoga or mindfulness, who would it be and why?
I guess he's not really documented hugely in the history of yoga, but I know that Bob Marley was hugely influenced by the practice. He's my all-time hero, to have dinner with him would be incredibly inspiring.
Of the present day, I'd choose Dr. Joe Dispenza. I find his work on neuroscience and psychology literally mind-blowing. A dinner certainly wouldn't be long enough to satisfy the plethora of questions, but it would be a start!