Some like it hot and some it in a cake. Regardless of preference, chocolate is one of the world's favorite indulgences. And now, new research is painting a whole new reason for you to get your cacao fix—it's good for your brain.
There have been various studies conducted in an effort to understand the health benefits of chocolate. We already know that dark chocolate contains loads of iron, antioxidants, and manganese. Now, a recent study is illustrating the power that chocolate has over our cognitive ability.
Undertaken by the researchers at the University of Maine, this study was the first of its kind to illustrate that a higher chocolate intake can correlate with increased cognitive brain function. The study examines how aging can lead to a decline in various domains of cognitive function, and how flavonoid-rich foods have been proven to help improve cognitive and function.
In addition to making you feel good, chocolate and other cocoa products are full of flavonoids. The study states that these flavanoids "represent up to 20% of the compounds present in cocoa beans." It went on to examine the daily diets of 968 different participants over the course of several months, and found a significant correlation between chocolate consumption and cognitive ability. In fact, the study states, "All cognitive scores were significantly higher in those who consumed chocolate at least once per week, than in those who never/rarely consumed chocolate.
The study also examines the other components of chocolate, and how they might be partially responsible for the increased cognitive function. Other psychoactive elements of chocolate include the methylxanines, caffeine, and theobromine, which have also illustrated an effect on cognitive function and awareness.
That doesn't mean eating an entire box of sea salt caramels will instantly increase your brainpower. Chocolate that's been processed with alkali, which is known as "dutching," will have far less flavanols than regular dark chocolate. It's best to find things high in cacao, with minimal added ingredients.
Below are some of our favorite chocolate recipes. For the good of your brain, we suggest you give them a try.
Purple Haze Smoothie
Eating by Elaine
This smoothie is vegan, soy-free, gluten-free, soy-free, and full of chocolate-y flavor. With blueberries, beets, cacao nibs, and cacao powder, it packs in your daily antioxidant powerhouse.
Dark Chocolate Almond Bars
The Minimalist Baker
Six simple ingredients come together to create these divine chocolate treats. The topping and add-ins are completely optional, so feel free to get creative when whipping up these bad boys.
Heart Healthy Chocolate Brownies
Wanderlust
From our kitchen to yours, these brownies give you a sweet fix and a handful of health. As an added bonus, they include coconut butter frosting and a sprinkling of pomegranate seeds.
Espresso Chocolate Mousse
Jen Reviews
Light, airy, and bursting with chocolate flavor, chocolate mousse is a dream combination of texture and flavor. This classic dessert consists of only a few ingredients, specifically chocolate, eggs, and sugar. This version adds a kick of espresso, adding richness and depth to the signature chocolate flavor.
Now sit back and relish in your sweet tooth.
—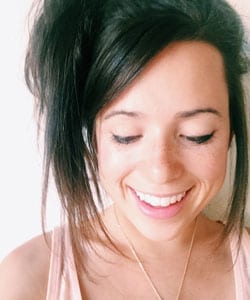 Amanda Kohr is a 25-year-old writer and photographer with a penchant for yoga, food, and travel.  She prefers to bathe in the moonlight rather than the sun, and enjoys living in a state of the three C's: cozy, creative, and curious. When she's not writing, you can find her driving her VW Bug, looking for the next roadside attraction or family diner. She also roams the internet at amandakohr.com and through Instagram.