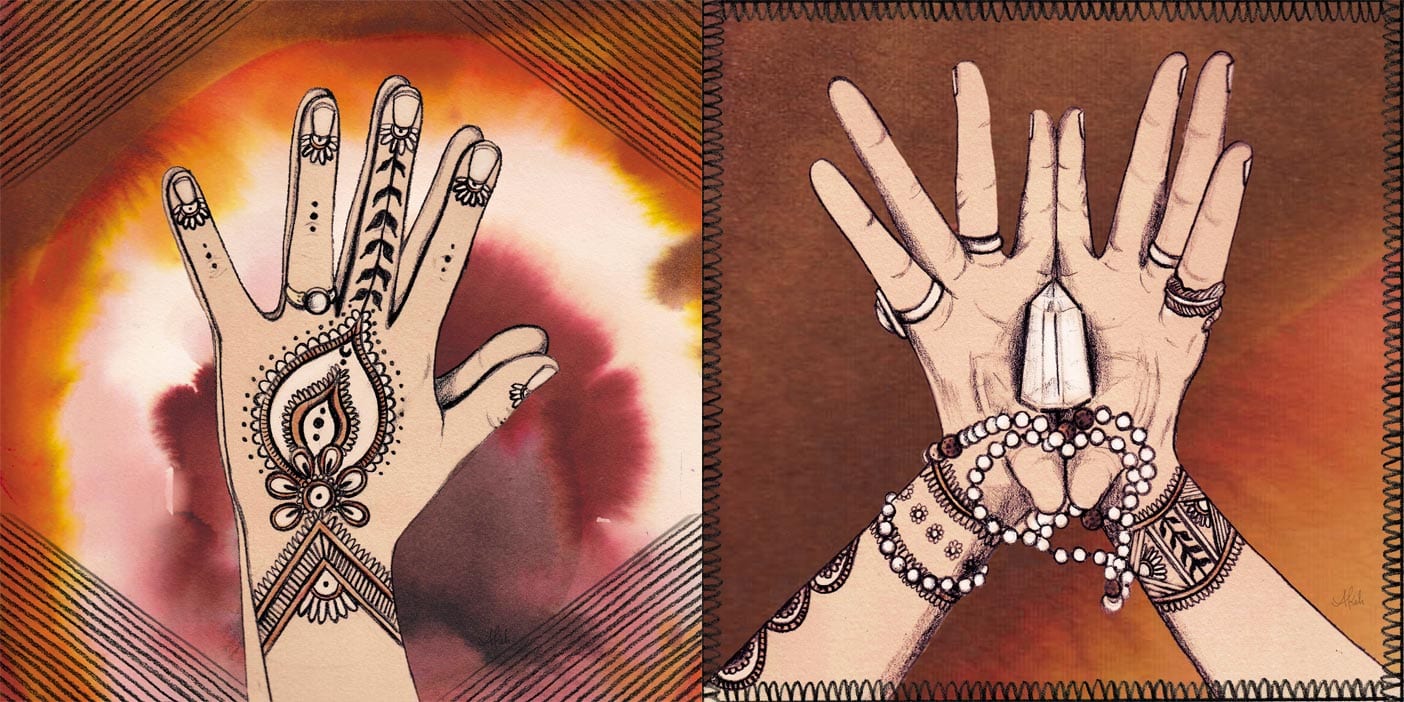 Anjali mudra (left) and padma mudra. Illustrations by Andrea Keh.
A mudra is a symbolic gesture in Buddhism and Hinduism, usually made with the hands and fingers, but sometimes incorporating the whole body. Used in yoga and meditation, mudras are meant to bring balance and alignment or channel an intention. Here we look at two mudras, anjali and parma, as both illustrations and inspiration for a prayer and meditation.
---
A Prayer for Anjali Mudra
By Crystal Dawn Froberg

Softly fold your hands into a prayer shape.
Invite your prayer to meet your heart.
Set your sacred intentions.
Whisper them in to your hands.
Let them be carried by divine grace.
Pray. From the roots of your heart,
To the center of each soul you care so deeply for.
Pray. From the blood of your veins,
To the trunks of the sacred trees.
Pray. For every sentient cell.
---
A Meditation for Lotus, or "Padma," Mudra
By Crystal Dawn Froberg

Hold the jewel of your heart in your lotus palms.
Breathe in softly. Breathe out sweetly.
Embrace the light of compassion in your hands.
Breathe in, trusting. Breathe out, forgiving.
Emanate soft hues of vibrant love in all directions.
—
Andrea Keh is the illustrator of The Moon Deck (a magical, healing, oracle card deck coming soon!). Follow her on Instagram @The_moondeck and @andikeh. Please sign up  at themoondeck.com for more info on The Moon Deck. 
Crystal Dawn Froberg loves sharing her love of yoga with others. Over the last 10 years of her life, while being passionate about the healing arts including massage, dance, vegetarianism, and lots of travel, yoga was and is a huge part of her daily life, on and off the mat. In 2012 Crystal moved out to California to study yoga at the Laughing Lotus in San Francisco. The 200 hour Laughing Lotus training was the most transformative, beautiful, heart opening time of her life, awakening to her soul's purpose on this planet even more. She recently graduated from a 100 hour Art of Attention yoga training in NYC with Elena Brower.  Crystal feels honored, humbled, and privileged to be a yoga teacher in this lifetime.